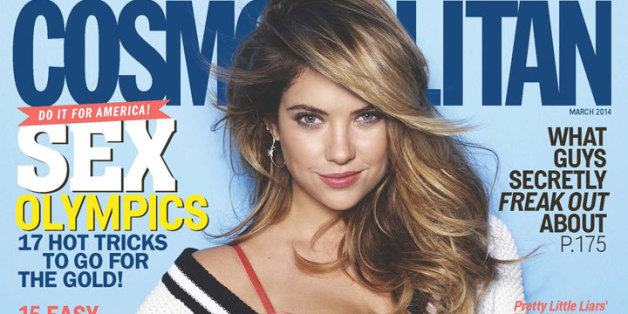 The 24-year-old is best known for her role as Hannah on the hit show "Pretty Little Liars," but she'd like to make it clear that she's nothing like the teenager she plays on TV.
Benson, who is currently rocking brunette tresses and dyed her hair brown several times this year only to have to dye it back to blond for the ABC Family show, tells the magazine she feels more like herself as a brunette. "As a blonde, I get categorized as the b--chy popular girl for roles, and I just want to be the normal girl."
"The thing I always make fun of is the wardrobe," she revealed to Cosmo. "Really, do you think anyone would actually wear full hair and makeup and six-inch heels to school? I was 13 when I was last in school, and I never wore makeup. I wasn't allowed. Now [girls are] all wearing heels and makeup and getting their hair done, so I'm not sure it's us influencing girls or that's just the way it is now."
Benson, who took on a racy role in "Spring Breakers" in 2013, also opened up to the magazine about on-screen nudity, telling the magazine, "I never want to do nudity that's gratuitous. Girls look so much better in lingerie or a t-shirt and leave the rest up to the imagination. I make it clear that I have a line."
She continued, "Everyone tries to push you, and it's easy to get talked into doing those things. I'll just walk off-set. But not everyone realizes they can do that."
"There are drugs and alcohol in my family on both sides, so I've seen lives ruined, going to jail and all that. Once you start with any drug, it can be an addiction -– that's why I never want to start and am not even tempted, because that chain is relentless," she explained. "And if it runs in your family, you see how unglamorous it is. I would never want to be out of control with my body."
SUBSCRIBE TO & FOLLOW ENTERTAINMENT
Get top stories and blog posts emailed to me each day. Newsletters may offer personalized content or advertisements. Learn more