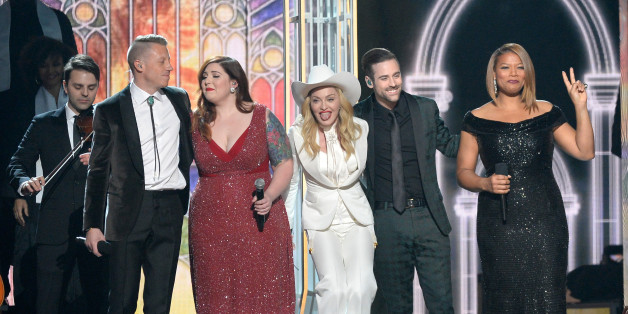 Not typically the pinnacle of religious communal experience, yesterday's Grammy's proved to be a spectacle that got at least a few people thinking about, well, God.
Among the many issues that have become embroiled in religious and political debate in the last decades, gay marriage has been right there up at the top. What, exactly, did Jesus think about homosexuality? (Apparently, nothing.)
Last night, musicians Macklemore and Ryan Lewis took the debate head on by performing their marriage equality anthem "Same Love" with Madonna and Mary Lambert; while Queen Latifa officiated 34 weddings to gay and straight couples on a set made to look like a church with stained glassed windows.
More than just a political statement, the performance took on spiritual dimensions accented by the lyrics of the song:
"Whatever god you believe in/We come from the same one."
Reactions to the performance on Twitter were mixed, but largely positive. Of course there were the critical:
This world has completely lost it! Queen Latifa just officiated a mass Wedding at the #GRAMMYs! Really!! How disrepectful to #God.
But many appreciated and felt validated by Macklemore's statement:
I was taught where there is love there is #God.So if i loved some one of the same sex then God is still there! #samelove #gayforjesus
Did you watch the Grammy's? What did you think of Macklemore's performance?
Also on HuffPost:
Statements On LGBT People From Faith Leaders
SUBSCRIBE TO & FOLLOW RELIGION