NEW YORK (AP) — Stock investors had plenty to dislike on Wednesday.
Disappointing earnings from some big U.S. companies, ongoing jitters in emerging markets, as well as a further reduction to the Federal Reserve's economic stimulus all combined to push stocks lower for a fourth day out of the last six.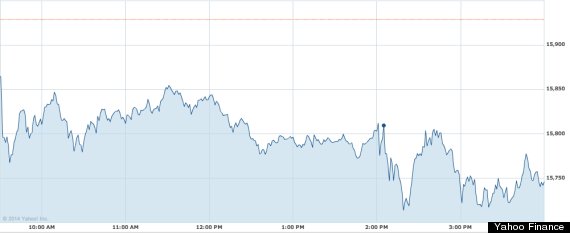 This is what the Dow looked like Wednesday. The Fed announcement came at 2 p.m.
The stock market opened lower after companies including Boeing and AT&T gave weak earnings outlooks and investors worried about developments in countries like Turkey and South Africa. The market added to its declines after the Fed's announcement at 2 p.m. Eastern time.
Prices of U.S. government bonds rose.
KEEPING SCORE: The Standard & Poor's 500 index fell 20 points, or 1.2 percent, to 1,771 as of 3:14 p.m. The Dow Jones industrial average was down 206 points, or 1.3 percent, to 15,720. The Nasdaq composite dropped 51 points, or 1.3 percent, to 4,045.
FED CUTS: The Fed said Wednesday it will lower its monthly bond purchases by $10 billion to $65 billion because of a strengthening U.S. economy. The Fed is cutting bond purchases, which have held down long-term interest rates, even though the prospect of reduced stimulus has rattled global markets. The move was largely anticipated by analysts and investors.
FED REACTION: Investors should view the Fed's move as a vote of confidence in the economy, because it means that the central bank sees the recovery as more entrenched, said Dan Genter, chief investment officer at RNC Genter Capital Management.
Fed policy makers are "not seeing enough bad news to stop that process, which should be viewed as a positive."
EARLY STUMBLE: The S&P 500 index has fallen 4.2 percent this month, putting it on track for its biggest monthly decline since May 2012. That's a big contrast from last year, when the S&P 500 index rose 5 percent in January. The index ended the year up nearly 30 percent, its best performance since 1997.
LIRA TODAY, GONE TOMORROW: The Turkish lira has been at the center of an emerging-market sell-off that prompted jitters in global stock markets over the past week. The currency surged against the U.S. dollar late Tuesday after Turkey's central bank raised its benchmark lending rate to fight rising inflation.
The lira traded at 2.26 per dollar on Wednesday afternoon, slightly lower than it was before the central bank raised interest rates.
South Africa also raised its interest rates Wednesday but the move failed to shore up its currency. The South African rand dropped 3 percent against the dollar to trade at 11.26 rand per dollar.
THE BIGGER PICTURE: The S&P 500 has dropped nearly 4 percent since the emerging market jitters first surfaced last Thursday. A survey showed that manufacturing in China, the world's second-biggest economy, was slowing in January. Stocks have extended their declines as emerging market currencies including the Turkish lira, the Argentinian peso and the South African rand have been battered in recent days.
NOT GOOGLE: Yahoo fell $3.21, or 8.4 percent, to $35 after the internet company reported a drop in fourth-quarter revenue late Tuesday, highlighting its trouble drawing online advertising dollars. Yahoo reported a 6 percent decline in revenue, the same rate of decline for all of 2013.
PLANE DISAPPOINTEMENT: Boeing fell $7.70, or 5.6 percent, to $129.37 after the plane maker said that its 2014 revenue and profit would fall short of analysts' expectations as the pace of orders slows.
PHONING IT IN: AT&T, the nation's biggest telecommunications company, fell 47 cents, or 1.4 percent, to $33.24 after its outlook for the year disappointed investors. The phone company said its forecast "assumes no lift from the economy," and it forecast earnings in the mid-single digit range.
AMONG THE WINNERS: Dow Chemical rose $1.54, or 3.6 percent, to $44.61 after the company increased its quarterly dividend and expanded its share-purchase program.
TREASURYS AND COMMODITIES: Bond prices rose. The yield on the 10-year Treasury note fell to 2.68 percent from 2.75 percent. The price of oil eased 1 cent to $97.40 a barrel. Gold rose $11.40, or 0.9 percent, to $1,262.20 an ounce.