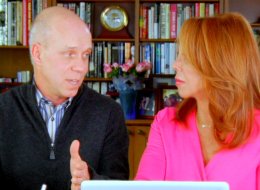 Olympic Gold Medalist Scott Hamilton has an interesting take on getting back in shape after overcoming many health obstacles in his own life.
"Quit something today!" he chimed. "So far, I've quit soda and red meat. It's not so much doing something new, but sometimes you have to quit something."
After beating cancer and brain tumors, Scott was told his cholesterol was going up, so after doing some basic research, he was able to drop some foods from his diet, add others and eventually lower his cholesterol by 100 points.
To lower his cholesterol, Scott dropped red meat and avoids chicken since a lot can be genetically engineered. He eats fish, a vegetable-heavy, plant-based diet and adds flax seed meal into his oatmeal every morning. "My body has slimmed down, I have more energy and I sleep better," he told us.
For more of Scott's life and career, see the slideshow below:
Scott Hamilton started figure skating on the weekends as a hobby when he was a child growing up in Ohio. Here, he poses for a quick shot on the ice in 1970.

By 1980, Scott had finished third in the U.S. Figure Skating Championships and earned a place on the U.S. Olympic team.

By the mid-1980s, Scott had become a family name on television, making men's figure skating a sport to watch. Here, he performs a routine on the ice in 1982.

Scott's father, Ernie, and sponsor, Mrs. Helen McLoraine, accompanied him behind the scenes at the 1984 Olympic games in Sarajevo.

Hamilton's stunning performance during the 1984 Olympic games marked one of the first times audiences were introduced to the athleticism Scott would bring to the sport of men's figure skating.

Hamilton won his first Olympic gold medal at the 1984 Winter Games in Sarajevo. Here, he proudly carries the U.S. flag as he skates past cheering fans.

After winning the gold medal in 1984, Hamilton had the honor of presenting President Reagan and First Lady Nancy Reagan with an official Olympic parka during a nationally televised event.

Since 1984, Scott has been involved with "Stars on Ice," a theatrical figure skating television show which features a small cast of professional skaters. Scott continues to be involved in the show today as a producer.

Part of his many charitable acts of kindness, Scott has devoted much of his time to supporting initiatives like the Make A Wish Foundation. Here, Scott skates with Krystal, a very special little girl, to benefit the foundation.

Scott became known for his entertaining, crowd-pleasing routines on the ice. Here, he takes a knee after a perfect performance to Aerosmith's "Walk This Way" in 1994.

In 1997, Hamilton was diagnosed with testicular cancer. After a brave public battle, he beat the disease and returned to the ice. Here, he warms up backstage with fellow Olympian figure skater Kristi Yamaguchi before a performance for "Stars on Ice" in 1999.

In 2002, Hamilton performed at "An Evening with Scott Hamilton and Friends on Ice," promoting his work with the Cleveland Clinic's Taussig Cancer Center to match cancer patients to survivors.

Scott Hamilton is perhaps best known for his famous backflip on the ice, a feat of athleticism which he's executed flawlessly numerous times. Here, he performs his famous stunt for audiences on the Today Show in 2009.

Scott has also been an active part of the Special Olympics. Here, he poses with a participant at the Special Olympics World Winter Games in 2009.

At the 2002 Olympic Games in Salt Lake City, Utah, Hamilton and fellow Olympic women's figure skater Peggy Fleming carried the Olympic Torch during the opening ceremonies.

Scott's routines are known for their athleticism and entertainment value, as he loves to get the crowd involved during his numbers.

Scott took his son Aidan to attend the 17th Annual William Shatner-Wells Fargo Hollywood Charity Horse Show in 2007.

Scott and his wife Tracie Hamilton are happily married and have two sons together, Aidan and Maxx. Here, the couple attends the 50th anniversary celebration for St. Jude Children's Research Hospital in 2012.

Hamilton appeared at the City of Hope's 23rd Annual Celebrity Softball Challenge in Nashville, Tennessee, in 2013. The foundation's mission is to "strike out" cancer.

Scott has supported numerous charities dedicated to helping children and families in need. Here, he meets a family who received care from the Los Cabos Children's Foundation in Mexico.

Scott and his family now live in Tennessee. Here, Scott's wife Tracie and sons Aidan and Maxx smile for a quick pic.

As a cancer survivor, Scott has devoted much of his life to helping mentor patients currently battling the disease through programs like his 4th Angel initiative. Here, he visits a cancer patient and family at Cleveland Clinic.

Hamilton has served as an announcer and host for numerous figure skating competitions, events and fundraisers. He'll be a commentator for the 2014 Olympic games in Sochi.
Add Marlo On Facebook:
Follow Marlo on Twitter:

Weekly Newsletter

Sign up to receive my email newsletter each week - It will keep you up-to-date on upcoming articles, Mondays with Marlo guests, videos, and more!

Sign up here