The Stars Who Landed On This Week's Worst Dressed List Need New Stylists
On this week's worst-dressed list, many stars picked outfits with bad shapes. Camilla Alves hid her gorgeous figure in a toga-style gown, while Julianne Moore looked blah in a boxy black dress.
But the celeb who struggled the most was undoubtedly Katy Perry, who managed to make the worst-dressed list not once, but twice. The singer flopped in an overly sweet dress that looked more suitable for a 7-year-old going to Disney World, and she also raised some serious eyebrows in an awful cape-cum-dress number.
Check out our picks for worst-dressed of the week and let us know if you agree.
Katy Perry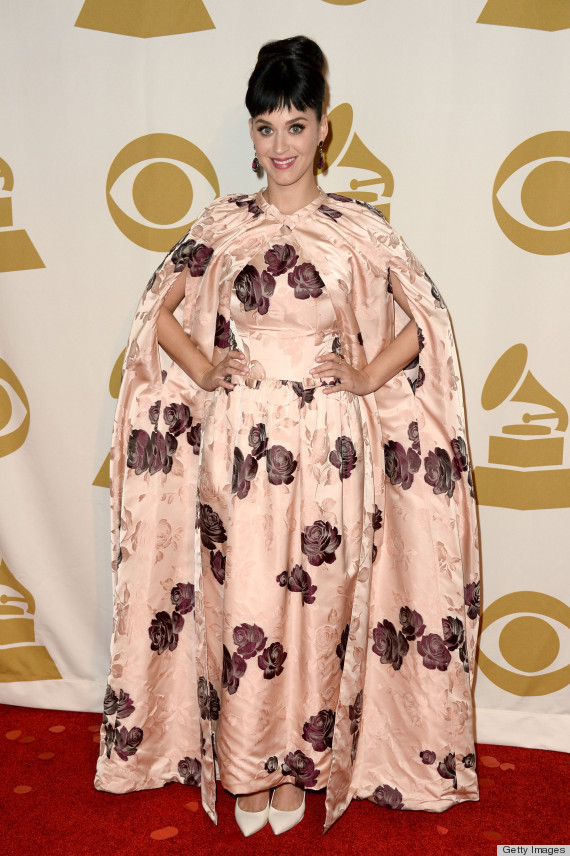 This floral dress with a matching cape is all kinds of hideous and would only be excusable if she's hiding a baby bump. And even then, might we suggest she take lessons from Ciara or Kerry Washington? If Perry is pregnant, we're really not looking forward to seeing her in oversized fabrics for the next nine months.
Katy Perry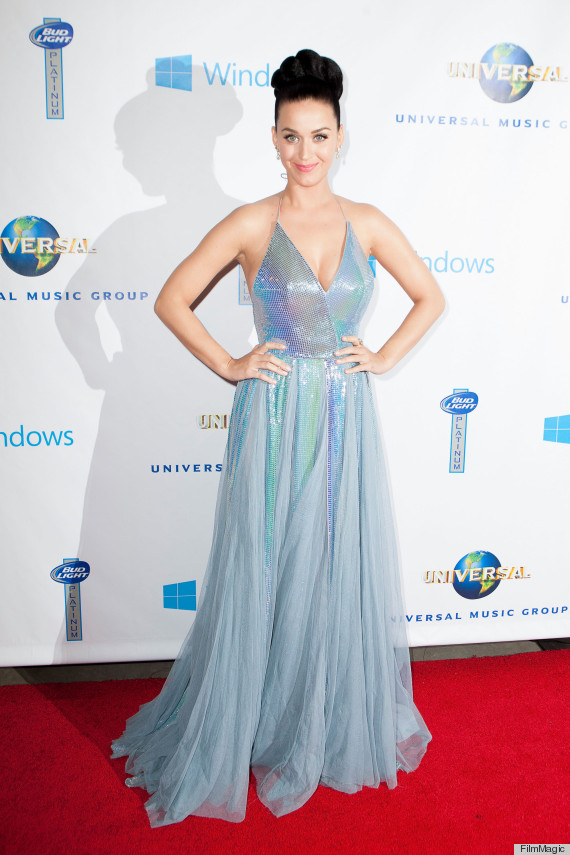 Clearly it was a rough week for the singer and this dress didn't make things any better. It looks like a figure skating outfit, which is just in time for the Winter Olympics?
Camilla Alves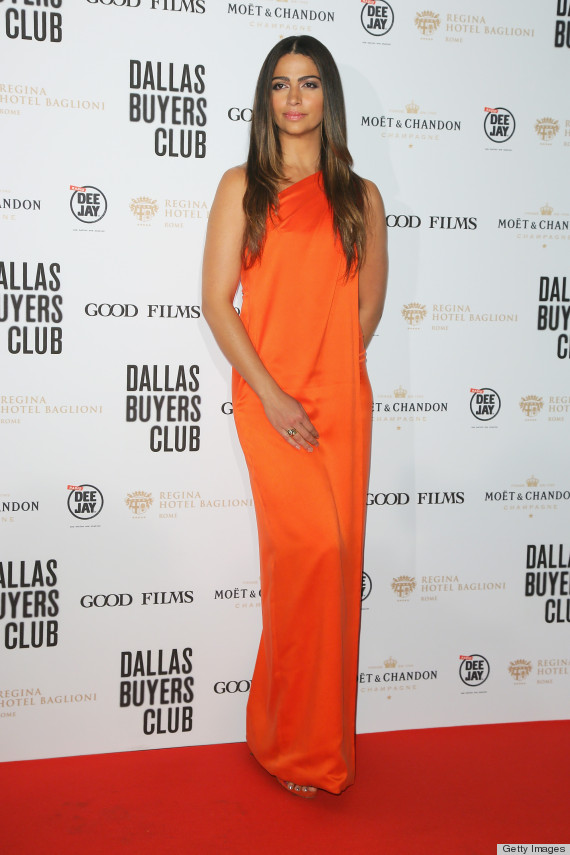 The color is stunning on Mrs. McConaughey, but the dress has zero shape. It looks like the fabric was just draped over her body. A more defined waist could have done wonders for this ensemble.
Julianne Moore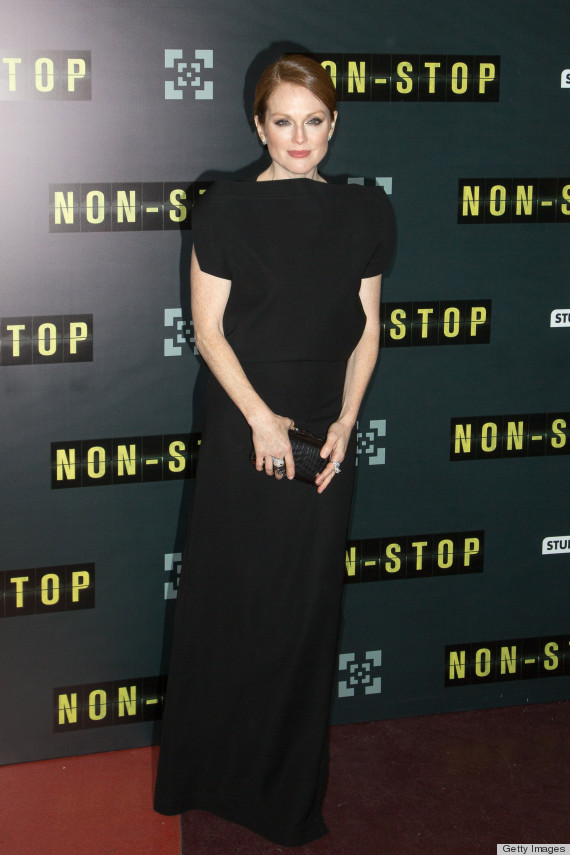 The top of Moore's dress is too boxy. The bold shoulders combined with the loose bodice are making her look much bigger than she is. Given all the excess fabric up top, it would have been nice if she had gone with a shorter hemline to break up all the black.
Diane Kruger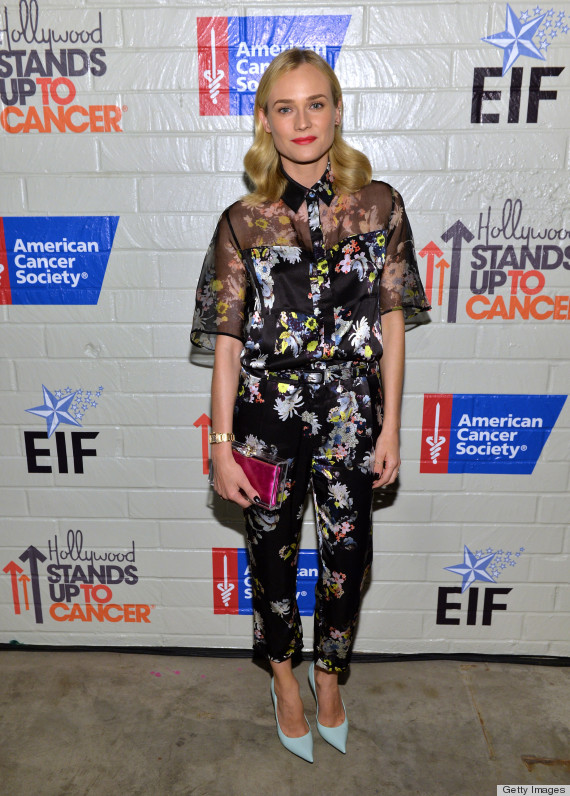 This ensemble could easily have made the best-dressed list with a few minor tweaks. The pattern on the jumpsuit and the light blue pumps are adorable, but the sheer component on the sleeves is making the top wildly unflattering.
Selena Gomez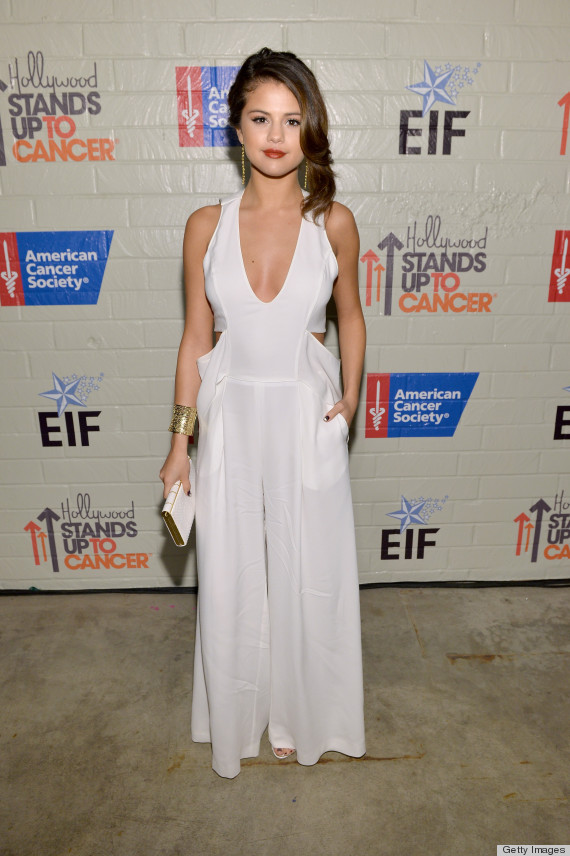 The petite singer is literally drowning in this oversized white jumpsuit. The pants need to be tailored and there is also a poor fit around the armpit area.
Jessica White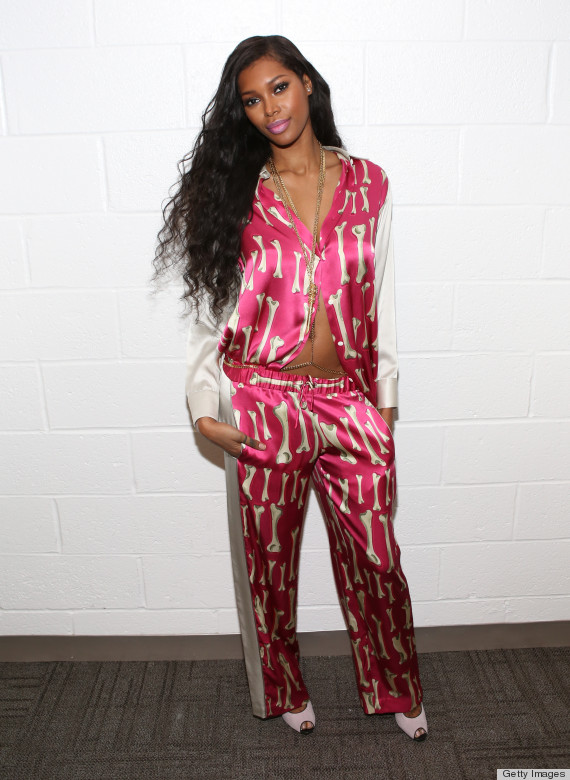 Body chains should have faded out in the early aughts.
Emmy Rossum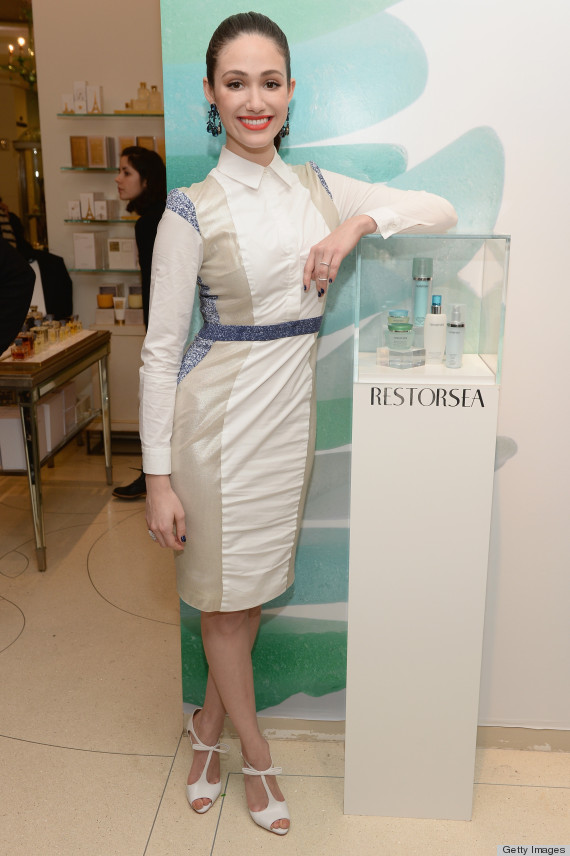 This outfit is just so boring. The colors are washing Rossum out, the silhouette is aging her and her pulled-back hair and T-straps shoes are all wrong for the dress.
Zendaya Coleman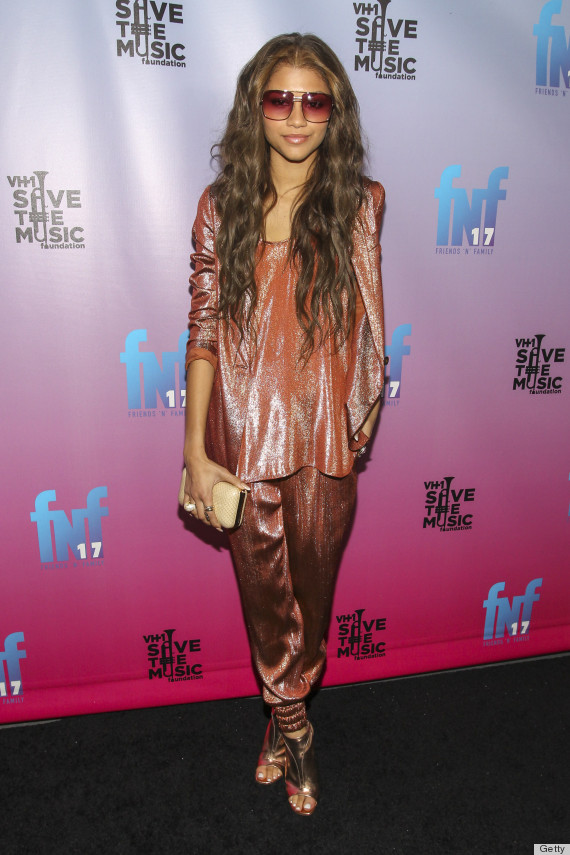 Separately, these pieces could have been spectacular, but all together they're too much. The baggy metallic suit is overpowering on the petite singer. She also made the mistake of picking gold shoes and sunglasses with gradient lenses, both of which are competing with her already busy ensemble.
Anna Kendrick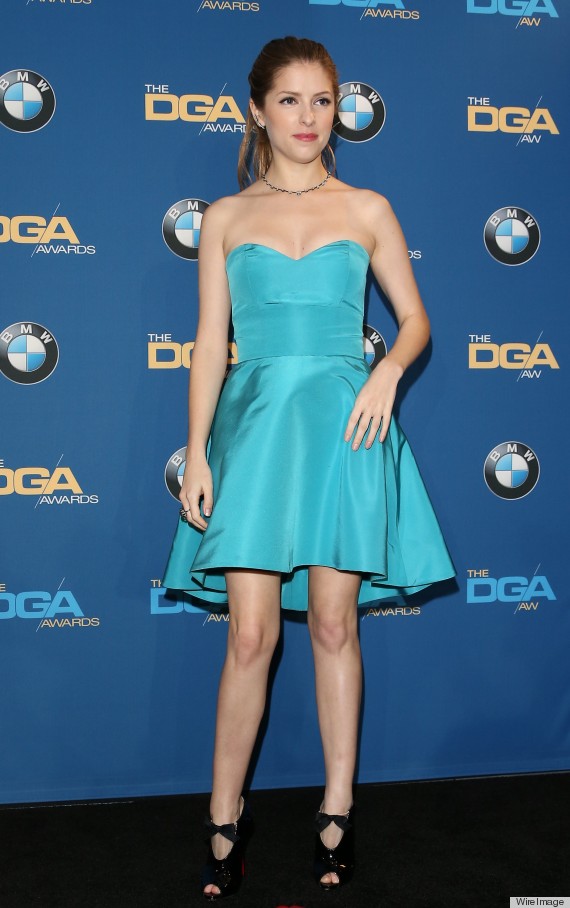 This either looks like a bad bridesmaid dress or a tacky prom dress. Either way, the cupcake silhouette and juvenile color are doing nothing for the actress. And the frock is begging for strappy shoes instead of the chunky black ones she chose.
More stars who missed the mark:
Jolie often plays it so safe that she neither lands on the best nor the worst-dressed list, but this week her garbage bag-esque gown left us speechless. Not only is the fabric terrible, but the gathering at the hip just makes matters worse.

Between the leather, the sheer panels, the mock neck and the crop top, there is way too much going on here.

The bottom of Jovovich's dress looks like a papier mache project of a second grader.

We totally support a girl's decision not to wear heels, but sneakers don't work in every life situation -- namely at a dinner party where other people are wearing tuxedos. We wish Stewart had opted from some cute flats and possibly a top that didn't wash her out so much.

This dress is very "Little House on the Prairie" with the frumpy silhouette and the turtleneck. On the runway, the gown was shown unlined, which was much prettier and didn't look so dowdy. But of course, in real life this needs a slip. This is an outfit that is best left to the catwalk.

The "Grace of Monaco" star could have looked so pretty had she not worn that ginormous bow on her gown. Less is more, Vega.

Did Campbell's dress go through a shredder? That would be the only explanation.

Who knew Stone was moonlighting as a belly dancer?

Mo' feathers, mo' problems.

We're not sure what was going through the supermodel's head when she got dressed, but this lacey, sheer, dramatic dress is so bizarre, we're not even sure what to say.

This is what it looks like when florals go wrong. This gown was clearly meant for someone who is a bit taller, because it is pooling on the ground and totally overpowering her small frame. A trip to the tailor would have done her wonders.

This space-age dress belongs in the future. We're not ready for it yet.

We understand the urge to go all out at a Chanel show, but this looks like a costume. A bad costume with one too many ruffles. On the plus side, Pinto can dress up as a flamenco dancer next Halloween.

The print and the volume at the bottom of the dress isn't doing her any favors -- this gown needs a shorter hemline.

This ensemble is better suited for the boudoir.

Hudson usually hits it out of the park, but this ensemble fell short. Between the too-long skirt, and long-sleeved lace top (with her bra showing), it looks like she threw these mismatched pieces together at the last minute.

Though we appreciate the fact that Beauvais is wearing high street (her top is from Zara), those pants are all kinds of unflattering. The leg is too wide and the pant sits too high on her stomach, creating unnecessary bulk. She also didn't need white shoes -- there is already enough white fabric going on.

Gyllenhaal is 2-for-2 this week. Not only was her Met Gala dress a bust, but her after-party look wasn't much more successful. She needs to stop wearing printed, long dresses. They look matronly, especially when there is no skin to break up the silhouette.

We could see this dress on Rooney Mara (in fact, we did see this dress on Rooney Mara,) but somehow on Kim it falls short. She took this look straight from the runway (down to the shoes) and injected none of her own personality into the fashion-forward outfit, which doesn't seem to fit with her style in the first place.

The bat sleeves and wide-leg trousers are too much fabric; they are engulfing the poor French actress. Some tailoring would have done her a world of good.

This is yet another print that could stand to be broken up. And we wish Woodley would have gone for more delicate shoes, as these are a little heavy for her spring frock.

She needs a belt or something to cinch in at her waist, as this maxi dress just looks like a sparkly tent.

This look may have worked on the runway, but we wish that Allen hadn't opted to wear the jacket over the dress, it makes it too matchy-matchy.

You may want to consult Rihanna next time you try the pajama trend, Jessi J, as this literally just looks like you're wearing your PJs. And no, those gold wedges aren't helping matters.

We've said it once and we'll say it again, tailoring is key. Ora's white suit looks so sloppy and it also seems as though she forgot to do up a few buttons on her shirt.

We can only imagine what Regina George would have said about this ensemble. In theory, this dress is kind of cool, but in practice it comes off a little DIY.

This is one tough dress to pull off with all the velvet and the asymmetrical neckline. The frock is just swallowing up the "3 Days to Kill" star and that pink clutch has got to go.

This ensemble belongs on a Vegas showgirl.

Welcome to Frump City, population one. Upton is one of the most stunning ladies in Hollywood but this billowy blouse and ill-fitting trousers are doing nothing for her body. Had she gone for a pair of straight leg pants, a more fitted top and no necktie, this would have been a much more successful outfit.

Messing needs to learn about a little something called over-styling. This dress is a statement on its on and doesn't need chunky earrings, gold cuffs and T-strap black heels. All of her accessories are simply overwhelming her small frame.

Crop tops are very trendy right now, but you have to know how to bare your midriff. Willis is leaving too little to the imagination in this cut-out outfit.

This dress looks like an optical illusion gone wrong. Between the one-shoulder gown and the extra fabric (and volume) on her hips, our head is spinning.

This is another case of a busy ensemble. The loud color palette is bold enough by itself, so when you add a bizarre print and a high-slit, the outfit just becomes muddled.

This frock looks like a bad '70s couch with the print, fabric and neck tie.

We're all for a low neckline, but this one looks like a wardrobe malfunction waiting to happen. It is plunging to the point that it looks like they ran out of material to complete the gown and instead had to use an illusion panel.

A plaid suit is a statement on its own, so there is no need to add a crop top, oversized jewelry, wide-brim hat and purple heels.

This outfit is terrible, but it's hard to pinpoint exactly what went wrong, as separately, many of these pieces could have worked. Her red leather jacket and combat boots are too heavy with her paisley printed jeans, and that black sweater is the wrong color palette for her spring look. Don't even get us started on that hat. It is definitely doesn't make us "happy."

We are never fans of outfits that require us to get a bikini wax beforehand.

This color is washing Dawson out. But even if we ignore the unflattering beige hue for a minute, the fit of her jumpsuit isn't great and looks like it could use a good steam.

The black satin detail at her hip is bizarre, it looks like it was extra material that was meant to be cut off before the "Game of Thrones" star stepped onto the red carpet.

There are a lot of things that are wrong with this ensemble. Her white slip is distracting against the stripes on her dress and the lace hemline, while her yellow pumps are too harsh for this delicate outfit. Her hair and makeup could also use a little attention.

This looks very bridal. White satin and lace is never a good call unless you're walking down the aisle.

We know Woodley can do better than this. Her bronze dress is just ugly. The color is doing nothing for the actress' complexion, the silhouette skews a little Greek goddess, but we have to admit, the hair and makeup are perfection.

This dress has too many things going on. The asymmetrical neckline, high slit and printed skirt are begging to be scaled back a little. She could have also used a few more inches on that hemline.

We're not going to lie, this dress is tacky. The print is doing nothing for her, and we wish she would try out a new silhouette.

Clearly, it wasn't Kristen's week. The problem with this outfit is in the proportions. The length of the dress is shortening the petite actress' legs, the sleeves are too long and the crop top needs to hit a bit lower, at her most narrow part, to be the most flattering.

Bell is such a pretty actress, but this look is too goth for our liking. Between the black sheer overlay on her shapeless dress to her chunky pumps and that dark, heavy eye makeup, she needs to brighten up.

The "Hunger Games" star is wearing one bizarre jumpsuit. The illusion panel up top competes with the speckled slacks, while the strap on her heels is disrupting the long, lean line of her pants. A strappier shoe would have done wonders for this ensemble.

Von Teese's dress itself is actually kind of pretty, but with the gloves it skews a little costumey.

We imagine that this is what Janet Jackson's Halloween costume might look like.

The fashionista rarely gets it wrong, but for some reason this dress looks a little like she is cloaked in wet seaweed. The leather and lace combination just isn't working.

If you forget her tent-like white shirt for a minute, you're still left with horrible pants-cum-boots. That print is way too ugly to be all over her legs.

This dress is all kinds of wrong. Not only is the print too much head-to-toe, but the matching purse is making her look like an extra from "Little House on the Prairie."

Yes, you can wear too many tiers at once. Ryan's gown could have used a little scaling back to make it look more sophisticated and less like a wedding cake. And her deep burgundy lipstick is a little harsh for the ensemble.

The abstract print, combined with the color-blocking and embellishments are overwhelming the actress' petite frame.

Between the sheer panels, the sparkles and the smoky eye makeup, Danes should have scaled back.

There are some color combos that almost never work, and orange and brown is one of them. This dress is just bizarre on every front. The pattern, the fabric and the silhouette is making us scratch our heads.

This butterfly print is very juvenile for Falco, especially when worn head-to-toe. We also wish people weren't still wearing mullet style dresses on the red carpet.

We usually love Mara's avant-garde fashion sensibilities, but this look is pushing it. The boxy sweater is wildly unflattering and her hair is overly messy for a red carpet appearance.

We're not sure which part of the dress is the most offense: the long purple train, the unflattering waist line or the lace detailing.

Though this gown is extremely intricate, there is so much hardware, it looks like the dress is literally weighing Akerman down. We wish all the beading was concentrated in one area as opposed to all over.

"The Big Bang Theory" star always falls prey to dresses that skew prom. This strapless gown could use a more modern silhouette and way less fabric. The petite actress is being swallowed by her outfit.

We're going cross-eyed just looking at this dress. There are too many stripes in too many directions.

Zosia should have spent more time picking out the color for her jumpsuit, as this nude hue is hardly flattering. Though we admire her attempt at a monochromatic outfit, it doesn't work because she looks so washed out.

Is that Amy Winehouse? Oh no, it's just Tyra Banks. If the hair isn't enough to land her on the worst-dressed list, then her LBD is -- it looks too much like lingerie for comfort. And the straps on her pumps are cutting her legs off at a bad spot.

Although the colors on this dress are great for this time of year, the puffy sleeves and weird embellishment are making for one bizarre ensemble.

This dress looks like an optical illusion gone wrong. The abstract print makes you go cross-eyed when worn all over such a large gown.

Is there a new trend we're not aware of? There is someone on the worst-dressed list every week wearing a tacky '90s prom dress. This green one is especially bad, as the train looks like extra fabric that they forgot to cut off.

It looks like Blanchett is wearing curtains. Head-to-toe white silk can look cheap quickly, especially when the fit of the dress is off. Not only does the gown need to be hemmed, but it also needs a good steam.

Unless Wood is starring in the sequel to "A Night at the Roxbury," this sparkly outfit is not okay.

This lady rarely gets it wrong, but this was a serious flop. There is too much going on in the dress. The black strap, combined with the embellishments and the weird pleated accents, make Bosworth look like a character from "The Little Mermaid."

It's nice to see color on the red carpet, but not when it looks like this. The hunter green, orange and lavender clash (in a bad way), while her silk top, bedazzled skirt and suede shoes just make for an even more confusing look.

The color of Chastain's dress is simply unflattering. It's too bright and isn't quite the right shade of yellow for her milky complexion. Plus, the shape and the fit of the dress aren't helping matters.

Wiig is usually someone we look to for fashion inspiration, but not this week. The comedian chose a dress that was too busy -- between the loud pattern, sheer sleeves and T-strap shoes, we weren't sure where to look first.

This is another case of too much skin on the red carpet -- a plunging neckline like this doesn't work on women with bigger breasts. Also the shoulder detail is a little bizarre and competes with the sparkle and print on her gown.

This fashion-forward dress is pretty spectacular, but Lohan just fades into the background. The short hemline begs for lower heels, as the ones she's wearing are far too sexy. A pair of tights could have also worked to break up all the exposed leg (and maybe keep her warm).

Williams' pale blue dress is pretty, but the floral appliqués and silhouette aren't quite right for the "Girls" actress. This sweet frock would have been much better on a younger star.

We're all about the pajama trend, but when wearing the fad on the red carpet, you need to be extra careful. A statement necklace, bolder lip color and styled hairdo would have made it clear that Tomei didn't just roll out of bed.

This is way too much cleavage for the red carpet, it's distracting for an otherwise pretty dress.

With a few minor tweaks, this dress could have been a home run. The silver frock paired with the matching jacket is a little much; we wish Blanchett had opted for a topper in a different color or texture. Red shoes would have also been nice to bring out the bold lining on the inside of her dress.

It looks like "The Big Bang Theory" star wrapped pink bed sheets around herself. Her gown skews '90s prom and that head-to-toe color is blinding.

Unless Ms. Perry is trying out for a cheerleading squad, she needs a new look.

We question the Bollywood actress' choice of wearing this high-collared coat over these baggy pants, as together, they look a little frumpy. Had she chosen a slimmer pant leg, it would have really streamlined the look.

Though a black dress is often a safe bet, this one has a poor fit. The baggy sleeves and contrasting fabrics are hardly flattering on the actress and her hair just looks messy.

Well this is one way to ring in 2014. The feathers at the bottom of Gray's dress are far too costumey for the red carpet, while her very casual jacket doesn't jive with her otherwise fancy look. We also wish she had picked dressier shoes.

Underwear + cowboy boots + way too much fur = Overkill.

This looks like a prom dress gone wrong. There is far too much black tulle at the bottom of the skirt and her decision to wear head-to-toe purple satin and a sparkly headband made the ensemble even more juvenile.

S&M-inspired outfits NEVER look good on the red carpet.

It was clearly a rough week for Miley. This outfit wasn't any better than her fur coat ensemble. The flesh-colored crop top, paired with her mini skirt, made the singer too exposed. It's never smart to show lots of leg and your midriff.
Want more? Be sure to check out HuffPost Style on Twitter, Facebook, Tumblr, Pinterest and Instagram at @HuffPostStyle.