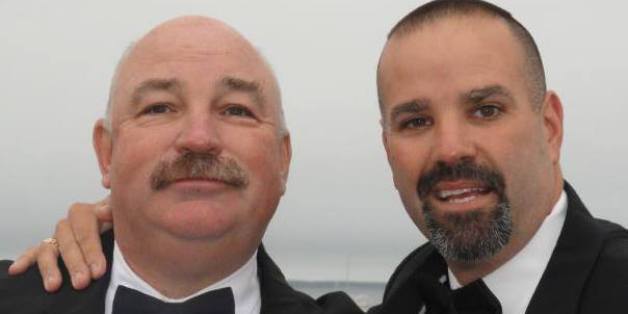 Matthew Barrett has filed a formal complaint against the Catholic school Fontbonne Academy with the Massachussetts Commission Against Discrimination, reports the Boston Globe. He says they rescinded his job offer upon his disclosure of his same-sex marriage to Ed Suplee, and, represented by Gay & Lesbian Advocates & Defenders, has charged them with hiring discrimination.
Barrett told the Globe that after offering him a job as food services director, Fontbonne Academy, a Roman-Catholic based girls' school in the Boston area, abruptly rescinded his offer after the school's head noticed that he listed his husband as his emergency contact on routine paperwork.
"She said the Catholic religion doesn't recognize same-sex marriage, and that was her excuse. She said, 'We cannot hire you,'" he told the Globe. "It just ate me up."
Two days after he got the job, he received an email from the Academy notifying him of an issue with his employment. When he arrived, he was told that the school would rescind the job offer.
"There is a balance between important values, which are religious liberties, and discriminatory practices," said Bennett Klein, a senior GLAD attorney, to the Boston Globe. "This is a job that has nothing to do with religion . . . and this weighs toward discrimination."
If the MCAD decides to conduct an inquiry into Barrett's complaint and finds probable cause for discrimination, he could possibly have the option of filing a complaint in state civil court.
"If I'm planning and making meals for students, I'm not sure what my being gay has to do with the job," said Barrett to Boston.com. "I've always done well in my work, and was excited about working at Fontbonne. All I did was fill out the form honestly."
ALSO ON HUFFPOST:
Statements On LGBT People From Faith Leaders
SUBSCRIBE TO & FOLLOW THE MORNING EMAIL
Start your workday the right way with the news that matters most. Learn more