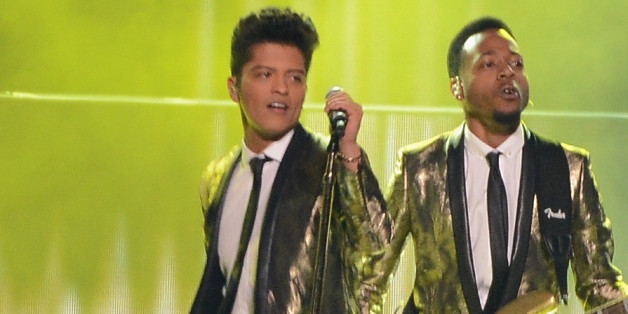 No importó el frío o la paliza que Seattle propinó a Denver, Bruno Mars encendió el estadio MetLife de Nueva Jersey con su actuación de medio tiempo.
El cantante norteamericano interpretó sus éxitos en un fastuoso show acompañados por los Red Hot Chili Peppers.
Ataviado con un look retro con saco dorado y pantalón negro, Mars inició su actuación con el hit, Locked Out Of Heaven.
Dio paso para el toque rockero de los Chili Peppers, que acompañaron con su tema emblema: Give it away
La actuación finalizó con el éxito del reciente ganador del Grammy, el clásico Just the way you are.
PHOTO GALLERY
BEFORE YOU GO
El show de medio tiempo
PHOTO GALLERY
El show de medio tiempo
Latifah, Fleming se lucen en el Super Bowl
AP - Todo el que haya sintonizado el Super Bowl temprano para tuitear sobre cualquier payasada musical previa al gran partido de la NFL, se quedó con las ganas tras ver las actuaciones de Queen Latifah, Renee Fleming y veintenas de cantantes corales.
La NFL se aseguró de que no hubieran errores durante los segmentos de entretenimiento previos al juego hace mucho, cuando escogió a la rapera y cantante Queen Latifah y la estrella de la ópera Fleming para interpretar "America the Beautiful" y "The Star-Spangled Banner". Ambas mujeres son artistas consagradas y manejaron el delicado material con facilidad, proporcionando emotivas actuaciones que arrancaron vítores de la multitud.
"¿Alguna vez la oyeron mejor cantada?", dijo el presentador Joe Buck mientras los fans ovacionaban la interpretación de dos minutos de Fleming del himno nacional.
El acto incluyó al Coro de las Fuerzas Armadas, imágenes de video de soldados en Afganistán, fuegos artificiales, una gigantesca bandera estadounidense y varias tomas del quarterback de los Broncos de Denver Peyton Manning ceñudo, listo para el partido.
Los hinchas vitorearon con fuerza luego que la soprano, vestida en un traje negro de Vera Wang con una banda blanca, alcanzó con facilidad la última nota alta de la canción.
Latifah, vestida formalmente en una parka azul hasta la rodilla y un cuello de tortuga blanco, fue igualmente acompañada por el Coro Juvenil de Nueva Jersey, fusionando a menudo su voz con la de los cantantes en lugar de tratar de imponerse para asumir un papel más estelar. El efecto fue encantador.
Tras salir del campo, Fleming dijo que no se sintió nerviosa. "Hago todo lo que me da nervios con antelación para poder disfrutar una vez que salgo a escena ... y funcionó bien esta vez", expresó. "Estoy tan contenta y honrada de haber estado ahí afuera. Amé cada segundo".
Dijo que se aseguró de mantenerse "súper enfocada" y agregó que "¡cuando terminó fue tan emocionante!".
"Disfrutaré este partido más que cualquier otro en mi vida", dijo.