Frankfurt Tower Demolished In Seconds (VIDEO)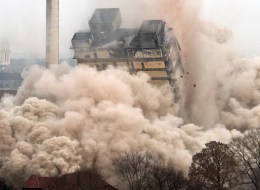 It only took seconds for a 380-foot tower in Germany to be reduced to rubble.
Thousands looked on as the Frankfurt tower was demolished in a series of controlled explosions Sunday. The skyscraper, which used to house facilities for Johann Wolfgang Goethe University, was leveled to make way for new office buildings.
Though authorities initially planned to dismantle AfE Tower over a period of time, residents objected to the long-term construction and the accompanying noise, the Associated Press reports. That's why officials opted to destroy the 50,000-ton skyscraper with explosives.
The Frankfurt tower is reportedly the tallest building in Europe to be demolished with this method. According to Deutsche Welle, explosives expert Eduard Reisch used nearly one ton of explosives and 264-gallon water canisters in order to safely complete the demolition.
Clean-up crews began clearing concrete from the demolition Monday, Germany's The Local reports.
Watch footage of the controlled demolition above.