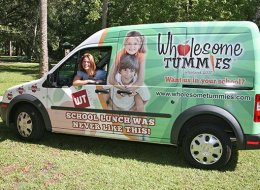 One of the reasons I started my website is that I wanted a place for women to come together and dream. We women need to know that we don't have to hang on to an old dream that has stopped nurturing us -- that there is always time to start a new dream. This week's story is about two moms who decided to do something about the lack of healthy lunch options at their children's schools, and ended up starting a food revolution bigger than anything they could have imagined! -- Marlo, MarloThomas.com
By Lori Weiss
Debbie Blacher was on her way to deliver lunch, when she looked in her rear-view mirror and saw the flashing lights so many of us dread. She was already late and the busy mom had hungry kids counting on her.
"I tried to explain to the police officer that I was going to be late," Debbie sighed, "but he said 'Ma'am, you should have thought of that earlier. Now you're really going to be late.' Unfortunately, that wasn't the only ticket I got that year."
The mother of three had a car filled with brown bags. But they weren't lunches that her own children had left behind. Debbie was on a mission. She and her neighbor, Samantha Gotlib, were determined to change the face of school lunches in Orlando. And she had 100 hungry kids, at five different schools, counting on her.
"Samantha and I had both become frustrated with the lack of healthy choices at our kid's schools," Debbie explained. "We took so much care to feed them organic foods at home, and then they'd go to school, and if we didn't pack a lunch, they'd end up eating pizza three times a week."
"We were both pregnant with our third child at the time, with all the others under the age of six, and we just wished someone could take one thing off our plates. If only the schools could make sure the kids had a nutritious lunch."
And then one day, at a rained out fourth of July party, the two women looked around the room and saw a silver lining in what had become an unexpectedly grey day.
"We realized that day, as all the moms were huddled inside talking, that we weren't the only ones feeling frustrated. Samantha and I had both been thinking about going back to work, but neither of us wanted to take a traditional corporate job. We wanted to know we could have an impact. We had been talking about things we might do together and suddenly it hit us, we were surrounded by parents just like us, who would happily pay if they could find a way to have someone else prepare their kids a healthy lunch."
There was just one little issue. Neither of the women knew anything about the food service industry. But both of them wanted to create change -- not just by eliminating a task for busy parents -- but in the way entire families looked at food. And while they would begin in their own community, within six years, their efforts would be felt throughout the country.
"We didn't know what we didn't know," Debbie laughed. "We'd just thrown a lot of dinner parties together and we were really excited about the idea. What we did know though, was that there were a lot of schools in the area that didn't have kitchens. They had to find an option for parents, so they'd contract with local restaurants like Burger King or Papa Johns. Subway was what they considered a healthy alternative. And we knew we could do better than that."
Article continues below slideshow
For neighbors Debbie Blacher and Samantha Gotlib, both busy mothers, making sure their children were eating healthy, nutritious meals was always a top priority. When the women realized how unhealthy the school lunches were in their hometown of Orlando, Florida, they felt that something had to be done.

Frustrated by the lack of healthy choices at their kids' schools, Debbie and Samantha went on a mission to transform the quality of school lunches in Orlando. Together, they created Wholesome Tummies, a healthy, homemade lunch distribution program.

Both Debbie and Samantha made sure to pack homemade lunches for their children to bring to school every day. "If we didn't pack a lunch, they'd end up eating pizza three times a week," Debbie said. Here, Debbie's son Justin (left) and Samantha's son Max (middle) play together in the neighborhood.

Even as a busy mother, Debbie made eating wholesome, organic meals and living a healthy, active lifestyle a priority in her family. Here, she picks apples with her sons Justin (left) and Ben on a beautiful fall day in 2003.

When Debbie met her neighbor, Samantha, the two mothers agreed that the quality of their children's school lunches needed to drastically improve. Here, Debbie and Samantha cut fresh garden herbs for a dinner.

At a rainy Fourth of July neighborhood party in 2007, an idea dawned on Debbie and Samantha. As all the mothers found themselves huddled inside chatting, the conversation turned to the poor quality of their children's school lunches. Debbie and Samantha realized there was a need for healthy school lunches, and the two decided to go into business together. "We wanted to know we could have an impact," Debbie said.

Debbie and Samantha's children would often hang out together in the neighborhood, giving the mothers plenty of opportunities to discuss their strategy for spreading the Wholesome Tummies mission. Here, Debbie's son Justin (right) and Samantha's son Max hug after a soccer game

Debbie and Samantha met so many parents who were so thrilled to hear of a healthy school lunch for their child at their first event in Orlando, FL. By the end of this event, Debbie and Samantha had over 100 people leave their contact info to learn more about opportunities with Wholesome Tummies.

"By 2020, Wholesome Tummies will be delivering lunches to 2,000 schools. Our mission is to make fresh, nutritious and exciting foods available to every child everywhere," said Debbie.

A little girl enjoys a healthy, delicious Wholesome Tummies lunch made with whole wheat pasta, veggies and protein-packed edamame.

Debbie and Samantha created healthy, delicious options using foods kids already knew and loved, like pizza, mac and cheese and chicken tenders.

Wholesome Tummies meals include yummy options like this healthy homemade chicken quesadilla.

Approaching their local neighborhood schools and parent network first, Debbie and Samantha started printing flyers and presenting their ideas. Here, they enjoy a sweet treat at a magazine event, celebrating the early success of Wholesome Tummies.

After meeting with business consultants, Debbie and Samantha were advised to start building a Wholesome Tummies franchise across Florida. "We knew that our franchisees would have to be people who wanted to make a difference in their community... people who were interested in the lives of children." Here, local franchise owners serve a child a hot, healthy meal.

During the same time that Wholesome Tummies was franchised, the nation had recently made a huge push to focus on childhood obesity awareness. Due to initiatives like Jamie Oliver's Food Revolution on ABC, the country's awareness of childhood obesity was at an all time high, and parents were interested in helping to spread the word.

Workers at a Las Vegas Wholesome Tummies kitchen assemble a batch of healthy, nutritious lunches.

Wholesome Tummies local owner, Stephanie Springel, gets ready for lunch service in Las Vegas.

The more Wholesome Tummies became involved with the local community, the more schools started signing on to receive lunches. Here, a kindergarten class partners up with Wholesome Tummies to plant a garden. With the help from sponsors Florida Hospital and the Orlando Magic, this entire class received a free healthy school lunch for one full semester.

After reaching out to local parents using social media, the women found their first four franchisees who would help them expand throughout Florida and, eventually, across the United States. Here, local owners train in the kitchen at a Chicago franchise.

Debbie poses for a quick photo during culinary training with a local franchise worker at a Wholesome Tummies kitchen in Chicago.

During one afternoon in 2011, Debbie, Samantha and the Wholesome Tummies team decided to take a break from training and take a group boat tour. Unfortunately, the Florida skies weren't so forgiving that day, and the entire team got soaked! "It turned out to be the most hysterical, memorable experience!" Debbie laughed.

Debbie and Samantha smile with their children in 2012. Today, Wholesome Tummies has sold 22 franchises that span the country and the company is projecting revenue of over 5 million dollars this year.
The two women turned to a local dietitian who specialized in helping families change the way they fed their kids. They brought her a menu of thirty items and asked her to analyze them for nutritional content. And then they took those recipes and made them even better -- pureeing vegetables into sauces, using whole wheat flour rather than white and lowering sugar content wherever they could.
"Everyone thought it was just something we were doing for fun -- something to keep us busy. Even our husbands probably thought that. But we believed kids deserved better. And in my heart and soul, I believed this could be done on a national level."
They believed in their concept so much, that they rented a commercial kitchen before they approached even one school. They asked a friend to build them a website -- a simple portal that parents could sign on to, make their selections for the week and pay for their children's lunches -- all with just a few easy steps.
"We decided to approach our neighborhood schools first. We printed up a flyer and presented our idea. By the end of the first day, we had our first five schools."
As the saying goes, if you build it, they will come. Once the schools signed on, the parents came in droves. And Debbie and Samantha were so eager to please, they allowed every parent to customize their child's meal -- from the entrée, to the sides and even the snacks.
"We spent a lot of time making sure the right food went to the right child at the right time," Debbie said with a smile. "I remember pulling over to the side of the road one day, when I realized I didn't have a whole bag of lunches and the kitchen was half an hour away."
But with a few tweaks to the ordering process and a reporting system that would assure them they had put the right food in the right containers, the business they named Wholesome Tummies was well underway. Or at least they thought it was. In October of 2008, just two months from the day they delivered their first meal, the market crashed and they watched stocks drop dramatically for four consecutive days.
"Almost immediately our lunch orders were cut in half," Debbie remembered, "but by that point, we had invested all this time in building the business, so we weren't about to give up. We took our flyers to the car pool lines and passed them out while the parents were waiting to pick up their kids. We put them in bags with little treats and coupons. And we started approaching more schools. We figured out pretty quickly that we couldn't keep delivering five lunches here and ten lunches there. We needed schools that were willing to make us the only option other than something mom or dad had sent from home. This wasn't going to work if we had to compete with Chick-fil-A."
"The school had to want to send a message to the community that the health of the children was their top priority and they weren't going to offer unhealthy alternatives. But we knew we had to make food that kids liked. So we took their favorites like spaghetti and meatballs, mac and cheese and pizza and made them healthier. And we offered hearty meals that we know kids love to eat at home, like meatloaf and mashed potatoes, roast chicken -- even breakfast for lunch options like pumpkin banana pancakes."
The partners also realized fairly quickly that their business model worked best for charter and private schools. The National School Lunch program's budget restrictions would make it difficult for public schools to make Wholesome Tummies the only lunch choice.
So despite the recession, the two moms turned their dream of creating a better school lunch, into a successful business. It wasn't long before they were hiring drivers who made their way from preschools to high schools throughout Orlando and they began offering even more options, all taste tested by their own kids.
The timing, as it turned out, couldn't have been better. In 2010, ABC launched Jamie Oliver's Food Revolution and the country's awareness of childhood obesity was at an all time high. Suddenly visitors to Orlando began asking about buying franchises.
"We thought franchising was for fast food companies," Debbie said, "but we had consultants analyze our business and they were convinced it would work. We knew though, that our franchisees would have to be people who wanted to make a difference in their community -- people who were interested in the lives of children. We weren't looking for people who would be interested in owning a McDonalds."
So the two women took an unconventional route. They reached out to parents on Facebook -- with ads that asked, 'Do you want to help kids in your community eat healthier?' That's where they found their first four franchisees who helped them expand Wholesome Tummies throughout Florida. And when the company was featured in Entrepreneur Magazine, they started getting calls from around the country.
Today, six years from that grey July 4th day, Wholesome Tummies has sold 22 franchises that span the country, and the company is projecting revenue of 6 million dollars this year. But with growth comes change -- and in the last year, the partners decided to go their own ways. Debbie is now the sole owner of the company.
"We believed that we could have an impact from the very start," Debbie reflected. "By 2020, Wholesome Tummies will be delivering lunches to 2000 schools. And we're not giving up on the public school system. Our mission is to make fresh, nutritious and exciting foods available to every child everywhere. We're not going to stop until we find a way to do that."
Add Marlo On Facebook:
Follow Marlo on Twitter:

Weekly Newsletter

Sign up to receive my email newsletter each week - It will keep you up-to-date on upcoming articles, Mondays with Marlo guests, videos, and more!

Sign up here