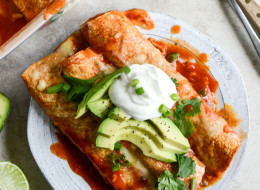 We've often said -- and whole-heartedly believe -- that when someone makes you soup it means they love you. We think you should know that statement also applies to enchiladas (and maybe even more so than it does to soup).
While soup is heart-warming and restorative, enchiladas are the food equivalent of taking off your shoes, wrapping yourself up in a blanket and sinking into a couch after a long day. When someone puts that feeling onto a plate for you, well, that's a whole lot of love.
If you have someone you care for, or if you just really like enchiladas, we gathered the 20 best recipes for you that the internet has to offer on this ultimate Tex-Mex comfort food.
Smoky Sweet Potato-Black Bean Enchiladas With Sweet Corn Crema

Sugar Plum Blog

Creamy Chicken And Jalapeno Enchiladas

Bev Cooks

Stacked Breakfast Enchiladas

Foodie Crush

Lightened Up Beef Enchiladas

How Sweet It Is

Chipotle Shredded Pork Enchiladas

White On Rice Couple

Spicy Beer Braised Lime Chicken Enchiladas

How Sweet It Is

Avocado Cream And Chicken Suiza Enchiladas

Foodie Crush

Thai Chicken Enchiladas

How Sweet It Is

Chicken Enchilada Pie

Little B Cooks

Roasted Vegetable Enchiladas

Vintage Mixer

Creamy Chipotle Enchiladas

Lara/Food52

Tofu And Vegetable Enchiladas

Two Recipes Blog

Butternut Squash Enchiladas

How Sweet It Is

Swiss Chard And Zucchini Enchiladas

karen bianchi/Food52

Buffalo Chicken Enchiladas

How Sweet It Is

Hatch Chile Enchiladas With Chicken And Zucchini

Bev Cooks

Chicken Enchiladas Suizas

Gastronomer's Guide

Shrimp Enchiladas With Jalapeño Cream

Damn Delicious

Chicken Enchiladas With Red Chile Sauce

Pink Parsley

Turkey And Black Bean Enchiladas

Gina's Skinny Recipes
Want to read more from HuffPost Taste? Follow us on Twitter, Facebook, Pinterest and Tumblr.