The dogs, both female, were found in an abandoned house last week by the landlord, who immediately called Metro Animal Care and Control, WSMV.com reported.
The two dogs had been painted all over with plumbers glue, which had hardened by the time they were discovered, WHJL-TV reported.
"We have been successful in shaving some of it," Dively told WJHL-TV. "We may have to shave some more under sedation."
Officers have named the glue-covered chihuahuas "Sapphire" and "Opal."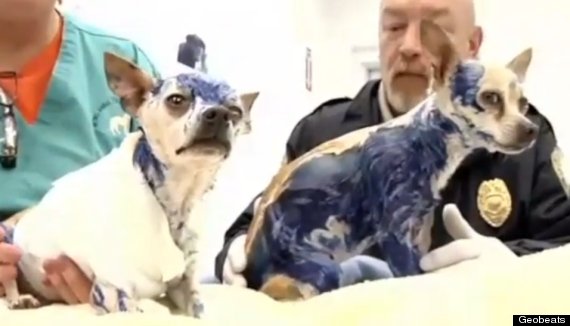 Billy Biggs, the investigator assigned to the case, makes no secret that he wants to catch the perpetrator.
Anyone with information on the incident is asked to call Nashville Metro Animal Care and Control at 615-862-7928.
SUBSCRIBE AND FOLLOW
Get top stories and blog posts emailed to me each day. Newsletters may offer personalized content or advertisements.
Learn more