These Recipes Are A Meat Lover's Dream Come True (PHOTOS)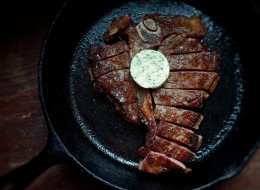 If you describe yourself as a carnivore, we're willing to bet you're pretty serious about your meat consumption. You don't adhere to the USDA recommended myplate proportions. No, you want your plate space to only be occupied by the meat category (with poultry as a side -- maybe).
You true carnivores out there, you who can never get enough bacon on your burger, who don't understand the point of a side salad, who start to feel faint after the eight hours of sleep where there was no meat, we put these recipes together for you. From brisket to short ribs to pork belly, we're about to share with you every recipe you could every want out of your meat-filled life -- and more.
Nach Waxman's Brisket Of Beef

James Ransom/Food52

Grilled Asian Flank Steak

Steamy Kitchen

Creme Brulee Pork Belly Confit

Mandy @ Lady and pups/Food52

Bacon Wrapped Meatloaf

Pass the Sushi

Chinese Style Honey Hoisin Sticky Ribs

Tom Hirschfeld/ Bona Fide Farm Food

Pork Belly Buns

Steamy Kitchen

Cowboy Rubbed Rib Eye With Chocolate Stout Pan Sauce

James Ransom/Food52

Crockpot Pulled Pork Chili

How Sweet It Is

Sunday Steak With French Butter

thirschfield/Food52

Braised Short Rib Stew

How Sweet It Is

Roasted Pork Belly

James Ransom/Food52

Bacon Onion Rings

Go Cook Yourself

Bacon Wrapped Brown Sugar Pork Loin

James Ransom/Food52

Triple Lamb Burger

Go Cook Yourself

Homemade Bacon

http://www.NaomiFiss.com

Salt & Pepper Babyback Ribs

James Ransom/Food52

Short Rib Fettucini

Foodiecrush

Beer Braised Beef Short Ribs

ChezUs/Food52

Stuffed Flank Steak with Prosciutto

A Spicy Perspective

Korean-ish Short Rib Sandwich

cristinasciarra
Want to read more from HuffPost Taste? Follow us on Twitter, Facebook, Pinterest and Tumblr.