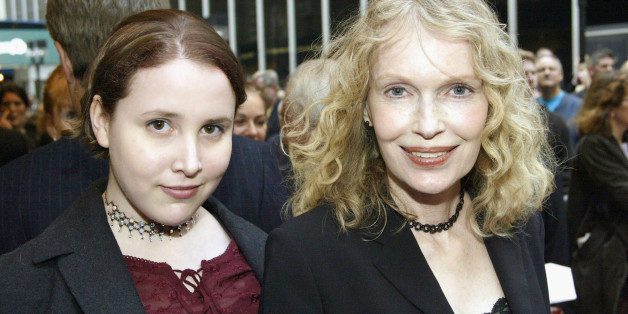 Dylan Farrow is speaking out again and defending herself in the wake of her New York Times open letter, which detailed sex abuse allegedly committed by her adoptive father, Woody Allen.
"It took all of my strength and all of my emotional fortitude to do what I did this week in the hope that it would put the truth out there," Farrow, now 28, told People magazine. "That is my only ammunition. I don't have money or publicists or limos or fancy apartments in Manhattan. All I have is the truth and that is all I put out there."
There have been skeptics who continue to question what actually happened back in 1992. Farrow, who was seven years old at the time, claims Allen sexually assaulted her in the attic of their Connecticut home. Allen, who was never charged with a crime, continues to maintain his innocence. His lawyer, Elkan Abramowitz, told the "Today" show "the idea that [Dylan] was molested was implanted in her by her mother," Mia Farrow, who was going through a bitter split from Allen at the time.
One of the doubters is Dylan Farrow's brother, Moses, who previously told People magazine, "Of course Woody did not molest my sister ... I don't know if my sister really believes she was molested or is trying to please her mother."
But Farrow denies her mother did anything and says Moses' account is a lie.
"People are saying that I am not actually remembering what I remember," she told the magazine. "People are saying that my 'evil mother' brainwashed me because they refuse to believe that my sick, evil father would ever molest me, because we live in this society where victim blaming and inexcusable behavior – this taboo against shaming the famous at the expense of their victims – is accepted and excused."

The New Inquiry's Aaron Bady explored this notion in a think piece about Farrow's accusations against Allen, and the issue of innocence and guilt in rape culture. Lena Dunham pointed to this article in praise and defense of Farrow.
Farrow previously told Vanity Fair that her fears are "crippling."
"I'm scared of him, his image." she said, "I have never been asked to testify. If I could talk to the seven-year-old Dylan, I would tell her to be brave, to testify."
ALSO ON HUFFPOST:
PHOTO GALLERY
BEFORE YOU GO
Celebrity News & Photos
PHOTO GALLERY
Celebrity News & Photos