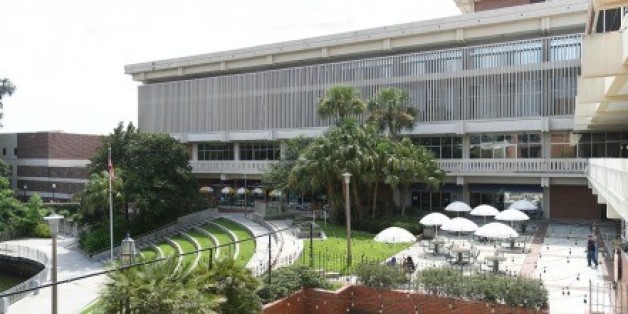 Florida Gov. Rick Scott (R) endured heavy criticism for his administration's efforts to limit voting in the 2012 election. His administration's latest decision to deny college students a convenient place to cast an early ballot is unlikely to quell this kind of criticism. Gainesville, Florida, in an attempt to avoid the six-hour lines that characterized last Election Day, sought approval to use the University of Florida's student union as an early voting site. Florida Secretary of State Ken Detzner denied the request, sparking outrage.
Detzner justified the decision by claiming that the Reitz student union does not fit the list of eligible early voting sites, which was expanded last year to reduce lines. Now, municipalities can use fairgrounds, government-owned community centers, convention centers, stadiums, courthouses, civic centers, and county commission buildings. "The terms 'convention center' and 'government-owned community center' cannot be construed so broadly as to include the Reitz Union," the state's Division of Elections argued.
SUBSCRIBE AND FOLLOW
Get top stories and blog posts emailed to me each day. Newsletters may offer personalized content or advertisements.
Learn more