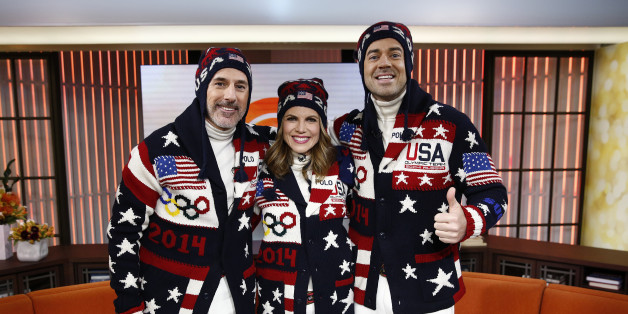 At the Olympic opening ceremony, a sea of red white and blue hand-knit sweaters flooded the Sochi arena representing Team U.S.A. While some lauded the sweaters designed by Ralph Lauren as classic Americana, others bashed the busy knits calling them "ugly Christmas sweaters" on Twitter.
Despite the mixed reviews, the $595 sweaters and matching $195 pants have already sold out on Ralph Lauren's website. For those yearning to wrap their bodies in the chunky knit, however, a select few are selling on Ebay for prices as steep as $3,000.

(Story continues below)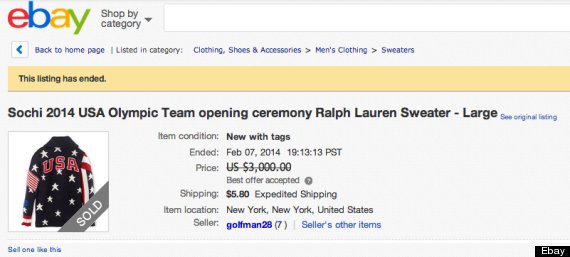 The Sochi Olympics are Ralph Lauren's fourth time designing ensembles for Team U.S.A., according to Yahoo! Sports.
"In the coming weeks, our brands will enjoy extraordinarily global visibility," Chief Operating Officer of Ralph Lauren, Jackwyn Nemerov, told Businessweek.
While the opening ceremony outfits for the London Games were made in China—a decision that received much criticism--this year Lauren opted for American producers.
"I guess in searching for vendors, somehow they found us," Elizabeth Park, owner of City of Commerce factory where the sweaters were produced, told The Los Angeles Times. "We were so shocked."
"One sweater takes more than 12 hours. Lots of hand whip-stitching, and it goes through many hands," Park told the news outlet.
ALSO ON HUFFPOST:
PHOTO GALLERY
BEFORE YOU GO
PHOTOS: Sochi 2014 Opening Ceremony
PHOTO GALLERY
PHOTOS: Sochi 2014 Opening Ceremony