Check Out The Stars Who Left Us Perplexed On This Week's Worst Dressed List
While there were certainly some style standouts over the past few days, there are also moments that were destined to land on the week's worst-dressed list. And sadly, Kelly Rowland and Coco Rocha were amongst the ladies who had us scratching our heads.
However, the star who really missed the mark was Maggie Gyllenhaal, who attended designer Rachel Comey's Fashion Week show in an patterned coat that looked like she just stepped off the set of "Game of Thrones."
Check out our picks for worst-dressed of the week and let us know if you agree.
Michelle Rodriguez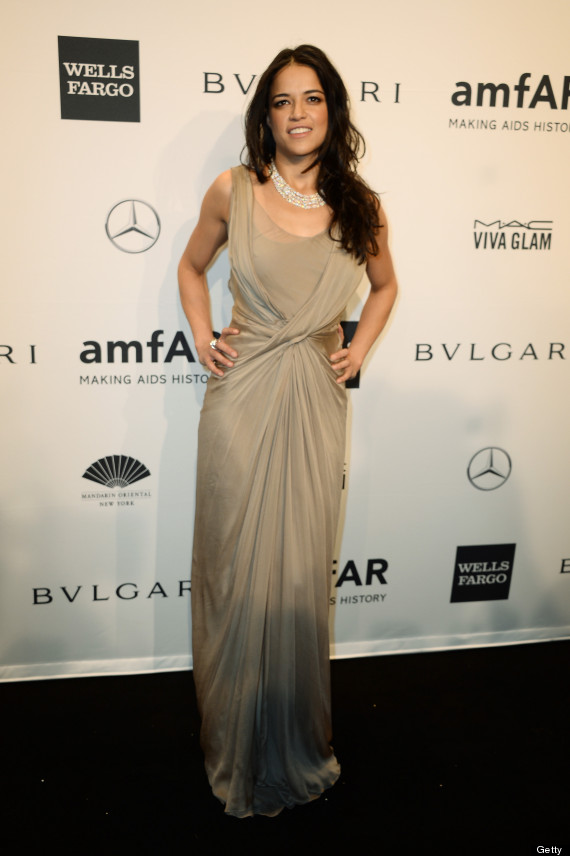 From her posture to her just-left-the-gym hair, Michelle does nothing to enhance her natural beauty or this gown's stunning design.
Kelly Rowland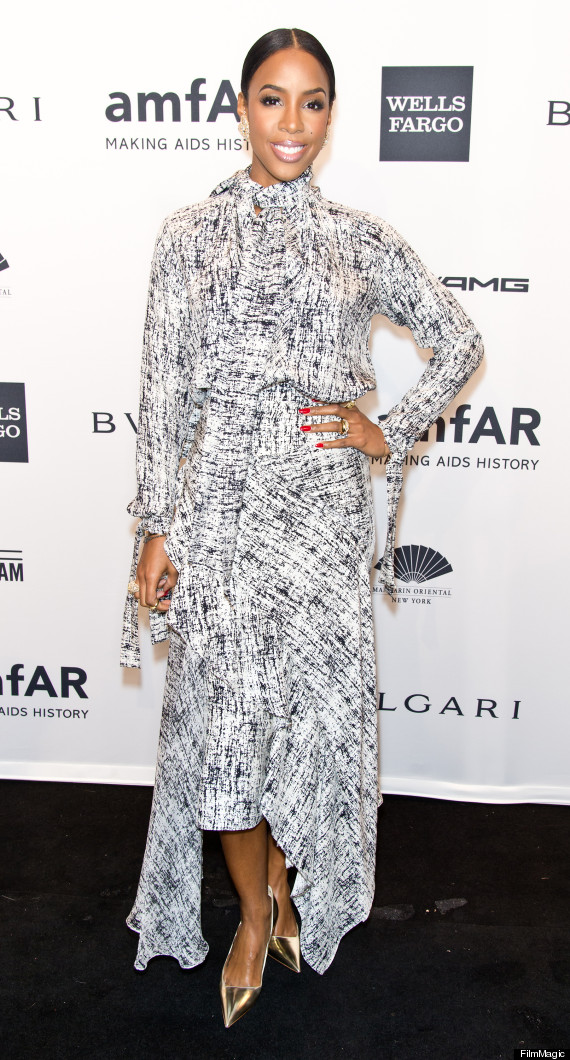 Oh Kelly, we expect so much more from you. There is enough fabric in this frock to make three separate dresses, and it has completely swallowed the singer's fabulous figure. And the uneven hemline combined with those gold pointy-toe kitten heels is just wrong.
Maggie Gyllenhaal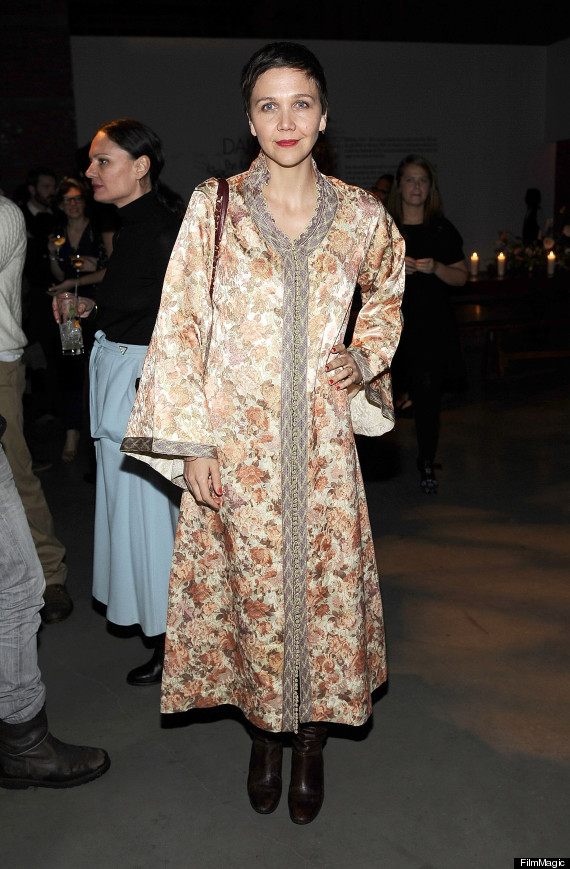 This is simply tragic. There's really nothing that could redeem this look beyond teleporting back to the Middle Ages.
Coco Rocha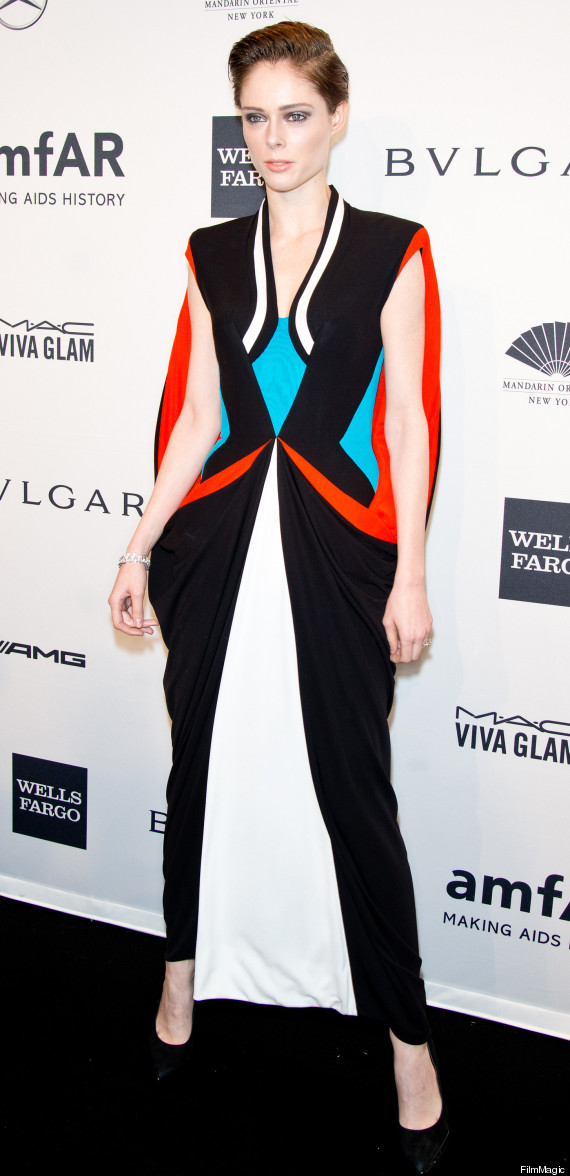 We're not sure what Coco was thinking stepping out in this dress-cum-jumpsuit. It looks more circus than couture -- even if it is being worn by one of the world's top supermodels.
Camilla Belle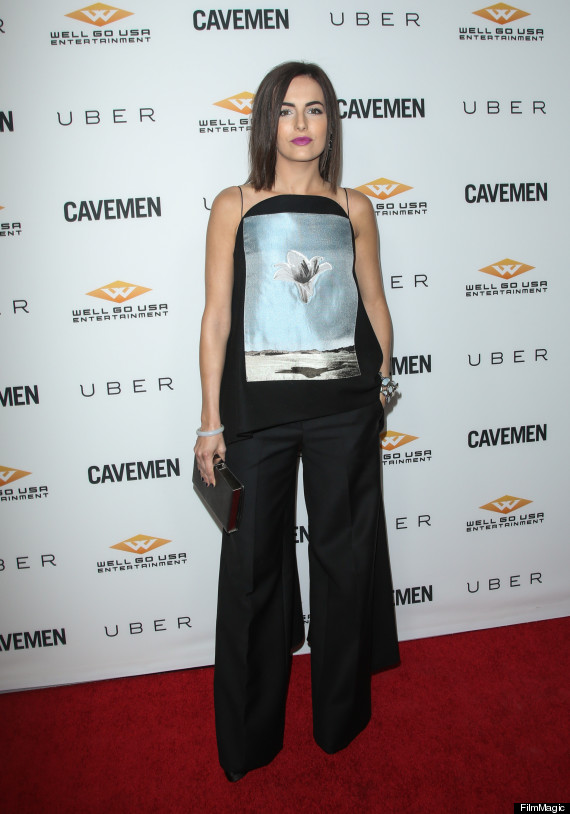 It looks like Camilla is an art installation. Between the "painting" print and boxy silhouette, this getup was destined to land on our worst-dressed list. A more form-fitting top (sans the art) would have definitely whipped this look into shape.
More celebs who made the worst-dressed list:
This dress belongs in Vegas. Maybe if she had gone for a different color, this wouldn't have been so tacky.

The "True Blood" star looks like a Disney princess in this dress. Between the overly-sweet color, the ball gown silhouette and her flowing blonde hair, there is nothing that is making her ensemble look appropriate for a 31-year-old actress.

Maybe it's the dark print or perhaps it's the matronly cut of the dress, but either way, Greer is aging herself.

Though we admire the costume designer's spunky sense of style, it's just not working here. Everything looks a little bit comical; from the orange hair and shoes to the oversized bow, the ensemble is clownish.

There are so many things wrong with Dunham's outfit. First, the dress is ill-fitting -- there is too much excess material around the hips which is making her look bigger than she is. Also, the neckline is too high. She is so covered up in the loose, long dress; a lower neckline would have broken up all the fabric with some skin. And the ankle straps are cutting off her legs and making her appear shorter.

When it comes to Rita Ora we always know to expect the unexpected but this is a little shocking, even for her. If we were to look past the blinding tin foil color, the dress is still bad -- it hardly does anything for her body. She should have picked something that cinched in higher at the waist or a shift dress rather than a drop waist silhouette.

Black leather and lace is usually a winning combination, but the fit of Dawson's dress is a little snug. Had she gone up a size or two, this would have been a much more flattering outfit.

This dress looks like it belongs on a Disney princess, not on one of Hollywood's most fashionable leading ladies. The color and the embellishment don't fit with Mara's style sensibilities.

This dress looks sharp -- literally. It could easily take someone's eye out. We can also see her bra, which is always a red carpet no-no. Let's file this under "what was she thinking?".

Between the cowl neck and the sheer panels on the pants, this outfit just doesn't work. The model is also far too pretty to be wearing so much makeup.

Well this is a '90s trend we didn't want to come back. Ora looks like a cross between TLC and "I Dream of Jeannie."

Not only is this dress all wrong for the Teen Choice Awards but it doesn't translate off the runway.

Benson's romper seems to be pulling in the crotch which looks wildly uncomfortable and also unflattering. The fabric is very wrinkled, the extremely plunging neckline that practically reveals her belly button is too low and that sagging bow isn't helping matters.

This entire outfit is problematic. The dress is too busy with the open-back, criss-cross straps and exposed skin. The hair and makeup do not jive with the boho vibe.

Though we love animal print and we love thigh-high boots, we have to admit that they're not the best combination to wear on the red carpet. Coleman looks like she is dressing up for Halloween. She should have chosen only one statement-making item, not two.

Had Malone chosen to wear a slip under this dress, it could have been so pretty. But the fact that we are seeing her underwear on the red carpet makes this look more appropriate for the beach (or the bedroom).

Hendricks' silk taffeta dress doesn't fit her well -- it looks like it's pulling across the bust area and too roomy through the hips. The color combination is also a little off -- we wish she had picked richer hues to complement her fierce red locks.

Well this looks like a nightgown. If the dress was shorter and made of a different fabric it would have been much more successful.

This is one holm-ly looking outfit. Yes, the actress' pants need to be properly tailored, but it's the top that really hurts the ensemble. She shouldn't have picked a shirt with an asymmetrical neckline, ruffles and a sheer element.

This is a whole lotta look. The print on Plaza's dress is totally overwhelming, especially since the frock also featured a square neckline, black sleeves and white bands around her waist.

The fabric of the dress really kills it for us. It looks like a cheap wedding dress that is highly flammable. A white dress without a sheen would have been much more successful.

Smith is showing a lot of skin with her exposed midriff, cleavage and cut-out skirt. She should have just picked one area to flaunt. The ensemble looks like it belongs in the bedroom, not on the red carpet.

This is a case of too much at once. Alba almost got it right, but she failed below the belt. The busy, printed midi skirt with the mesh panelling is competing with those tasseled heels. But we do admit, the background of the photo isn't helping matters.

Everyone can wear every color, but not every shade of every color. And this shade of neon pink is jarring on Fanning's fair complexion. We wish she had gone for a different hue or at least broken it up with different shoes.

Woah, there is a lot going on here. The "Devious Maids" star tried to combine too many trends at once. Between the ruffle detail on her top, the lace, the feathers and the gold beading, it's overkill.

Here, Gyllenhaal picked a nude tone that is blending into her skin and doing nothing for her complexion. Had she picked a slightly darker color it would have really popped. Those black shoes are also too heavy with the jumpsuit.

The top and the bottom of this dress don't look like they belong together. The upper half is a different fabric and has a fashion-forward feel, while the shiny skirt looks like a prom dress gone wrong.

The "American Horror Story" star picked a bad color. This top and skirt combo is blending together, the fabric is bizarre and the length is awkward. It should have been slightly longer or shorter for a more flattering effect.

First of all, velvet in the middle of July? That makes zero sense to us. Then, Plaza went and paired it with a white ruffle collar which makes it look like she is starring in a Shakespeare play. The ruffle detail needed to be worn with a more modern dress to bring the outfit into the 21st century.

The actress' one-shouldered, printed dress with extra volume at the hip has too many competing elements. McAdams should have scaled back with a sleeker silhouette.

The top half of this dress is absolutely stunning, but the bottom half is another story. The black sequins are so intricate and beautiful, making the sheer skirt unnecessary. We're sick of seeing people's underwear on the red carpet.

Seriously, when will this sheer trend die?

Diaz's dress isn't horribly offensive, but the fit could be much better. It kind of looks like she is wearing a sack.

It looks like her dress went through a shredder. The multi-colored pattern, asymmetrical hemline and sheer panels are not working.

This dress actually isn't that bad, but the fact that she carried the blue hue down to her shoes is a bit much. Though we normally love monochromatic outfits, head-to-toe cobalt is a little harsh on the eyes.

A shiny and metallic black jumpsuit with a chain belt -- just no.

This is one rough look with the Aladdin pants, granny panties, crop top, and questionable hair color.

Seydoux stuns on every red carpet but this head-to-toe beige ensemble is washing her out.

Though we applaud Chung for taking a step outside of her tomboy comfort zone, this outfit misses the mark. The black and red contrast is quite stark, and her accessories appear too heavy to pair with the light satin dress.

Those fringe epaulettes are just weird, and don't get us started on the buttons.

The jumpsuit, with the very bizarre gold fringe, looks like it belongs on the Star Trek Enterprise.

Ignoring the shower bun for a second, this onesie is still pretty unfortunate. The huge flower is odd and the embellished pattern is making us a little dizzy.

Just when we thought Longoria was on a winning streak, she goes and wears this. First of all, it's about nine hundred degrees outside, so she must be boiling hot in this leather number. And secondly, a leather dress is enough of a statement on its own, there is no need to add ruffles and bows and exaggerated sleeves.

The "True Blood" actress actually picked a great silhouette for her body, but the weird brown band around her midsection makes it look like they ran out of fabric to finish the dress. Not to mention the fact that the earthy color palette seem a little dull for summer.

Pike's dress isn't great, but it's the super casual mesh jacket that she is wearing over top that is making us scratch our heads.

This color is making Alba's skin look orange.

If you're able to make it past the Kate Gosselin hair, this outfit is almost equally as egregious. Though the matching top and pant combo is all the rage right now, this particular set is just plain ugly. The texture is bizarre and the cut of the top is unflattering.

How did our favorite fashionista end up on this list? Well, it's probably because of the weird harness details on her dress. Unless she is preparing to do a stunt, we're not having it.

Is it just us, or does this look a little like a figure skating costume?

Well that's one short skirt. One wrong move and we would get an eye full. And even if we were willing to look past the micro mini, the black stretchy top doesn't quite work on the red carpet, it's too casual.

Jolie often plays it so safe that she neither lands on the best nor the worst-dressed list, but this week her garbage bag-esque gown left us speechless. Not only is the fabric terrible, but the gathering at the hip just makes matters worse.

Between the leather, the sheer panels, the mock neck and the crop top, there is way too much going on here.

The bottom of Jovovich's dress looks like a papier mache project of a second grader.

We totally support a girl's decision not to wear heels, but sneakers don't work in every life situation -- namely at a dinner party where other people are wearing tuxedos. We wish Stewart had opted from some cute flats and possibly a top that didn't wash her out so much.

This dress is very "Little House on the Prairie" with the frumpy silhouette and the turtleneck. On the runway, the gown was shown unlined, which was much prettier and didn't look so dowdy. But of course, in real life this needs a slip. This is an outfit that is best left to the catwalk.

The "Grace of Monaco" star could have looked so pretty had she not worn that ginormous bow on her gown. Less is more, Vega.

Did Campbell's dress go through a shredder? That would be the only explanation.

Who knew Stone was moonlighting as a belly dancer?

Mo' feathers, mo' problems.

We're not sure what was going through the supermodel's head when she got dressed, but this lacey, sheer, dramatic dress is so bizarre, we're not even sure what to say.

This is what it looks like when florals go wrong. This gown was clearly meant for someone who is a bit taller, because it is pooling on the ground and totally overpowering her small frame. A trip to the tailor would have done her wonders.

This space-age dress belongs in the future. We're not ready for it yet.

We understand the urge to go all out at a Chanel show, but this looks like a costume. A bad costume with one too many ruffles. On the plus side, Pinto can dress up as a flamenco dancer next Halloween.

The print and the volume at the bottom of the dress isn't doing her any favors -- this gown needs a shorter hemline.

This ensemble is better suited for the boudoir.

Hudson usually hits it out of the park, but this ensemble fell short. Between the too-long skirt, and long-sleeved lace top (with her bra showing), it looks like she threw these mismatched pieces together at the last minute.

Though we appreciate the fact that Beauvais is wearing high street (her top is from Zara), those pants are all kinds of unflattering. The leg is too wide and the pant sits too high on her stomach, creating unnecessary bulk. She also didn't need white shoes -- there is already enough white fabric going on.

Gyllenhaal is 2-for-2 this week. Not only was her Met Gala dress a bust, but her after-party look wasn't much more successful. She needs to stop wearing printed, long dresses. They look matronly, especially when there is no skin to break up the silhouette.

We could see this dress on Rooney Mara (in fact, we did see this dress on Rooney Mara,) but somehow on Kim it falls short. She took this look straight from the runway (down to the shoes) and injected none of her own personality into the fashion-forward outfit, which doesn't seem to fit with her style in the first place.

The bat sleeves and wide-leg trousers are too much fabric; they are engulfing the poor French actress. Some tailoring would have done her a world of good.

This is yet another print that could stand to be broken up. And we wish Woodley would have gone for more delicate shoes, as these are a little heavy for her spring frock.

She needs a belt or something to cinch in at her waist, as this maxi dress just looks like a sparkly tent.

This look may have worked on the runway, but we wish that Allen hadn't opted to wear the jacket over the dress, it makes it too matchy-matchy.

You may want to consult Rihanna next time you try the pajama trend, Jessi J, as this literally just looks like you're wearing your PJs. And no, those gold wedges aren't helping matters.

We've said it once and we'll say it again, tailoring is key. Ora's white suit looks so sloppy and it also seems as though she forgot to do up a few buttons on her shirt.

We can only imagine what Regina George would have said about this ensemble. In theory, this dress is kind of cool, but in practice it comes off a little DIY.

This is one tough dress to pull off with all the velvet and the asymmetrical neckline. The frock is just swallowing up the "3 Days to Kill" star and that pink clutch has got to go.

This ensemble belongs on a Vegas showgirl.

Welcome to Frump City, population one. Upton is one of the most stunning ladies in Hollywood but this billowy blouse and ill-fitting trousers are doing nothing for her body. Had she gone for a pair of straight leg pants, a more fitted top and no necktie, this would have been a much more successful outfit.

Messing needs to learn about a little something called over-styling. This dress is a statement on its on and doesn't need chunky earrings, gold cuffs and T-strap black heels. All of her accessories are simply overwhelming her small frame.

Crop tops are very trendy right now, but you have to know how to bare your midriff. Willis is leaving too little to the imagination in this cut-out outfit.

This dress looks like an optical illusion gone wrong. Between the one-shoulder gown and the extra fabric (and volume) on her hips, our head is spinning.

This is another case of a busy ensemble. The loud color palette is bold enough by itself, so when you add a bizarre print and a high-slit, the outfit just becomes muddled.

This frock looks like a bad '70s couch with the print, fabric and neck tie.

We're all for a low neckline, but this one looks like a wardrobe malfunction waiting to happen. It is plunging to the point that it looks like they ran out of material to complete the gown and instead had to use an illusion panel.

A plaid suit is a statement on its own, so there is no need to add a crop top, oversized jewelry, wide-brim hat and purple heels.

This outfit is terrible, but it's hard to pinpoint exactly what went wrong, as separately, many of these pieces could have worked. Her red leather jacket and combat boots are too heavy with her paisley printed jeans, and that black sweater is the wrong color palette for her spring look. Don't even get us started on that hat. It is definitely doesn't make us "happy."

We are never fans of outfits that require us to get a bikini wax beforehand.

This color is washing Dawson out. But even if we ignore the unflattering beige hue for a minute, the fit of her jumpsuit isn't great and looks like it could use a good steam.

The black satin detail at her hip is bizarre, it looks like it was extra material that was meant to be cut off before the "Game of Thrones" star stepped onto the red carpet.

There are a lot of things that are wrong with this ensemble. Her white slip is distracting against the stripes on her dress and the lace hemline, while her yellow pumps are too harsh for this delicate outfit. Her hair and makeup could also use a little attention.

This looks very bridal. White satin and lace is never a good call unless you're walking down the aisle.

We know Woodley can do better than this. Her bronze dress is just ugly. The color is doing nothing for the actress' complexion, the silhouette skews a little Greek goddess, but we have to admit, the hair and makeup are perfection.

This dress has too many things going on. The asymmetrical neckline, high slit and printed skirt are begging to be scaled back a little. She could have also used a few more inches on that hemline.

We're not going to lie, this dress is tacky. The print is doing nothing for her, and we wish she would try out a new silhouette.

Clearly, it wasn't Kristen's week. The problem with this outfit is in the proportions. The length of the dress is shortening the petite actress' legs, the sleeves are too long and the crop top needs to hit a bit lower, at her most narrow part, to be the most flattering.

Bell is such a pretty actress, but this look is too goth for our liking. Between the black sheer overlay on her shapeless dress to her chunky pumps and that dark, heavy eye makeup, she needs to brighten up.

The "Hunger Games" star is wearing one bizarre jumpsuit. The illusion panel up top competes with the speckled slacks, while the strap on her heels is disrupting the long, lean line of her pants. A strappier shoe would have done wonders for this ensemble.

Von Teese's dress itself is actually kind of pretty, but with the gloves it skews a little costumey.

We imagine that this is what Janet Jackson's Halloween costume might look like.

The fashionista rarely gets it wrong, but for some reason this dress looks a little like she is cloaked in wet seaweed. The leather and lace combination just isn't working.

If you forget her tent-like white shirt for a minute, you're still left with horrible pants-cum-boots. That print is way too ugly to be all over her legs.

This dress is all kinds of wrong. Not only is the print too much head-to-toe, but the matching purse is making her look like an extra from "Little House on the Prairie."

Yes, you can wear too many tiers at once. Ryan's gown could have used a little scaling back to make it look more sophisticated and less like a wedding cake. And her deep burgundy lipstick is a little harsh for the ensemble.

The abstract print, combined with the color-blocking and embellishments are overwhelming the actress' petite frame.

Between the sheer panels, the sparkles and the smoky eye makeup, Danes should have scaled back.

There are some color combos that almost never work, and orange and brown is one of them. This dress is just bizarre on every front. The pattern, the fabric and the silhouette is making us scratch our heads.

This butterfly print is very juvenile for Falco, especially when worn head-to-toe. We also wish people weren't still wearing mullet style dresses on the red carpet.

We usually love Mara's avant-garde fashion sensibilities, but this look is pushing it. The boxy sweater is wildly unflattering and her hair is overly messy for a red carpet appearance.

We're not sure which part of the dress is the most offense: the long purple train, the unflattering waist line or the lace detailing.

Though this gown is extremely intricate, there is so much hardware, it looks like the dress is literally weighing Akerman down. We wish all the beading was concentrated in one area as opposed to all over.

"The Big Bang Theory" star always falls prey to dresses that skew prom. This strapless gown could use a more modern silhouette and way less fabric. The petite actress is being swallowed by her outfit.

We're going cross-eyed just looking at this dress. There are too many stripes in too many directions.

Zosia should have spent more time picking out the color for her jumpsuit, as this nude hue is hardly flattering. Though we admire her attempt at a monochromatic outfit, it doesn't work because she looks so washed out.

Is that Amy Winehouse? Oh no, it's just Tyra Banks. If the hair isn't enough to land her on the worst-dressed list, then her LBD is -- it looks too much like lingerie for comfort. And the straps on her pumps are cutting her legs off at a bad spot.

Although the colors on this dress are great for this time of year, the puffy sleeves and weird embellishment are making for one bizarre ensemble.

This dress looks like an optical illusion gone wrong. The abstract print makes you go cross-eyed when worn all over such a large gown.

Is there a new trend we're not aware of? There is someone on the worst-dressed list every week wearing a tacky '90s prom dress. This green one is especially bad, as the train looks like extra fabric that they forgot to cut off.

It looks like Blanchett is wearing curtains. Head-to-toe white silk can look cheap quickly, especially when the fit of the dress is off. Not only does the gown need to be hemmed, but it also needs a good steam.

Unless Wood is starring in the sequel to "A Night at the Roxbury," this sparkly outfit is not okay.

This lady rarely gets it wrong, but this was a serious flop. There is too much going on in the dress. The black strap, combined with the embellishments and the weird pleated accents, make Bosworth look like a character from "The Little Mermaid."

It's nice to see color on the red carpet, but not when it looks like this. The hunter green, orange and lavender clash (in a bad way), while her silk top, bedazzled skirt and suede shoes just make for an even more confusing look.

The color of Chastain's dress is simply unflattering. It's too bright and isn't quite the right shade of yellow for her milky complexion. Plus, the shape and the fit of the dress aren't helping matters.

Wiig is usually someone we look to for fashion inspiration, but not this week. The comedian chose a dress that was too busy -- between the loud pattern, sheer sleeves and T-strap shoes, we weren't sure where to look first.

This is another case of too much skin on the red carpet -- a plunging neckline like this doesn't work on women with bigger breasts. Also the shoulder detail is a little bizarre and competes with the sparkle and print on her gown.

This fashion-forward dress is pretty spectacular, but Lohan just fades into the background. The short hemline begs for lower heels, as the ones she's wearing are far too sexy. A pair of tights could have also worked to break up all the exposed leg (and maybe keep her warm).

Williams' pale blue dress is pretty, but the floral appliqués and silhouette aren't quite right for the "Girls" actress. This sweet frock would have been much better on a younger star.

We're all about the pajama trend, but when wearing the fad on the red carpet, you need to be extra careful. A statement necklace, bolder lip color and styled hairdo would have made it clear that Tomei didn't just roll out of bed.

This is way too much cleavage for the red carpet, it's distracting for an otherwise pretty dress.

With a few minor tweaks, this dress could have been a home run. The silver frock paired with the matching jacket is a little much; we wish Blanchett had opted for a topper in a different color or texture. Red shoes would have also been nice to bring out the bold lining on the inside of her dress.

It looks like "The Big Bang Theory" star wrapped pink bed sheets around herself. Her gown skews '90s prom and that head-to-toe color is blinding.

Unless Ms. Perry is trying out for a cheerleading squad, she needs a new look.

We question the Bollywood actress' choice of wearing this high-collared coat over these baggy pants, as together, they look a little frumpy. Had she chosen a slimmer pant leg, it would have really streamlined the look.

Though a black dress is often a safe bet, this one has a poor fit. The baggy sleeves and contrasting fabrics are hardly flattering on the actress and her hair just looks messy.

Well this is one way to ring in 2014. The feathers at the bottom of Gray's dress are far too costumey for the red carpet, while her very casual jacket doesn't jive with her otherwise fancy look. We also wish she had picked dressier shoes.

Underwear + cowboy boots + way too much fur = Overkill.

This looks like a prom dress gone wrong. There is far too much black tulle at the bottom of the skirt and her decision to wear head-to-toe purple satin and a sparkly headband made the ensemble even more juvenile.

S&M-inspired outfits NEVER look good on the red carpet.

It was clearly a rough week for Miley. This outfit wasn't any better than her fur coat ensemble. The flesh-colored crop top, paired with her mini skirt, made the singer too exposed. It's never smart to show lots of leg and your midriff.
Want more? Be sure to check out HuffPost Style on Twitter, Facebook, Tumblr, Pinterest and Instagram at @HuffPostStyle.