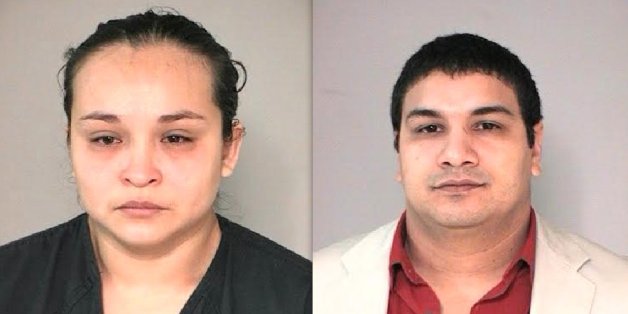 A Texas couple faces multiple charges after a starving 9-year-old, allegedly imprisoned in his own home, escaped through a window and begged a neighbor for help.
The Houston boy, who lived with his father, Jorge Estrella Sr., and stepmother, Aide Estrella, was found so malnourished that he faced a "substantial risk" of death, ABC13 reported.
According to court records obtained by ABC13, the boy's stepmother began confining and abusing him when he was 8 years old. She accused him of stealing a ring, and allegedly held his arm in the flame of a gas stove. Authorities later found burn marks on the boy's arm.
His father allegedly knew of the abuse and allowed it to continue.
Court documents describe the boy being shocked with a Taser, hit with a hanger, burned multiple times, and locked in a small closet for at least six months.
During his time locked away, the boy said he was unable to attend school, was fed once a day, and became so thirsty he drank his own urine.
On Nov. 23, 2013, the boy escaped through an upstairs window and fled to a neighbor's house, according to Chron News.
"I think it's horrible. I'm just in a state of shock," neighbor Letty Gentry told KHOU. "I just can't believe anyone would lock a child in a closet and starve them."
The boy was one of six children living at the residence at the time of the arrest, according to authorities.
A press release given to news outlets on Friday indicates that Aide Estrella is now being held on a $190,000 bond. On Jan. 18, Jorge Estrella Sr. was released on a $120,000 bond.
The child has been placed in foster care by Child Protection Services along with the other children.
ALSO ON HUFFPOST:
PHOTO GALLERY
BEFORE YOU GO
Questionable Parenting
PHOTO GALLERY
Questionable Parenting