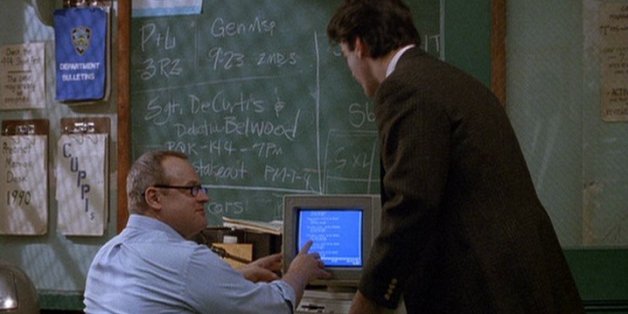 We all want to believe that binge-watching is productive, but in reality we're really just lazily watching TV.
Jeff Thompson however, an artist and programmer, decided to do something useful with his binge-watching and created a fascinating project that charts the history and of technology in "Law & Order." Thompson began streaming the detective procedural on Netflix and found himself noticing the computers in the background.
Thanks to a commission from Rhizome, a nonprofit arts organization, Thompson bought the entire series and set out on a hefty endeavor: watching all 456 "Law & Order" episodes, in order, and screen-capping every single computer in every shot (though he admits he missed a few blurry ones). After a year-and-a-half's worth of work, he ended up with about 11,000 screenshots and some pretty interesting data.
Thompson charted the overall increase of computers during the show's 20-year run, how many appeared in each episode, noted every mention of a computer and gathered every fake website that appears on the show. While that sounds like an insanely daunting task, Thompson told The Atlantic that he watched every episode at 150 percent speed and even invented a special device that captured and categorized multiple screenshots for him.
His screenshots and all of the fascinating data he collected can be found on the project's Tumblr, Twitter and in a PDF book. So next time you brag about having seen every "Law & Order" episode, remember Thompson and how your binging didn't include half the work he did.
[h/t The Atlantic, Yahoo]
RELATED ON HUFFPOST:
PHOTO GALLERY
BEFORE YOU GO
'Law and Order: SVU'
PHOTO GALLERY
'Law and Order: SVU'