 A set of surveys by Harper Polling undersampled urban voters in Michigan and Louisiana. Coca-Cola's Super Bowl ad offended few. And we rank third on a top 10 dubious polling awards list...but we try harder! This is HuffPollster for Monday, February 10, 2014.
HUFFPOLLSTER VIA EMAIL! - You can receive this daily update every weekday via email! Just click here, enter your email address in the box on the upper right corner of the page, and click "sign up." That's all there is to it (and you can unsubscribe anytime).
ARE HARPER POLLS MISSING URBAN VOTERS? - Two automated telephone polls on 2014 Senate races released last week by a Republican super PAC have Democrats complaining about bad polling and an under-representation of urban areas. And for good reason.
As reported in early February by Politico, a set of new polls commissioned by the Republican group American Crossroads and conducted by Republican automated pollster Harper Polling purport to show Republican candidates leading in a handful of key Senate races, including Michigan and Louisiana. These include a 5 percentage point advantage for Republican candidate Terri Lynn Land over Democrat Gary Peters (42 to 37 percent) in Michigan and a 1-point edge (45 to 44 percent) for Republican Bill Cassidy over incumbent Sen. Mary Landrieu in a test of a two-way runoff in Louisiana.
Partisan polling wars have become ubiquitous, but when one party challenges the results of polls commissioned by the news media or the other party, the arguments are often difficult to resolve. They almost always boil down to a debate about the composition of the "likely voters" sampled by the pollster. Many of these focus on partisan attachment, which are attitudes that can change from election to election or poll to poll. Others focus on demographics like age or race, for which statistics from past elections often conflict or derive from other surveys (such as exit polls).
Geography, however, is something of an exception. Campaign pollsters have known for decades that although the overall level of turnout can vary widely from election to election, the geographic composition of the electorate is typically very stable. Consider Michigan. Over the last decade, the total vote turnout there has varied from between 3.2 and 4.9 million voters, always much higher in presidential elections than in off years, as is the norm nationwide. But despite that fluctuation, the contribution of geographic regions has remained remarkably stable. Since 2002, for example, the nine counties that make up the Detroit media market have never contributed more than 49.8 percent or less than 48.7 percent of the voters -- a range of variation of just 1 percentage point over six elections.

The pattern in Louisiana is similar. Over the last three elections -- in 2012, 2010 and 2008 -- the 12 counties that make up the New Orleans media market as a percentage of all voters remained within less than one percentage point (between 34.0 and 34.9 percent). The slight decline in the share of the New Orleans market as a percentage of the electorate since Hurricane Katrina (from between 36 and 37 percent), is especially telling. Even a national disaster that shrunk the population of New Orleans by 29 percent only made a 2-3 point difference in the size of the New Orleans media market as a percentage of all Louisiana voters.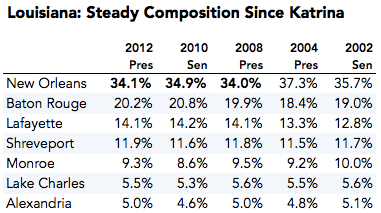 Which brings us to the new automated telephone polls conducted in February by Harper Polling, the firm founded by the a former polling director of the National Republican Congressional Committee with the intent of serving the Republican Party. In a poll of "likely 2014 voters" in Michigan released last week, Harper reported a composition of just 35 percent within the Detroit media market (14 percentage points lower than has been recorded since 2002). In Louisiana, they reported just 29 percent of likely voters in the New Orleans market, 5 points lower than in any recent election.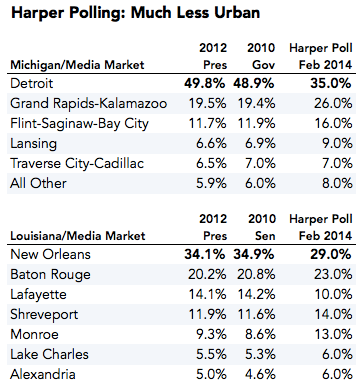 That difference has the Democrats' blood boiling. "I don't think many people are surprised, but clearly Republicans wish urban areas did not exist, and produce polls to fit their fantasy," says Matt Canter, communications director of the Democratic Senatorial Campaign Committee. "The problem is that urban areas do exist, and when a sample accurately reflects a midterm electorate, the polls show that the Democrats are ahead in these battleground races."
How much does the underrepresentation of Detroit and New Orleans make in their respective polls? It is difficult to say for certain since Harper Polls did not release cross-tabulations of their most recent results by media market (and did not immediately respond to a request to comment on this story). However, the difference in Michigan is not trivial. In 2012, for example, Barack Obama won the Detroit media market by a 21-point margin (60 to 39 percent) while losing most of the other markets. Had Detroit been just 35 percent of Michigan on election day 2012, instead of 49 percent, it would have narrowed Obama's margin in the state by just over 3 percentage points.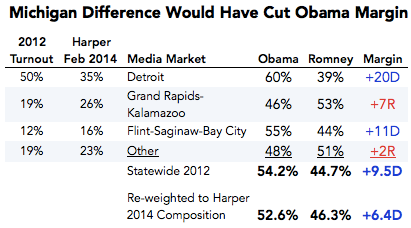 That difference may not seem large (and would be slightly smaller in Louisiana). Also, to be fair, many media pollsters resist imposing any geographic or demographic "assumptions" on their samples of likely voters. At this stage of the campaign, many set aside the challenge of modeling the likely electorate and simply sample the full universe of registered voters. But when a pollster purports to represent likely voters and misses past geographic composition by a mile, it's a sign that something in their methodology is not right.
Stephen Calabria contributed reporting.
FEW OFFENDED BY SUPER BOWL COKE AD, BUT MOST WANT TO SEE ENGLISH AS OFFICIAL LANGUAGE - Emily Swanson: "Coca-Cola touched off a controversy during the Super Bowl last Sunday when it aired an ad featuring the song "America the Beautiful" sung in eight different languages. The ad won praise from many Americans, while angering some others, who couldn't wrap their heads around the song being sung in any language other than English... According to the poll, 21 percent of Americans thought the ad was offensive, while 59 percent said it was not….Even among those who didn't find the Coca-Cola ad upsetting, though, the idea that English should become the official language of the United States was widespread. Seventy percent of Americans, including 61 percent of Democrats, 69 percent of independents and a whopping 92 percent of Republicans, said they thought English should be made the official language." [HUFFPOST]
-------------ADVERTISING------------
Rasmussen Reports – Help Wanted. Rasmussen has a new position open for a senior data scientist/statistician to help lead us into the future of public opinion polling in a way that relies less on land lines and more on a combination of the various media channels available today. If your background is in statistics, mathematics and programming and you have a vision for the next wave in public opinion, please apply. Love of politics and policy a plus. Job listing and more details here.
-------------ADVERTISING------------
MONDAY'S 'OUTLIERS' - Links to the best of news at the intersection of polling, politics and political data:
-One problem for immigration reform: Few House Republicans represent districts with sizable Latino populations. [NBC]
-Days before the San Diego mayoral runoff, the race remains nearly tied. [SurveyUSA]
-Approval for Congress remains low. [Gallup]
-How Michelle Obama's ratings compare to those of her predecessors as First Lady. [Pew Research]
-Caucus-goers tend to be more ideologically extreme, say Christopher Karpowitz and Jeremy Pope, and voters prefer primaries. [WaPost's Monkey Cage]
-Political scientists help explain how Twitter helped predict the vote in the Tokyo mayoral election. [Monkey Cage]
-New Census Director John Thompson lays out his priorities and "what's on the horizon in 2014." [Census.gov]
-Derek Thompson review the demographics of television sports audiences. [The Atlantic]
-We're dubious. [iMediaEthics]