Pay no mind to the "Toy Story" doll; security officers at Heathrow Airport aren't playing around.
This, after a traveler with a cowboy figurine fashioned after the "Toy Story" character Woody says workers at London's largest international airport pulled him aside and proceeded to disarm the doll of his tiny, fake six-shooter.
The doll's caretaker, John Hazen, snapped a picture of Woody in the midst of his pat-down. He then shared the image on Reddit, with the caption, "security just confiscated his 'weapon,' keep the world safe boys..."
(Story continues below)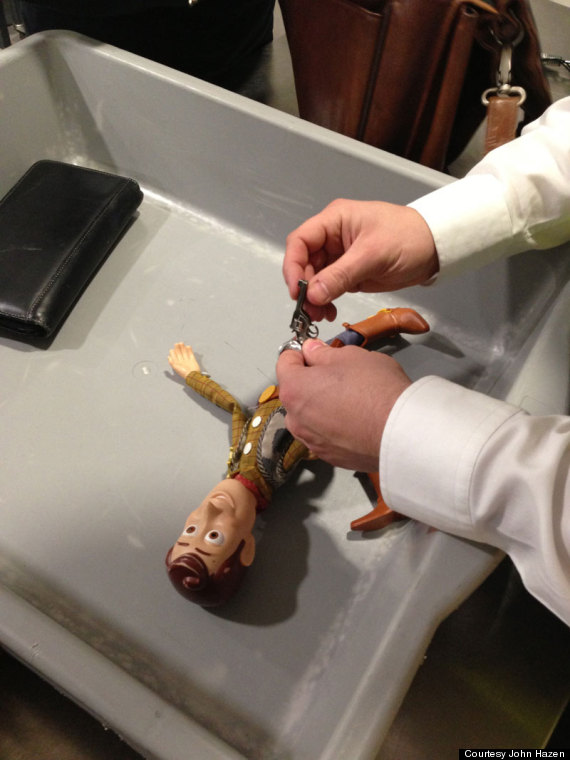 In a conversation with The Huffington Post, Hazen explained he was en route to Los Angeles via Heathrow when he heard the words most dreaded by any traveler moving through security: "We've got a problem with your bag." Officers proceeded to extract Woody -- who Hazen says has traveled the world, visiting far-flung destinations like New Zealand, Hawaii and Australia -- and seize his toy gun.
Hazen added the security officer examining the toy was "very cordial and nice," even checking with his superiors regarding whether or not they actually had to confiscate the item, which Hazen says has no moving parts. The doll does not typically come with its own gun; Hazen says his family added one later.
A representative at Heathrow could not confirm whether or not Woody been stripped of his weapon but did acknowledge a confiscation would be "a bit overzealous."
(Story continues below)

But what prompted Woody's worldwide jaunt in the first place?
Hazen travels a lot for work, so he sets up and photographs a scene every night for his son. Many of the setups feature Woody.
"For almost two years, tired, drunk or otherwise, I set a 'scene' up using the toys in the house," Hazen writes on his blog. "The first thing [my son] does when he gets up is look for his 'crazy thing' ... Love you little guy... - Dad."
See some of Woody's adventures, below:
ALSO ON HUFFPOST:
PHOTO GALLERY
BEFORE YOU GO
Stuffed Animals As Travel Companions
PHOTO GALLERY
Stuffed Animals As Travel Companions