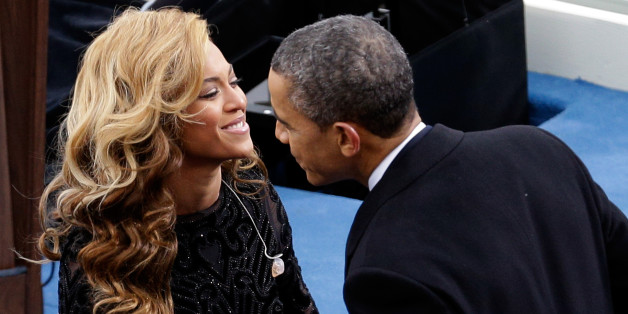 On Feb. 10, the second largest paper in France, Le Figaro, passed along word from French photographer Pascal Rostain that Beyonce and Barack Obama were engaged in a secret love affair. "There is something big that is happening," Rostain said, while adding that The Washington Post would soon publish word of this clandestine relationship. Or not: a spokesperson for the Post said that Rostain's claims were "definitely not true." But despite the crunch of reality, and in hopes that we could someday dream as big as Pascal, we have sketched out an epistolary representation of the most important love affair that never happened.
November 7th, 2013
President Obama,
It's good to get in touch
with you at last.
Could I have one of
those tiny American flag pins
you've been criticized for not wearing?
I think you were right -
change will not come,
if we wait for some other person or time,
and I've been meaning to change
the fact that I don't have one of those pins.
Beyonce Knowles
November 19th, 2013
Bey--
I cannot put into words how cheered I am to hear from you this morning, and I am heartened by your request. As you say -- with words better than my own -- we cannot wait for change to come. As America has pinned so many of its hopes to you, so shall I ensure that you can affix our banner to your bosom. With it pinned to you, why ... I believe this can be a breakthrough year for America.
Did you know our manufacturing sector has added jobs for the first time since "Say My Name" won the MTV Video Music Award for Best R&B Video? We've come a long way, you and I.
I hope to fulfill your request, with all deliberate speed. Let me know when you receive it, I long to hear from you. But, be mindful -- while, as you say, the laws of the world never stopped us once, the government procurement process is basically a colossal crap-pile.
Seriously, Rahm used to just take care of this shit for me.
Barack
November 30th, 2013
Barack,
Can I call you that? It feels so informal.
It seems we've both had quite a bit pinned to us
in recent years
but like a pin, there are sharp edges to be dealt with,
sharp edges we can be stuck with.
Sorry for relying so heavily on that pin metaphor
and being so generally mysterious.
What I mean to say is that we're human beings,
sometimes we don't have control
of every situation.
I think that applies to the government procurement process,
the speed with which my pin will be sent
and, well, us.
Beyonce
December 7th, 2013
Beyonce--
Please do call me Barack. There are times where I wish I could return simpler days, and to have the kinds of conversations I once had. Let this be one of those times, because I can be honest with you, and you with me.
I agree that we have both had much pinned to us -- and we've both felt some sharp cuts ... of expectations not met, of cynicism too vast, of scurrilous winds blowing rumor to our door. Lip-syncing ... teleprompters ... we have that in common, this idea that our words are not our own. But here, we can have no doubt about what we say to each other.
I don't know if I've ever told you this before, but my administration has launched two hubs for high-tech manufacturing in Raleigh and Youngstown.
Oh, Bey, another thing we share is that I can't claim to always have control, either. Over my needs, my desires. But also literally, because of that whole "checks and balances" thing.
Barack
December 15th, 2013
Barack,
It is that expectation for perfection that binds us together.
You --The President of the United States
Me --The Queen of the Universe
We have such a connection,
it's as if we are linked.
For example, did you not launch
two hubs for high-tech manufacturing
and Youngstown?
Sometimes, I feel as if I can see through you,
like I can watch what you're doing, while you do it,
but then usually I just realize
someone left CNN on in my dressing room.
Bey
Bey-Bey--
December 26th, 2013
I did launch those hubs. See ... you are feeling me. I feel like I can tell you anything. Like: yes, the second dog was acquired in the hopes it would goose my approval. No, I can't give people free cellphones. Do I wish people liked me as much as they like Joe Biden? Sometimes.
I still have that letter you sent me before the election. You told me, "You are the reason my daughter and nephew will grow up knowing that they can truly be ANYTHING they want to be." I have a confession to make. Every four minutes, another American home or business goes solar. But where am I going? Will I be what I really want to be when I get there? I am not sure I know.
You should know that most of the things that you can see right through on CNN are the holograms of Will.I.Am.
Barack
January 4th, 2014
Barack,
Much like when you walk your dogs
(or, much like it would be, if you ever walked your own dogs)
you are taking us from where we
Bey
January 12th, 2014
Bey--
I feel like we have come a long way. I feel like now is the time to tell you, We'll need Congress to protect more than three million jobs by finishing transportation and waterways bills this summer.
Oh, how I envy your freedom to innovate! To break boundaries. When I came to Washington, the young and hungry came with me. They had plans, ingenuity -- in meeting after meeting I heard the ideas that would change this nation.
But it turns out that before you can have "the future," you've got to run it by a bunch of old white men with bad suits and worse haircuts who are terrified of clouds and don't know how to set up their Blu-Ray players.
Six years into my time here, and the sheer amount of bad hair still staggers me. I remember when you debuted your bob cut in August 2013 -- I took such succor at the sight of it. I thought I could lose myself completely, admiring it.
But I forget myself! (Or, perhaps, the opposite.)
Barack
January 23, 2014
Barack,
I am so touched
that you can confide in me on such a personal level
about transportation and waterways.
But I have to tell you,
you DO have the power to innovate.
I still remember your "Audacity of Hope" speech from 2004,
I could barely breathe!
Where is that energy now?
I, too, have to deal with bad hair
and worse weaves.
I got that bob, because I took the time to think
about and analyze my life,
to realize I can embrace change.
I'm not sure if you watched my five part documentary
discussing my recent hit album "Beyonce,"
but I talk at length about overcoming challenges.
I don't think any challenge is too insurmountable for you, Barack.
I believe in you.
Bey
February 1, 2014
Bey--
Sometimes, the energy flags. The Audacity of Hope is always battling the capacity of nope.
I have, indeed, watched your documentary. In recent days, I have returned to it, for inspiration, and I think you speak with such clarity about defying expectations and beating the odds. The other day, in fact, it occurred to me, like a flash of light, that what you were really saying was, "Let's flip the equation. Let's work together to close tax loopholes, end those incentives to ship jobs overseas, and lower tax rates for businesses that create jobs here at home." At that moment, I felt like anything is possible.
But now, in this moment, I am uncertain. Your words, your presence ... it all means so much to me. You feel somehow inevitable. But I feel like I am the one, bobbing and weaving.
I could really just use a clean debt ceiling bill right about now.
Barry
February 11, 2014
Barack,
That is ... unfortunately not even remotely what I was saying.
Honestly, in recent weeks,
I have begun to feel that, while you are quite being open with me.
I struggle to share things with you,
even the things I shared in my "Beyonce" documentary,
were hard to share specifically with you.
I've also just heard that "le Figaro" is on to us.
A French paper shouldn't cause much threat,
because none of the American people can read French,
but what if the Washington Post takes on our story?
Also, I've been really busy lately.
And so, it is with a heavy heart that I tell you
this will be my last letter.
I have enjoyed our time together, Barack.
I wish you luck with your hubs of water
and all of those other deeply personal things
that you've so bravely shared with me,
but I fear it is time to say goodbye.
See you at Michelle's next birthday party.
Bey