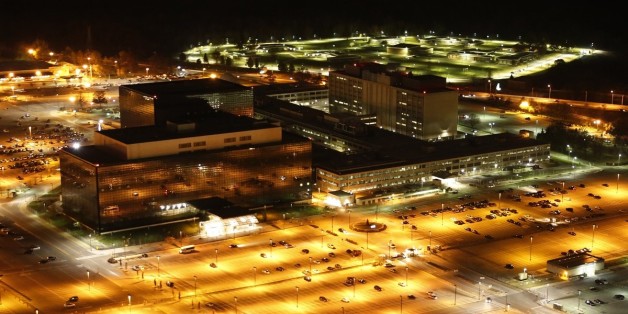 A spy agency without running water certainly can't have clean hands.
Maryland's House of Delegates is now considering a bill that would prohibit state agencies, contractors and employees from providing "material support" to the National Security Agency, headquartered at Fort Meade, Md.
U.S. News & World Report has the crux of what that would mean:
The bill would deprive NSA facilities water and electricity carried over public utilities, ban the use of NSA-derived evidence in state courts and prevent state universities from partnering with the NSA on research.

State or local officials ignoring the NSA sanctions would be fired, local governments refusing to comply would lose state grant funds and companies would be forever barred from state contracts.
That publication says NSA facilities in Maryland "use a massive amount of water and electricity, the supply of which might be jeopardized by the legislation."
So far so good, right?
This bill is based on model legislation put out by the OffNow coalition. OffNow is related to the Tenth Amendment Center, a group with tea party ties that pushes state legislatures to "nullify" federal laws it considers unconstitutional.
The publication Think Progress argues for leeriness:
Don't doubt for a minute that, if the Tenth Amendment Center succeeds in establishing a precedent for nullification-via-power-outages, they will immediately deploy this and similar tactics to implement other parts of their sweeping libertarian agency. Some of their other initiatives include bills purporting to nullify federal gun laws and the Affordable Care Act, as well as a truly surreal proposal to undermine the Federal Reserve by requiring citizens to pay their state taxes in gold or silver.
Some other states, including California, are considering similar bills. California's proposal has bipartisan support.
In Maryland, the "Fourth Amendment Protection Act" was introduced by eight Republican delegates. One of those is the controversial Don Dwyer, who in January was stripped of his committee assignments after convictions for drunken boating and drunken driving.
Dwyer's boat, by the way, is called The Legislator. You may also remember that he held a campaign fundraiser last year in which he raffled off two assault weapons. (More recently, Dwyer has supported hemp legalization, marijuana legalization and scrapping Maryland's anti-pit bull laws.)
The Carroll County Times notes that the bill has a "slim" chance of progressing in the House, with at least one of the GOP sponsors now expressing reservations.
House Minority Leader Nic Kipke told the the paper he wanted to open a discussion about the NSA's privacy intrusions. Though he's a sponsor of the bill, he said, "I'm not supportive of the state of Maryland shutting down the NSA."
ALSO ON HUFFPOST:
PHOTO GALLERY
BEFORE YOU GO
Edward Snowden
PHOTO GALLERY
Edward Snowden