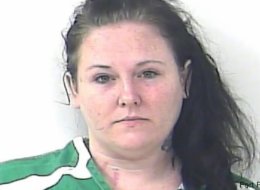 A Florida woman is behind bars after allegedly stabbing her fiance because he wouldn't drive her to a liquor store.
Police in Fort Pierce arrested Melissa Bopp, 36, on Feb. 7 on a charge of aggravated battery after getting a 911 call from Cedric Henry, WESH-TV reports.
Henry told police that Bopp stabbed him in the stomach when he refused to drive her to a store to buy some booze. His reason: He was too intoxicated.
Bopp allegedly stabbed him with what Henry called "a big knife."
Bopp's child saw the attack, according to a police report.
Henry was transported to a nearby hospital for treatment, UPI.com reports.
Henry's grandmother told police that he and Bopp had planned to get married next week, according to Voices.SunTimes.com.
It is unknown whether the alleged attack will be a sticking point to their wedding plans.
It's just one of many strange stabbings that have occurred in the last few months.
Last month, Michael Corsey allegedly stabbed his girlfriend with a kitchen knife after she brought home pizza, instead of the chicken sandwich he asked for.
In September, La Crystal King-Woolfork, 28, of Vero Beach, Fla., allegedly stabbed her boyfriend in the eye because he refused to have sex.
Also in September, Vernett Bader, 54, was accused of stabbing her live-in ex-boyfriend because he wouldn't stop listening to The Eagles.