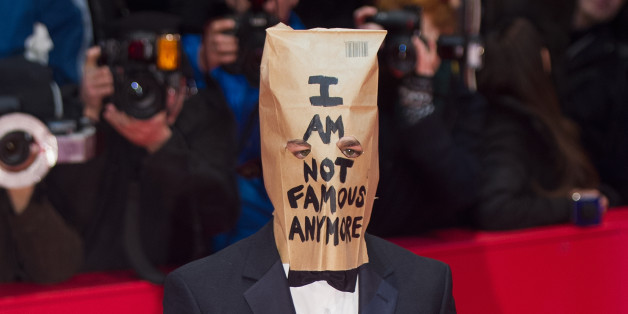 Middlebrow is a recap of the week in entertainment, celebrity and television news that provides a comprehensive look at the state of pop culture. From the rock bottom to highfalutin, Middlebrow is your accessible guidebook to the world of entertainment. To receive it in your inbox, sign up through the HuffPost Entertainment home page.
If Shia LaBeouf held your hand while tears rolled down his cheeks, would you feel bad for him? Would you question the effects of fame and childhood stardom or would you just wonder if crying was another thing that could effectively be plagiarized? Dubious veracity aside, the question may demand our (actual) attention.
In his latest don't look at me move, LeBeouf stars in his own performance art exhibition, #IAMSORRY, in which the actor occasionally weeps behind his infamous paper bag. Why? Because, as the press release reads, "Shia LaBeouf is sorry. Sincerely sorry."
But what's he apologizing for? The plagiarism? The bar fights? The drunk driving? Here's what we know for certain: LaBeouf is ... going through something. This is clear even to those of us who don't have time to watch him blatantly rip off emulate the work of Marina Abramovic while crying.
Beginning with his Disney stardom, LaBeouf was catapulted into a realm of commercial success ("Transformers," "Indiana Jones 4") that seemed to be difficult for him to handle (i.e., Bieber-ian rebellion, bar fights, other things that involve alcohol). He has since attempted to reinvent himself by selecting roles that he associates with respectability ("Lawless," "Nymphomaniac"). But despite this push to be viewed as an artiste, LaBeouf has struggled to emerge as a public figure who ought to be taken seriously.
After earning an unsavory reputation as someone who basically couldn't walk into a bar without head-butting or plagiarizing someone, he set out to frame all of his behavior as an act. However, he has only succeeded in further compounding our inability to understand what he is trying so desperately to be.
As he writhes in and out of the spotlight, most recently showing up at the Berlin film festival wearing a paper bag on his head, we have to wonder if LaBeouf is deserving of something beyond a raised eyebrow. We observe celebrities from such a distant place of voyeurism, that sometimes it's easy to forget that they just so happen to be humans.
Former child stars often attempt to define themselves by seeking outright rebellion (as we're currently seeing with Justin Bieber). But all too often they struggle with drug abuse and mental health, as was the case with Macaulay Culkin and Amanda Bynes. In all of these instances, the instinct is one of armchair criticism. Of course, this is not to say that LaBeouf shouldn't be #SORRY. He has reason to cry behind his "not famous" veil. But if our culture insists we keep watching and maybe that's why he's putting on a show.
Everything Else You Need To Know:
ALSO ON HUFFPOST:
PHOTO GALLERY
BEFORE YOU GO
Celebrity News & Photos
PHOTO GALLERY
Celebrity News & Photos