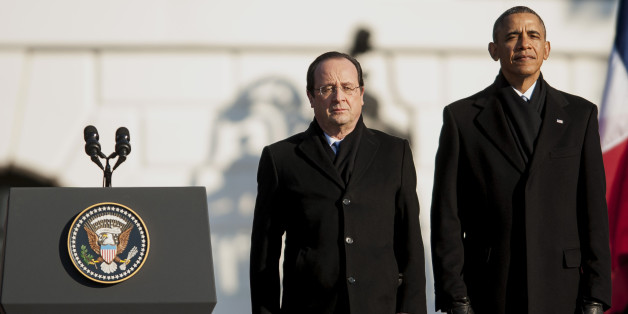 Whenever French President Francois Hollande travels to an anglophone country, the ever-critical French media stands ready to scrutinize every English word the leader speaks. And so it went this week, when Hollande arrived in Washington D.C. on a highly publicized three-day official visit. But amid all the Hollande mockery, one question remains:
What about Obama's French?
It turns out the American president's French is bad. In fact, it's probably worse than Hollande's English.
"Bonjour... That's the extent of my French," Obama acknowledged during a joint address with Hollande at the South Lawn of the White House on Tuesday. The president then continued in English, only to add a short "Bienvenue mes amis" to the speech.
To his credit, Obama acknowledged his lackluster language skills, and it's not the first time he has pointed out the American disadvantage. While campaigning in Ohio in 2008, the then-presidential candidate said, "It's embarrassing when Europeans come over here they all speak English, they speak French, they speak German, and then we go over to Europe and all we can say is: 'Mercy bowcoup [sic].'"
Hollande, however, didn't exactly acquit himself as an expert English-speaker during his stay in the American capital.
HuffPost France described Hollande's English phrases during the event on Tuesday as "hesitant but (almost) correct." Closer Magazine, on the other hand, couldn't resist making fun of Hollande's pronunciation of "United States" later during the visit, saying it sounded like "Unides State."
"France and the English accent, a beautiful love story," the Belgian newspaper La Libre Belgique further joked.
Despite the public deficiencies, Hollande's camp has remarked in the past that the French president holds a decent grasp on Shakespeare's language. Hollande's son Thomas told Paris Match ahead of 2012's presidential elections his father understands English well, "but he's not bilingual," according to a translation by HuffPost.
Watch Obama and Hollande's remarks in full in the video below.