In 2004, Aleta St. James became the oldest American woman to give birth to twins at the time. During a segment about single parenthood on HuffPost Live, St. James discussed why she decided to become a first-time parent at 57 and how now, at 66, she keeps up with her nine-year-old kids.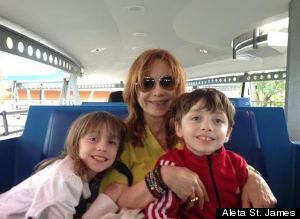 St. James was not new to the idea of having children at an advanced age. "My grandmother gave birth to my mother at 54," she said. "She was the last of 13 children, you know, in a big Italian family. So I never thought that I had to rush."
Careers in show business and energy healing allowed St. James to travel the world, pushing motherhood lower on her priority list. "My friends would always say, 'you know, Aleta, I know you were talking about having children -- when are you going to get started?' And I'd go, 'don't worry! It's going to happen!'"
"So by the time I hit 49, I thought, 'hmm I better start thinking about this seriously.' And then one thing led to another and the person that I was with couldn't go the whole journey," she explained to host Nancy Redd. "I said at 53, 'you know what? I'm not going to live in regret. I really always wanted to have children. I know I'm supposed to bring in children.'"
She continued, "I went and meditated on the top of Machu Picchu for three hours at 12 o'clock at night under the full moon and I said 'ok, I want to bring them in.' And I did. I went on the journey myself."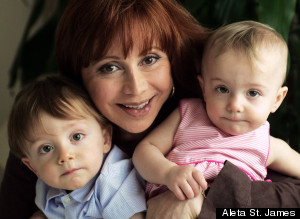 St. James said that her age hasn't slowed her down when caring for her children, Gian and Francesca, whom she described as very active.
"I believe in winding up, not down," she said. "So it wasn't strange to me to, like, jump in and reinvent where I was going, and start to bring in something that was really fabulous and wonderful for myself and for the world."
SUBSCRIBE TO & FOLLOW THE MORNING EMAIL
The Morning Email helps you start your workday with everything you need to know: breaking news, entertainment and a dash of fun. Learn more