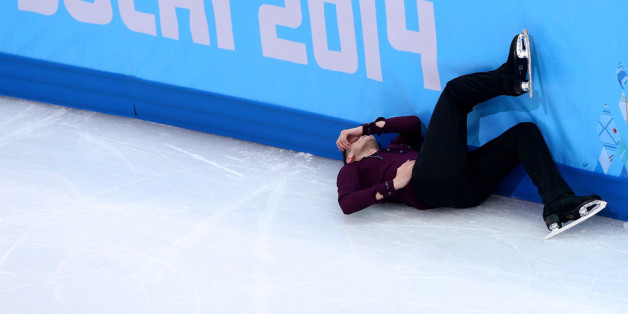 American figure skater Jeremy Abbott fell hard and slid into the boards during the Sochi Olympics men's short program on Thursday, but that didn't stop him from finishing his routine.
The four-time U.S. champion had attempted a quad on his first jump but couldn't stick the landing. Despite appearing to be in pain on the ice after falling, the 28-year-old didn't stay down for long. The crowd responded with an applause as Abbott continued skating. Impressively, he nailed the rest of his routine, drawing a loud ovation at the Iceberg Skating Palace.
"You know, the second I stood up and the crowd just started screaming, I had to finish. In my mind I was like, 'Do I go to the referee? Where do I go?' I was just kind of in a big jumble and in a lot of pain. So when I heard the crowd behind me and after me I was like I have to finish this for them and I have to do this for them," Abbott told NBC Sports Network afterwards. "I was feeling good all day I really had my mind together and I just literally hesitated one millisecond as I was going up into the quad and that was the result... I think my personal story has always been about perseverance and always getting up when you fall so maybe I'm not an Olympic champion so if nothing else i can teach the world that."
PHOTOS: Jeremy Abbott Falls
But Abbott, 28, struggled to his feet and, to the surprise of many and the applause of the crowd, resumed skating.
And he performed quite well, hitting the rest of his elements.
When his music stopped, the four-time champion drew a huge ovation from the fans. He hit himself lightly in the head while shaking it, as if to say he couldn't believe what had just happened.
SUBSCRIBE TO & FOLLOW THE MORNING EMAIL
The Morning Email helps you start your workday with everything you need to know: breaking news, entertainment and a dash of fun. Learn more