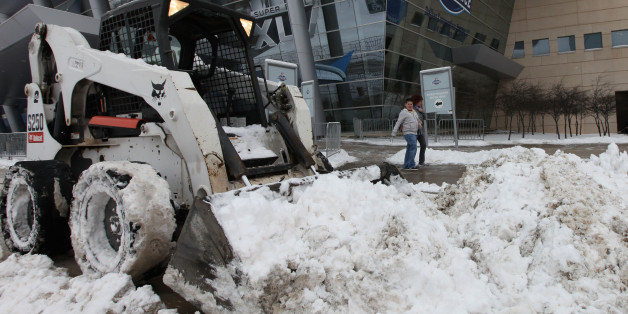 The 36-year-old woman and her husband were reportedly loading groceries into their car in the parking lot of Fei Long Market in Bay Ridge when a Bobcat S250, which had been plowing snow, backed into the woman. She was taken to Maimonides Hospital in Brooklyn where she was pronounced dead.
According to The Daily News, doctors at the hospital performed an emergency caesarian section to safely deliver her child, which was in its eighth month of development.
Marvin Lopez lives across the street from the tragic accident. He told the Post the Bobcat operator had been driving recklessly the day before.
"That Bobcat is owned by the supermarket," Lopez told the paper. "But they have the same guy drive it every single year during winter. I was watching him yesterday and he was driving so erratically. He was speeding up and down the sidewalks. He almost hit me and my wife yesterday as we were going across the street. The guy was a speed demon."
No charges have been filed as of Thursday afternoon.
This is a breaking news story and may be updated as more information becomes available.
CLARIFICATION: An earlier version of this article stated that doctors safely delivered an "eight-month old child." The child was in its eighth month of development.
SUBSCRIBE AND FOLLOW
Get top stories and blog posts emailed to me each day. Newsletters may offer personalized content or advertisements.
Learn more