Valentine's Day DOs And DON'Ts For Couples, Single People And The Hopelessly Confused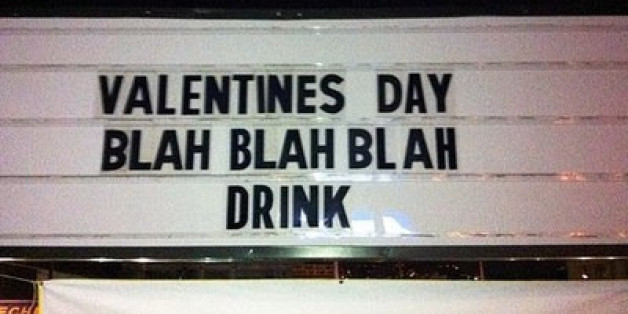 Tumblr
To quote Bart Simpson, "I hate this stupid holiday! The only thing you can do is screw it up."
Amen.
Whether you're single, in a relationship or are so confused by modern dating that you don't even know anymore, here are some Valentine's Day DOs and DON'Ts to help you get through Feb. 14 like a champ.
1

Let's face it, Valentine's Day is something everyone dreads sometimes.

2

If you're single, there's all this unnecessary pressure to have a date.

3

That you actually know.

5

Even if you're happily single, being alone on Feb. 14 is supposed to be a let down.

6

It's not like it was back in elementary school, when V-Day was a no-brainer.

7

If you give an adult a Valentine, you might get rejected.

8

So, DON'T resort to using boring, old clichés.

10

Or... Whatever you call this.

11

DO say something honest, funny and heartfelt.

12

If you're single, DON'T subject yourself to PDA-filled date night spots.

13

DO take advantage of the fact that it's socially acceptable to gorge yourself on chocolates.

14

DON'T compare your plans to the people around you.

15

DO be creative in how you celebrate Valentine's Day.

16

And DON'T forget that it's not the only holiday on Feb. 14.

17

DO surprise your Valentine with something special.

18

But DON'T expect a grand romantic gesture.

19

DO order a heart-shaped pizza.

20

But DON'T got to far with the heart-shaped stuff.

21

DO tell someone you love them.

22

DON'T think about how creepy Cupid is.

23

DO make roses made out of bacon.

24

Or a kinky whip out of Twizzlers.

25

But DON'T give a gag gift when they're expecting something nice.

26

DO pay attention to what your partner wants.

27

DON'T cheap out on what you eat.

28

DO work on your pick-up lines.

29

DON'T Give anyone crabs, ironically or otherwise.

30

Or "affordable trash services."

32

And most of all, DON'T take it too seriously.