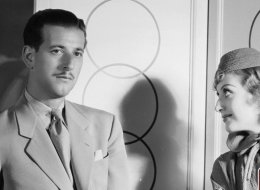 When it comes to fashion designer Zac Posen's favorite fashion icons, he had a wonderful list to share with us.
Zac first cited the creators of these classic Hollywood styles—the costume designers—as his biggest inspiration. Zac mentioned famous Hollywood costume designer Adrian, who helped craft these fashion icons through dress. "He gave women in Hollywood the confidence to have a strength and power. It's really one of America's greatest contributions to style, fashion and womanhood," Zac said. "It put women at the forefront of entertainment."
Zac also credits various socialites, like Pauline de Rothschild, who have had phenomenal style. "These were people that had great flare and were self-created," he said. "People that are iconic are those who have great flare, like Diane Keaton."
See Zac Posen's best red carpet looks here:
Best Of Zac Posen's Red Carpet Looks
Zac Posen has designed countless gorgeous gowns for Hollywood starlets over the years. Here, he arrives in style for the 2010 Victoria's Secret Fashion Show in 2010.

Here, Zac smiles for a pic with actress Uma Thurman at the "PUNK: Chaos To Couture" Costume Institute Gala at the Metropolitan Museum of Art in May 2013. Zac designed this stunning "mean green, poison apple" gown for Uma; a nod to Poison Ivy, a role she created.

Naomi Watts looked stunning in this oxblood satin back drape gown at the 2013 Golden Globes.

Here, Zac Posen twirls actress Juliette Lewis at the 2013 CFDA Fashion Awards. Zac designed this satiny melon-hued tea-length dress exclusively for Juliette.

One of Zac Posen's first major gowns to draw serious attention on the red carpet, this peach dress was worn by Gwyneth Paltrow at the 2007 Oscars.

Zac designed this one-of-a-kind 24k gold dress valued at $1.5 million for actress Caroline Correa to wear to the 2013 Tribeca Film Festival "As Good As Gold" Premiere.

Actress Eva Longoria wore this classic black gown by Zac Posen to the 2011 Golden Globes.

Here, Zac makes a last-minute adjustment on a dress he designed for singer Rihanna during a fitting in New York. Rihanna wore several of Zac's designs for the "Fashion Rocks" show that kicked off New York Fashion Week in 2006.

"Madmen" star January Jones wore this edgy, voluminous black dress to the 2012 Emmy Awards.

Christina Hendricks donned this feminine, jaw-dropping purple-hued gown by Zac Posen at the 2010 Emmy Awards.

Jessica Chastain wore this strapless yellow gown by Zac Posen at her first major red carpet debut at the 2011 Cannes festival. Here, she arrives with co-stars Brad Pitt and Sean Penn for the screening of "The Tree of Life."

Actress Amanda Seyfried looked stunning in this cobalt blue strapless gown at the 2013 Screen Actors Guild Awards.

Christina Ricci wore this stunning dress to the 'Alexander McQueen: Savage Beauty' Costume Institute Gala at The Metropolitan Museum Ball in 2011. When creating this piece, Zac Posen was inspired by Christina's iconic character, Wednesday Addams from "The Addams Family."

Glenn Close wore this emerald green gown with matching custom tuxedo blazer by Zac Posen to the 2012 Oscars.

Actress Helen Mirren wore this purple fishtailed gown to attend the season opening event at the Metropolitan Opera House in 2008.

Actress Julie Bowen wore this gorgeous blush-hued gown to the 2013 Emmy Awards.

Zac Posen has dressed many different Hollywood body types. Lena Dunham wore this chocolate-hued gown to the 2013 Golden Globes, where she won the award for best television series for her hit show, "Girls."

Reese Witherspoon looked glamorous in this strapless red gown by Zac Posen at the 2012 Golden Globes.

Jessica Lange wore this bright green gown to the 2009 Emmy Awards, where she won the award for Outstanding Lead Actress in a Miniseries or Movie for her role in "Grey Gardens."
Add Marlo On Facebook:
Follow Marlo on Twitter:

Weekly Newsletter

Sign up to receive my email newsletter each week - It will keep you up-to-date on upcoming articles, Mondays with Marlo guests, videos, and more!

Sign up here