If you're ever in doubt about style, just keep one rule in mind: Keep it simple. You'll never go wrong with classics like an A-line dress, skinny jeans and lace. But remember, understated isn't always synonymous with "boring." Here, five stars show us how they put a spin on simplicity to memorable effect.
Alexa Chung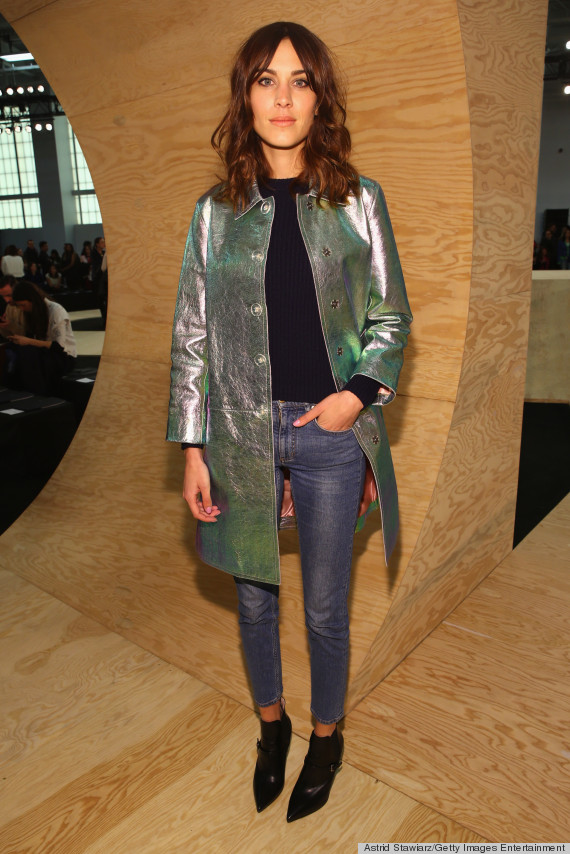 Here's all the proof you need that skinny jeans can work in pretty much any situation. However, it's the holographic topper that brings an edge (and warmth) to the look.
Estelle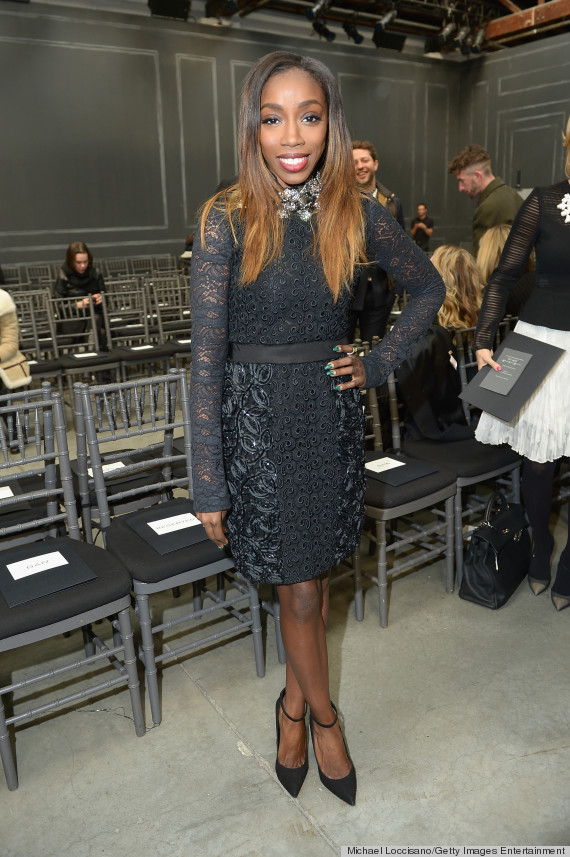 Black lace can also take you anywhere -- from day to night, from (lenient) workplace to a date. Estelle adds an unexpected note with a statement collar and a ribbon belt.
Jamie Chung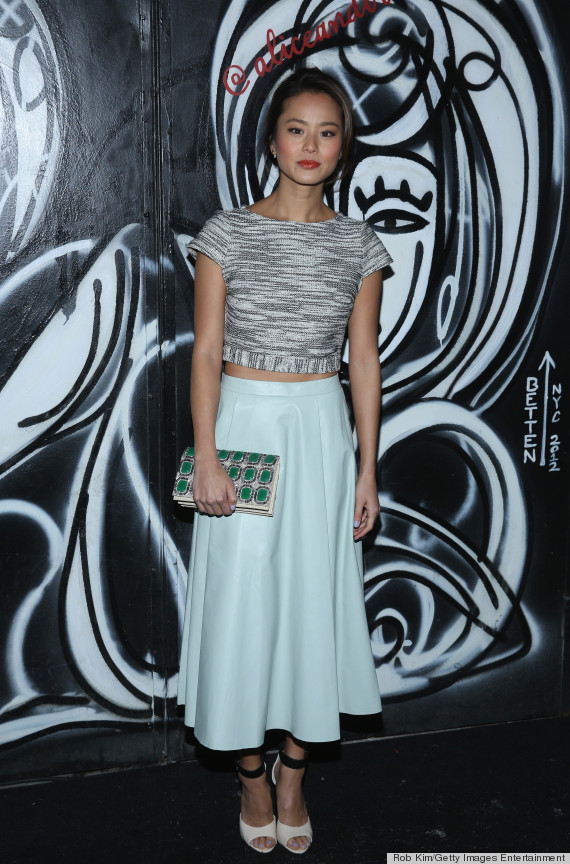 We'll admit it... midriff tops are hard to wear. But if you do try one out, go with Chung's approach: Pair the midriff with a higher-waist, long skirt. It will make you feel less "exposed" and gives a sophisticated spin.
Bella Thorne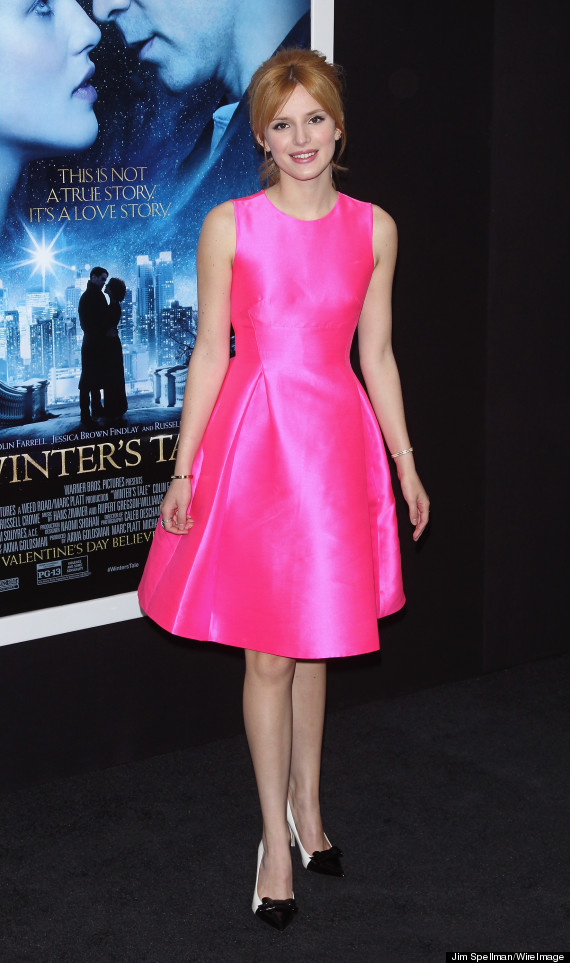 There's a reason why every stylist recommends an A-line dress: It works for any age and figure. Here, Thorne stuns in a pink version that's so gorgeous, the actress needs no additional accessory (other than a fabulous smile, of course). Our takeaway? Blue-based pinks look incredible on redheads.
Cate Blanchett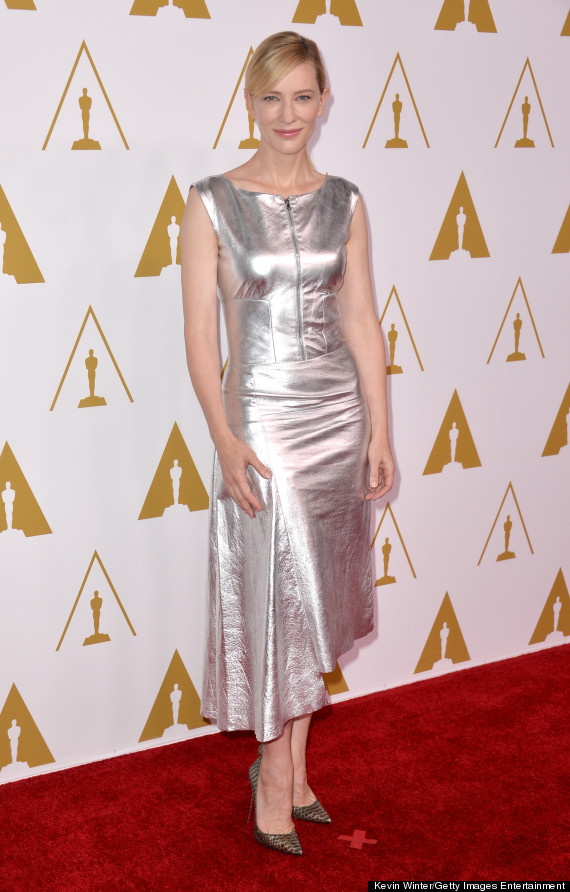 Metallics are tricky, but not if you're Cate Blanchett. The hue acts like a spotlight on the gorgeous actress, who looks radiant in the simple cocktail dress.
More celebs who made the best-dressed list:
There is a reason the crop top trend has stuck around so long -- because it looks so damn good when executed properly. The long hemline on the skirt balances out her exposed midriff so she doesn't look too exposed on the pink carpet.

Who says you can't wear a body-hugging, backless dress when you're pregnant? When you have a glow like Lively, you'll look good in anything.

Miller has been on a roll lately. This pretty, feminize dress is so sophisticated yet still feels very fresh and fun -- something Miller has become known for. Though we don't often see such light colors in the winter, it's a welcome change.

Long sleeves and a long dress can make for a matronly outfit, but not in Chung's case. The tight-fitting, shimmery gown has a youthful feel, especially when paired with those fashion-forward chunky black pumps and her statement bag.

Navy and black is the best color combination because it's chic, unexpected and works all year-round. Though the gown is simple in cut, the high slit and chevron pattern add some visual interest. And don't even get us started on her lipstick.

Only Jenna Lyons could combine fur, feathers and a classic white-button up shirt and make it look this damn good. Though this is definitely an elevated look for the J.Crew creative director, she kept her signature red lipstick and thick-rimmed specs so it still felt true to her style. Take notes people, this is how you stop traffic.

Forget Camila Alves, heck forget Matthew McConaughey, all we want to look at is their adorable 4-year-old daughter, Vida. How her parents managed to find a dress that is both fashion-forward and age appropriate, we'll never know. But the ruby red shoes really put it over the top -- we see a fashion icon in the making.

More jumpsuits, but we can't complain. This one is young and fun and very much in tune with the actress' boho fashion sense. The wide-leg pants are super cute and the red velvet pumps make it seasonally appropriate.

A suit doesn't need to read corporate snooze. The trick to making suiting work outside the office is to pick an unexpected color (like a bright white) and make sure the fit isn't too boxy. While this pencil skirt may be a tad tight for the board room, it's ideal for the red carpet.

Ms. Lyons almost stole the focus at Solange's wedding. Almost. But the singer's white jumpsuit-cape was such a showstopper (especially when she casually wore it while riding her bike). We have no words -- expect that the fit is spot on and the silhouette is hugging her curves like a dream.

There are few dresses that could showcase Dewan-Tatum's figure as well as this gown. The embroidered bodice is perfect for the actress and the white skirt highlights her narrow waist. While her dress is low-cut, it doesn't read too sexy because of the long hemline.

It's so nice to see the "Hunger Games" star in something a little more sexy. This white gown hugs Lawrence's curves and shows off all her best assets. We hope to see more looks like this during her "Mockingjay" press tour.

Woah, this color is stunning. As is the dress. We rarely see Hudson in long, bright gowns, but this should become her new signature. The cut-outs and low neckline breakup the fabric and her pulled-back hair really allows the dress to sing.

Slinky and sexy, this could be our favorite Freida Pinto look ever. The color is so pretty on her complexion and she is showing just the right amount of skin -- since the dress isn't too tight, the plunging neckline and high slit aren't too much.

Mindy knows the best silhouette for her body -- the just-above-the-knee shift dress -- and it looks divine on her. The blue color and the shimmer make her standout, while the embellishments and metallic heels prove that she is a true fashion girl.

Glamour named Lupita Nyong'o the "Woman of the Year" for 2014 and we may just name her "Best Dressed of the Year" after seeing her in this ensemble. This neoprene dress isn't easy to pull-off, it looks like it was made for royalty -- which Lupita kind of is.

Is she aging in reverse? J.Lo has never looked better. The singer resembles a statuesque model in this sparkly, plunging gown. After years of being in the spotlight, Lopez clearly knows what to highlight -- this curve-hugging dress is so alluring.

Even Queen Bey can't turn down a good deal. This Topshop number is the perfect party dress (or dare we say, New Years Eve dress) and you can't beat the price ($130!).

We've never really considered Greene to be a fashion girl, but after seeing her in this outfit, we might change our minds. Her coral dress not only has a great neckline, but the appliqués on the skirt, her python sandals and that metallic clutch really elevate the look.

Hudson is a sight to be seen. This nude chiffon gown could have easily washed her out, but the hue is only enhancing her dewy skin. The gathering at the waist is drawing your attention to her most narrow part, the one-shouldered silhouette showcases her toned arms and that deep pink lip highlights her golden strands.

A skin-tight, light-colored dress is not the most forgiving, but the model can pull it off. Not only is the gown hugging her every curve, but the cut-out at the top and her slicked-back hair are adding the perfect amount of visual interest.

To be fair, the Victoria's Secret model looks good in just about anything, but this slinky black gown is particularly stunning. The sheer panels are a lot, but they work since they are balanced out by a floor-length dress and long sleeves. Her long, retro waves add a sophisticated element to the ensemble, so it doesn't read too sexy.

Collins looks angelic in this outfit. The proportions are perfect for her petite figure -- the midi skirt and boxy crop top are balanced out by her exposed tummy and bare arms -- and her matching metallic accessories play up the ensemble's youthful vibe. And don't even get us started on those brows!

This color is absolutely stunning on the Sports Illustrated model. The fit is spot-on, and the side cut-outs, sheer panels and open back are sexy, but not too much, since you don't see them all at once unless she turns around.

Long-sleeved dresses are so underrated, but they shouldn't be. Especially if you want to go with a shorter hemline and high heels without looking too exposed. This particular one skims Swift's body in all the right places and the texture adds just the right amount of visual interest.

Is her white jumpsuit or the matching cape the best part of Alves' outfit? That's up for debate. But what isn't is how amazing the mother of three looks. This monochromatic ensemble is making Mrs. Matthew McConaughey look both sophisticated and incredible sultry, all at once. And her slicked back hair and minimal accessories take this look from good to great.

This dress screams old Hollywood glamour -- which is a nice change for the young star who we often see in bohemian garb. The slinky gown hugs her curves and her statement earrings really draw your attention toward her glowing complexion.

Just stop. This look is incredible. Not only is the two-piece outfit balanced out perfectly (her high-waisted, wide-leg trousers are a nice contrast to her strapless crop top), but her bold brows, deep red lipstick and short 'do seal the deal.

This ombre gown is taking our breath away. The structured strapless top is complemented by the long, flowy skirt and makes it look like she is floating along. We also love how her belt creates a cinched-in waist and draws attention to her narrow part. A+, Collins.

If you ever doubted whether the maternity glow is a real -- here's your proof. Not only is Lively radiant on the red carpet, but her skin-tight dress is such a nice departure from the oversized, boxy dresses we normally see during pregnancy.

This outfit is business in the front and party in the back -- and that's why we love it. While it may appear to be a plain halter dress, the fringe detail is what makes this look so exciting. And those shoes! The laser cut-outs add just the right amount of visual interest.

Nobody does minimalism as well as Calvin Klein. Though the British actress' dress is rather simple, the expert tailoring, dainty accessories and pared back hair and makeup make for a sophisticated and elegant look.

White and nude is one of our favorite color combinations -- it looks so fresh and clean. Jones' skirt and top fit her like a glove and the little details (like the three quarter sleeves and peplum skirt) ensure that this outfit is fashion-forward and modern.

Kate Bosworth is bringing SexyBack -- sorry, we had to. But come on, check out that cut-out! We love unexpected details, especially when you can't see them from the front. Only Kate could pull off a one-shouldered dress like this.

It's clear that Watts had her dress tailored to her body... and what a difference it makes. Her gown hugs every curve; since it is such a simple design, fit is crucial. Her hair and makeup only further her elegant ensemble.

Sometimes less is more, and this coat dress is the perfect example. Not only is the tailoring spot on, but the plunging neckline, sleek pumps and pearl earrings make this a minimalist's dream.

Lily Aldridge's dress is a study in how to wear white after Labor Day. The longer hemline makes this a great dress for the tricky transition weather we've been having, while the textured trim and oversized buttons add a nice stylistic element.

This silhouette works wonders for Witherspoon's petite frame. The three-quarter length sleeves and just above-the-knee hemline make her limbs appear longer and the red embroidered lace dress ensure she stands out from the crowd.

There are few things that go together as well as light pink and metallics, as proven by this ensemble. Watts looks feminine and put together in this body-skimming dress, and the colors work with her skin tone.

Fringe is IN and this is the perfect way to wear it. Fanning's red suede dress is sophisticated enough to carry off the fringe detail without skewing costumey, while her matching red lipstick really seals the deal.

Everyone else can go home now. Seriously, look at this dress. Usually we see Fox in shorter hemlines, but this longer one is doing her justice just the same. The leather waist is cinching her at her most narrow part, while the neck detail is drawing your eye toward her sultry waves and flawless complexion.

It's not often that we see this much color on the red carpet -- but we love it. Miller's speckled frock is such a pretty silhouette and really complements her short 'do. This is a "look at me" dress -- and for all the right reasons.

It looks like Roberts is all grown up. Though she is showing a lot of skin, the long hemline balances it all out. She looks elegant and sexy at the same time, which is no small feat.

While it's getting a little late in the season for a short romper, this one is so good, we are willing to make an exception. Not only does it look insanely comfortable, but the pattern and fit are spot on.

Bennett's outfit could have gone really wrong, but it all managed to work together to create one kick-ass ensemble. Her short suede skirt complements her long-sleeved green top and her tousled waves and minimal makeup give it all an effortless vibe.

While we can't say we loved every single look from Kim's trip to Paris, this particular outfit is pretty great. Not only does her pencil skirt and long-sleeve shirt fit her like a glove, but her grey suede boots take it from casual to Paris Fashion Week-worthy.

The "Gone Girl" star picked an amazing dress for her body. The color really pops against her dark hair and the off-the-shoulder silhouette draws the attention toward her glowing complexion.

Pike is simply glowing. The bow-adorned, high-neck gown give this look a little something special, while the slit ensures that she isn't too covered up.

This. Is. Perfection. Every single thing about this outfit, from the wide-leg trousers, to the wide-brimmed hat, is making Mrs. George Clooney the style icon to watch. Not only does she look statuesque, but the entire ensemble is so fresh and clean. A+, Amal.

When Kim gets it right, it's so right. This white dress is extremely figure-flattering and fashionable. The oversized belt not only cinches her at her most narrow part, but it also adds something special, making her outfit standout even more. We also love how she chose white shoes to make the entire ensemble monochromatic.

Yes, we wish she had worn her hair down, but her outfit is so spectacular, we're willing to look past it. The Spanish actress sizzled in this delicate dress; her diamond and ruby necklace complemented the entire look. The big bonus: her strappy shoes made her legs look miles and miles long.

We're going to be completely honest, this outfit would not work on everyone. Generally speaking, if you are going to do a crop top, a longer hemline is advisable and vice versa. But Swift's super long legs are too good to hide.

This dress is a game changer for the lesser-known actress. Yellow is an incredibly tricky color to pull off -- you need to find the exact right hue for your complexion -- but she nails it. The dark green shoes are so unexpected; they're really sealing the deal.

Separates have never looked so good. Moretz's navy, high-slit skirt is very grown-up, but her striped top adds a playful vibe, which is perfect for the 17-year-old actress.

There is a lot going on here, but somehow it all works. Knightley smartly went minimal with her accessories so we were able to focus all our attention on her beaded and tulle gown. Navy and black is such a chic combination and her red lipstick really seals the deal.

Bosworth looks divine in this frock. Maybe it's the pretty color, the texture on the overlay or that light pink lipstick, but all of a sudden all we want to see is sheer dresses!

The Victoria's Secret model is a total bombshell in this simple dress. Though she is really covered up, the sleek silhouette and strapless neckline make this an incredibly sexy look. It was also very fashion forward with architectural ruffle detail.

This looks like a modern-day Audrey Hepburn outfit -- very classic, but still stylish. It's so nice to see pants on the red carpet -- especially a pair as well tailored as these-- and the beading on the turtleneck is adding just the right amount of sparkle.

When Monaghan visited HuffPost Live earlier this week, she dressed to impress. The short-sleeved navy top and red and white belt are a little expected, but not when paired with a sheer polka-dot skirt. Not everyone could pull this off, but the "True Detective" star has the style chops to make it work.

This is a lot of dress, but thankfully, the 5'10" model has the height to carry it off. Kebede was smart to belt the mock-feathered bodice to define her waist so she didn't get lost in the fabric. And the minimal makeup and tousled hair is exactly what this look called for -- anything else would have been overwhelming.

Red seems to be the color of the season -- and we couldn't be happier about it. The "Third Person" star wore a plain red dress, but the studded leather collar definitely amped up the outfit. Her red shoes made this a monochromatic look, which created a nice, clean line. And did we mention that the dress has pockets? We think we're in love.

Smalls was made to wear this dress. The cut-outs highlight her narrowest feature and her small bust allows her to get away with such a plunging neckline without looking too exposed.

The way this knee-length white dress falls on the actress is so beautiful. The keyhole neckline balanced out the roomy shift shape, while her black pumps are making her look long and lean. This is such an easy, breezy ensemble.

If you were able to make it past her new, short 'do, her dark green gown was pretty spectacular, too. Stone was floating across the red carpet in her tulle gown, which further complemented her fiery locks. It is the perfect balance between pretty and sexy.

Heidi Klum is on a roll this week. While she went for a long, coral number at the Emmys, she went short and sultry for a red carpet event later in the week. Her simple, strapless metallic dress and matching shoes were the ideal canvas to show off the model's natural beauty.

A strapless printed dress + Toecap pumps + a ponytail = Perfection.

It might seem slightly unorthodox to wear a black T-shirt on the red carpet, but this cowl neck number, paired with Louis-Dreyfus' statement skirt, looks amazing for a night on the town. The outfit is so simple, but the fit is spot on, so it works.

This white dress really pops on the "Orange Is The New Black" star. It makes her look long and lean, plus it showcases her amazing guns.

We're not sure if we love the color of Sharapova's dress or the silhouette more. The tennis player played up her amazing figure in this drop-waist frock. The low neckline is balanced out nicely by the thick straps on the dress and the knee-length hemline, while her tousled locks keep the entire ensemble casual yet sexy.

As if we needed another reason to adore her! Her style is always on point and this ensemble is no exception. Her cute, age-appropriate embellished dress is so fun and the pointed collar and strappy silver heels make it stylish. We can't wait to see how her style evolves as she gets older.

There are few things sexier than a woman in menswear. Not only does this sophisticated suit make Gomez look extremely grown-up (we almost forgot she is a former Disney star), but the tailoring is spot-on. This is such a nice departure from the little dresses she has been wearing as of late.

Bright, fun, trendy -- this is the outfit we have been waiting to see Larter wear. The matching skirt and top is ideal for mid-August weather. And we're so happy that the "Legends" star is changing up her look from dark, matronly dresses.

Though we've seen Mitchell in similar looks before, we're still in awe of this ensemble. Her white lace-bustier and matching skirt is a great way to show off her summer tan, while those metallic accessories and her deep burgundy lip add the perfect finishing touches.

Okay, everyone else can go home now. This is yet another home run for the young fashionista. Moretz's decision to wear shorts on the red carpet could have ended badly, but since she is wearing a three-piece matching set and strappy high heels, she looks on point for the Teen Choice Awards.

Swift looks like an actress straight out of old Hollywood with her retro waves and tea-length dress. The light pink and red color combination is so elegant and the nipped-in waist really accentuates her figure.

In case you doubted the wide leg pant trend, here is proof that it can look incredibly cool. Not only did Alba pair her trousers with an unbuttoned dress shirt (so sexy), she also opted for a pair of platforms. While this outfit looks '70s, we're loving it since Alba modernized it with gold cuffs and ombre locks.

The top half of Coppola's outfit is quite plain, but her leather color-blocked skirt makes this a look to remember. Her pointy toe shoes, minimal makeup and natural hair tie everything together.

Yes, we all agree Megan Fox looks great in just about anything. Yet this particular tiered dress showcases her amazing legs but is still young and fun, which is perfect for her the premiere of "Teenage Mutant Ninja Turtles."

This dress is chic and figure-flattering, but the ruffled sleeves make it fashion-forward and modern. We also love Gyllenhaal's burgundy heels -- they're a great nod to fall.

This dress fits the British soap opera star like a glove. Satin can be very unforgiving, but it works on Tointon's petite figure. Although we wish it had been hemmed more carefully at the bottom, the boning in the corset is so beautiful, we're willing to overlook it.

Orange is a tricky color to wear (much like nude and yellow), as you need to find the right shade and the right silhouette to have success. And Peltz has done just that. The plunging neckline and exposed back balance out the long hemline, while the flowy skirt makes it look like she's floating. This newcomer is one to watch.

Moretz is certainly a lady in red. Her dress is elegant and effortless, but it's still suitable for her young age with the Peter Pan collar. The macramé lace is also a nice departure from other fabrics we normally see. A+, Chloe!

It's so nice to see a different shape on the red carpet. The gown, with the deep-V neckline and bell-sleeves, is very trendy yet still suits the mature actress. Though a white frock is a classic, the voluminous sleeves ensure that she stands out from the crowd.

This dress could have gone wrong in so many ways, but it didn't. The structured shoulders balance out the spacious skirt, while the sophisticated silhouette and print makes the bow appear fashion-forward, not childish. This looks like an outfit that we would see during Paris Fashion Week -- avant-garde and striking.

Since this dress is so simple, the fit had to be spot on or else it wouldn't have been memorable. Thankfully, the 27-year-old actress' sateen frock fit her like a glove. The deep V-neckline brought attention towards her glowing complexion, while the fitted bodice and full skirt drew your eyes to her most narrow part. We're happy she decided to skip the bold accessories, as a dress this stunning shines all on its own.

It's hard to make the sheer trend work, but McPhee hit the nail on the head. Her success lies in the fact that she chose proper undergarments to wear with her skirt. While we do see her bra peeking through her crop top, it's obscured by the lines on her shirt, making the entire ensemble fashion-forward instead of trashy.

In the past, Sarah Hyland has struggled to find looks that are age-appropriate. And we sympathize -- getting dressed as a 20-something can be challenging. This dress, however, struck the perfect balance. The short hemline and light blue hue kept it youthful, but the crystal embellishments, sophisticated clutch and her blowout remind us that she's no longer a little girl.

Being a trendsetter is hard work since it involves taking risks that don't always pay off. Kruger found the ideal mix of style and elegance with this jumpsuit. The asymmetrical sleeves, split train and lace cut-out could have been a recipe for disaster, but because she opted to wear black and keep her hair and makeup simple, it all worked harmoniously.

This dress is fun and flirty, which suits Hudson perfectly. The plunging neckline is great for the actress' smaller bust, while the color-blocking keeps it interesting. We also love how the black band around her waist accentuates her curves.

Kruger's dress is fashion-forward, effortless and ladylike -- the trifecta of summertime chic.

The "Twilight" star looks fresh and clean in this white shift dress which is offset nicely by her ombré lob haircut and smokey eye makeup.

Ferrera's dress looks like it was made for her. The paneling up top is extremely flattering and the V-shaped neckline brings the attention towards her glowing complexion.

Wow, Hudson looks like a bombshell in her cut-out dress. We are obsessed with her choice to go long and dark in the summer -- but that burgundy lipstick is another story, she should have been more careful with her application.

Okay, it's decided: we're spending the rest of the summer in short floral dresses, nude heels and bright red lipstick. Swift's ensemble is so simple yet looks pulled together -- we're in love.

Emma Watson is on fire. Week after week she lands on the best-dressed list and this black ensemble is no exception. Though suits can easily skew corporate snooze, this one is far from it with its satin lapels and patent-leather belt.

Yet another way to wear a crop top. Teigen is showing us how to rock summer's biggest trend and still remain modest. Her high-waisted, knee-length skirt ensures that she isn't showing too much skin, but the fun print keeps her looking young and breezy.

The "Fast & Furious" star chose a classic shift dress to wear to the ESPYs, but the embellishments on the bottom of the frock are what give it personality. Her nude pumps, braided updo and berry lips kicks this outfit into high gear.

Just when we thought Charlize couldn't look any better, she goes and wears this little metallic number. Not only does the short hemline show off her famous legs, but her minimal makeup and sleek updo allow the frock to really shine.

Few things go together as well as a LBD and red lipstick. Though we raised an eyebrow at her decision to wear velvet in July -- the fit of the dress is so spot on, we're willing to look past it.

The soft colors on this dress are so elegant on Knightley while the drop-waist skirt, crocheted collar and gold pumps all work harmoniously.

Pinto's simple embellished dress is just so darn pretty. The silhouette is extremely flattering and the actress' pulled-back hair makes the look very ladylike.

There is no better spokesperson for Victoria's brand than the designer herself. It's nice to see the former Spice Girl out of her traditional black duds and into something colorful. This is the perfect summer dress for a day at Wimbledon.

This bouclé dress looks great on the "X-Men" star. We love how she has chosen to wear a gold cuff and metallic heels to make the outfit a little less sweet and a little more sexy.

This is power clashing at its best. Her fancy confetti red-and-silver skirt paired with her casual printed sweatshirt is effortless. We also love the subtle nod to Americana.

Everything about this outfit is perfect. The lace crop top is balanced out by the high-waisted, maxi skirt and her single pearl earring makes the entire ensemble a little edgy.

Cute, fashion-forward, age-appropriate -- Shipka's dress embodies everything she's known for.

Teigen clearly knows that white and gold is one of the best color combinations out there. Her short, plunging dress is great for the warm weather, while her slicked back hair is an easy way to avoid summer frizz.

Every single thing about this outfit is impeccable. The dress is an interesting take on the floral trend; it helps that it looks like it has been expertly draped, as the asymmetrical neckline is hanging off of her body perfectly. Nude pumps were also a great choice with this otherwise busy ensemble, while Delevingne's pulled back hair really shows off that fierce red lipstick.

Yes, we may have seen the Duchess in this outfit before, but if it ain't broke, don't fix it. The military-inspired top and skirt are a nice change from the feminine dresses we normally see her wear.

The "Transformers" star looked statuesque in this iridescent blue column dress with crystal embellishments. Despite the major cut-out on front, the dress is balanced out by the longer hemline and high neck line.

There are a few things that are amazing about this dress. First of all, the color. Yellow is exceptionally difficult to pull off because if you pick the wrong shade, it can look awful against your skin tone. But this canary yellow gown is magnificent on the model, as is the expert draping and the subtle cut-outs.

This is possibly the best outfit of 2014. The wide-leg pants paired with the knit panel is so chic and unexpected, while the crop top with black trim and straw hat makes her look like the picture of summer. We wish we could dress like this every single day.

Fanning plays a princess in her latest film "Maleficent," but in real life, she also looks like royalty. The actress stunned in this off-the-shoulder periwinkle embellished gown which was contrasted nicely by her tough-girl choker.

This dress is striking because of the rich colors, scalloped neckline and calf-length hemline. The fit is spot on, as was her choice to wear pink pumps. A+, Blunt.

Not only does this ensemble feature our favorite color-combo (red and pink), but it looks as though this dress was made for Blunt-- it fits her like a glove.

Yes, this may be a simple look, but Theron looks damn sexy. The short hemline on her LBD is balanced out perfectly by its boxy silhouette and longer sleeves, while her red lipstick and strappy heels seal the deal.

Jumpsuits are nice for spring and this color-blocked one Klum is wearing is a great example. Though the fit on the bodice could be slightly better, we are willing to give it a pass since the hair, makeup and shoes are perfect.

Just when we thought Lively couldn't top her look from the 2014 Met Gala, she goes and wears this burgundy stunner. The high slit is complemented nicely by the silk-chiffon material that floats away at the waist, while the interesting neckline keeps this from being just another red carpet dress.

It is so nice to see Jennifer Lawrence out of a Dior ball gown and into a slinky, sexy dress. The velvet fabric is clinging to her body in all the right places and her red lipstick adds the perfect pop of color.

White is one of those colors that instantly helps you look young and fresh. This pleated frock makes Kidman's red lipstick and strawberry blonde hair shine, while also being light and fun for her press tour.

THIS is how you make a white button-up appropriate for the red carpet. Watson's carefully draped grey skirt adds just enough elegance to her white top, yet still makes the "Noah" star look comfortable and fashion-forward.

Blanchett looks like a statuesque beauty in this one-shouldered white dress. The column gown is the perfect silhouette for her long and lean figure proving, once again, that Cate is a true style icon.

The satin bows going up the side of Gomez's dress make this one incredibly sexy look -- business in the front, party on the side.

In case you didn't know, pearls are IN. And here, Vega is showing us the perfect way to make this tried-and-true trend work. Her ivory dress skims over her body ever so gently and the embellishments add just the right amount of texture.

If only we could all dress like Shipka. This age-appropriate and fashion-forward ensemble exemplifies what the "Mad Men" star does best.

If you find a silhouette that works for your body, there is nothing wrong with wearing it in different colors and patterns over and over again. If ain't broke, don't fix it.

If there was ever any doubt as to whether Sarah Jessica is as trendy as Carrie Bradshaw, this is your answer. Parker power-clashed like a pro in this devoré dress and black and white jacket. The pieces work together because her coat is a neutral color.

This is how you wear pastels! Roberts expertly combined three of the biggest trends of the season (lilac, lace and a crop top) in one outfit. The fit is spot on, as are her beachy waves and natural-looking eye makeup. She was smart not to over-accessorize as this ensemble really speaks for itself.

This silhouette is amazing on Ferrera. It hugs her curves in all the right spots, while the neon belt defines her most narrow part.

We wish we could see more of Shailene like this. This outfit is so young and fun, and her short dress makes her legs look about 12 feet long.

This outfit is fringetastic. We especially love how Theron paired her little dress with a structured blazer -- mixing masculine and feminine pieces always makes for a chic outfit.

When Ora gets it right, it's so right. Between the metallic, unbuttoned dress, the retro waves and that fierce red lipstick, this screams old Hollywood in the best possible way.

Though we couldn't stop thinking about Stone's amazing lip syncing skills on "The Tonight Show," we also couldn't get her amazing dress out of our heads. The LBD may look pretty classic upon first glance, but the leather collar, side cut-outs and subtle pleats make it an outfit to remember.

Perfect fit. Perfect color. Perfect silhouette. It is going to be hard to top this dress.

Saldana just looks like spring. Between her floral dress, cherry red lipstick and those coral shoes, all we can say is thank God winter is over.

The draping on this dress is phenomenal! It makes what could have been a shapeless dress, very stunning. And Diaz's nude pumps, hot pink lipstick and swept-back hair only add to the effect.

This photo is proof that Stone can do both sexy and sweet. The Valentino dress, which looks like separates, is so adorable with the full, color-blocked skirt and the cute collared top. "The Amazing Spider-Man 2" star always manages to look fashion-forward yet so effortless.

Less is always more. This simple black crop top and skirt combo is understated and sexy at the same time.

Talk about a blonde bombshell. Her textured strapless gown hugs her in all the right places, making her legs look about 500 miles long and draws your attention towards her stunning face.

Kate Middleton has been on fire during her royal tour of Australia and New Zealand, with beautiful outfit after beautiful outfit, and this is just one of many that captured our attention. The lattice peplum and sleeve detail add a touch of modernity to the ensemble.

If we have learned anything this season, it's that the pregnant ladies of Hollywood are turning it on. And Bell is no exception. This burgundy jumpsuit, with a fringe detail is very fashion forward and proves that maternity clothes are having a serious moment.

This is the perfect look. The contrasting fuchsia crop top and poppy skirt, the exposed midriff and the silhouette -- everything works to showcase Mann in the best possible light.

Emma Watson looks pretty in pink. This softer ensemble is a nice change from the more sexy looks we've been seeing her in lately.

White-on-white is so clean and classic, which is great for the spring weather. The "Californication" star looked effortless in an oversized collarless coat that was complemented by a belted, form-fitting dress and yellow heels.

Watson is on fire! Even in something as simple as a black-and-white jumpsuit, the actress has managed to land on the best-dressed list. The relaxed fit of her ensemble is what makes it so chic and effortless. And her hair and makeup are stunning, too.

Well, it looks like Judd has found her color. This blue gown is a great silhouette for the actress. The deep-V draws attention towards her glowing skin, while the defined waist highlights her most narrow part.

There are few things that are hotter than a woman wearing menswear -- especially when it's done right. Here, Benson expertly paired her fitted blazer with ankle length trousers and high pumps so her outfit still retained a feminine edge.

This single-button suit is all kinds of amazing. Not only is the fit spot-on, but Harris really let her white outfit shine by pulling back her hair, and wearing minimal accessories.

Way to mix high and low, Dunn! This outfit embodies everything we love about fashion. The model's cheap and cheerful Topshop skirt looks amazing in this emerald hue, while her boxy Burberry leather jacket is a nice contrast to her sexy skirt.

It's hard to go wrong in a LBD, especially when you look like Chrissy Teigen. This dress fit the model like a glove and is especially sexy when paired with her strappy sandals and big barrel waves.

Watson looks all kinds of stunning. This navy and black tulle chiffon racerback gown makes the actress appear 10 feet tall, while her red lipstick and sleek hair add to the sophistication.

If you've got it, flaunt it. A plunging neckline and cut-outs can easily be too sexy, but Mitchell's long dress and casual waves ensure that she looks just sexy enough.

This funny actress clearly takes style very seriously. Navy and black is one of our favorite color combinations, and this particular dress is so simple yet so stunning.

This is one of the most flattering dresses we have ever seen on Dunham. The skirt flares out, drawing attention to her waistline, while the hemline hits right above the knee, which is a style that looks good on everyone. And those shoes are pretty badass.

Kim who? It looks like there is a new best-dressed Kardashian in town. That deep-V neckline looks amazing on Khloe, and the tight dress, combined with the looser, sheer sleeves accentuates her curvy figure.

A peplum is good choice for just about everyone, and the cage-like design on the singer's dress makes it a new and interesting take on the trend. Not to mention those python shoes that add the perfect splash of color to her ensemble.

This romper is so much fun for a few reasons. First of all, it's a romper. Second of all, it's printed. This is the perfect outfit to welcome spring.

THIS is how you wear a suit. The combination of black and navy is so chic on Alba, and the perfectly tailored blazer (with nothing underneath) is the perfect contrast to her oversized coat.

While this hemline with flats may only work when you're six feet tall, it's the texture of the gown that makes it a show-stopper.

Rihanna was the biggest celeb to sit front row at Paris Fashion Week -- and you better believe that she did it in style. When Riri attended Stella McCartney, she wore one of the biggest trends of the season: a statement coat. She paired her topper with contrasting orange sunglasses, green booties and pink lipstick, making her look impossibly cool.

Perhaps Swift could be accused of playing it safe with her ultra-feminine frocks and red lipstick, but if it isn't broke, don't fix it. This silhouette, with the full skirt and long sleeves, is so pretty on the tall singer.

The drop-waist dress is back and better than ever. Leave it to the 14-year-old actress to try her hand at this classic trend. Her demure accessories allow her frock to steal all the attention!

This sheath-style dress can be tricky to pull off, but Bell's high slit and pumps helped make the oversized silhouette more flattering.

The Russian fashion plate always turns heads, but this particular outfit is especially great. The color and asymmetrical hem on the trench makes it something special, while her gold belt helps to define her waist and give her a nice shape.

Just when we thought she had a permanent spot on the worst-dressed list, she surprises us. This dark jade dress is gorgeous on the actress, especially because of the belted waist, which defines her shape. We also love how she has chose a bright shade of orange lipstick that pops against her fair complexion.

It's so nice to see J.Law in a different silhouette. This skin-tight, shimmery dress ensures that all eyes are on Ms. Lawrence and the strapless hemline is perfection with her new short 'do.

The 14-year-old did it again. In her signature look of a matching top and skirt, the actress stepped out on the "Today" show looking as adorable and stylish as ever.

The 23-year-old Australian actress is on fire. If her role in "The Wolf of Wall Street" and her gorgeous white dress at the 2013 Golden Globes didn't catch your attention, this black jumpsuit should. Not only is this a standout look because it's so unexpected, but her tousled waves and minimal makeup highlight her effortless beauty.

Seriously, who is this girl's stylist? The wrap detail on her dress is extremely flattering, while the jewel tone is such a nice color against her dark hair. This gown is interesting in a sea of black ensembles.

What makes this dress so alluring is the asymmetrical neckline. The architectural cut-out is very fashion-forward (much like the actress herself) and her simple accessories echo the minimalist theme.

Is there anything more badass than a pregnant woman in a crop top? Leave it to Kerry Washington to keep up her style cred while expecting her first child. Her glowing skin makes this one of her best ensembles so far.

We're not sure whether it's the color or the silhouette of this dress that is so striking, but one way or another, we can't take our eyes off of the British model. The contrast of the high neckline and the high slit makes for an incredibly sexy gown.

The English actress is owning this pastel outfit. The pretty lace dress is accentuated with a monochromatic clutch and neutral-colored pumps, but where she amps things up is with her makeup. Her fierce red lipstick ensures that the ladylike frock has enough sex appeal.

If this is what 60 looks like, sign us up! The 59-year-old model was a total knockout in an LBD that showed off her famous legs. Her leopard print clutch, sultry waves and sky-high heels prove that this lady only gets better with age.

The metallic trend is still in full force (as is the crop top trend), but Alba put a new twist on both, opting for a striped tank and a printed skirt. Her white heels and coral lipstick complement the ensemble perfectly, keeping this outfit interesting.

It's hard to go wrong in a little lace dress. This one is very cute with its Peter Pan collar and scalloped hem.

It looks like the "Vampire Diaries" star found her color. This bright orange gown is gorgeous on her olive skin, and the embellishments on the bust ensure that this dress never enters '90s prom territory.

The 14-year-old actress looked adorable in this embroidered top with matching pants. And we love how the "Mad Men" star completed the outfit with a pair of nude wedges and casual hair. If only all celebs were as well-dressed as this teen.

This is a show-stopping look! The sparkly gown boasts a great shape for Annable, while her slicked-back hair and minimal makeup kept all the attention on her dress.

This outfit is so simple, yet so elegant. Madekwe's gray shift dress, nude pumps and classic ponytail are the embodiment of minimalism at its best.

Just when we thought this woman couldn't possibly get any more stylish, she goes and wears this. Nyong'o's white wrap dress proves that she can rock neutrals just as well as bright colors. The plunging neckline is great on the small-busted star, while her blue pumps add spunk to the outfit.

We've been waiting for this day -- Dunham on the best-dressed list. This white lace dress is great for her shape and highlights all her best features. We also love the length on her, as it's not too short and not too long.

The actress showed off her best assets (those toned arms) in this halter style dress. A+, Beckinsale.

Now this is a LBD. The interesting straps combined with her deep red lipstick and slicked-back hair are making this a fashion moment to remember.

This ensemble is perfection. Though many shy away from cardigans, this particular one looks modern when paired with a printed high-waisted midi skirt.

Orange and pink are great colors for a brunette. The illusion neckline with lace detailing is very pretty, and her nude pumps make her look long and lean.

Pastels are going to be huge for spring, but it's so nice to see them in the middle of winter. The English singer looks very ladylike in her pink lace dress, which is nicely contrasted by her oversized winter coat. Her metallic heels make the look edgy, while her wavy strands and bold brows are an added bonus.

There is a lot going on in this outfit, but somehow it works. The French model stuck to a similar color palette for her entire look, so all the embellishments and prints don't clash. She was also smart not to overdo her makeup or accessories.

The detail work on this dress is really magnificent. The gold color pops against her skin tone, and her matching shoes don't detract from the breathtaking ensemble.

It's not often that you see a turtleneck on the red carpet, but they can be so incredibly sexy. Though the look is very covered up, the tight fit of the dress ensures that there is still some sex appeal.

How is she possibly going to top this ensemble? This wrap-style dress is extremely flattering, and she picked all the right accessories to enhance her outfit -- her strappy shoes elongate her legs, the chunky watch toughens up the look and the bright pink lipstick adds a nice pop of color.

It's so nice to see Queen Latifah dressed up -- the woman cleans up well. The drapey top half of her dress is balanced out nicely by the tight skirt.

This is the perfect way to wear florals in the winter (provided you live on the balmy West Coast). Shipka expertly paired her flouncy skirt with a black sweater and boots, giving us something to smile about as the temps drop.

Some outfits are so great, they just need to be repeated. Though we've seen this tartan Alexander McQueen dress coat on the Duchess before, it fits her so well and is so on-trend, we're happy that it made an appearance again.

This is how Beyoncé got the name Queen Bey -- because she can pull off looks like this. Bey's skintight LBD showcases her sexy figure, while her thigh-high boots are the perfect compliment to her dress' short hemline.

Black lace and red lipstick go together like peanut butter and jelly. This is the perfect look for the holiday season: It is both festive and extremely flattering on the "Zero Dark Thirty" star.

Could she look any cuter? The 10-year-old actress is melting hearts in this cheetah print dress and her signature puppy purse. This look is age-appropriate while still being fashionable.

Now this is maternity-chic. The singer isn't letting her baby bump get in the way of looking super stylish. We're not sure whether it's her sky high boots, oversized sunnies or her printed scarf, but Stefani sure has the pregnancy glow.

Everything about this look is perfection. She manages to achieve perfect balance in her lace crop top, skinny leather pants and oversized coat. Rivera looks incredibly sexy while remaining sophisticated.
Want more? Be sure to check out HuffPost Style on Twitter, Facebook, Tumblr, Pinterest and Instagram at @HuffPostStyle.