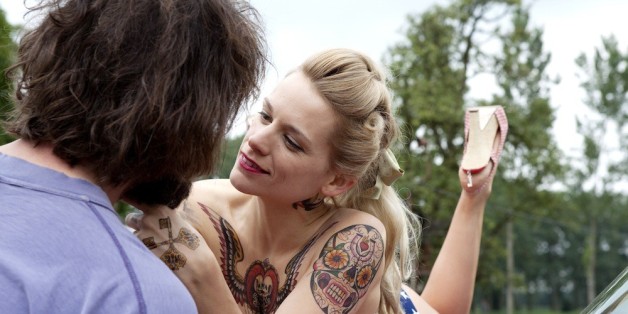 One person who didn't hear when "The Broken Circle Breakdown" was announced as one of the five 2014 Best Foreign Language Film nominees was director Felix Van Groeningen. He had other plans.
"I was running," Van Groeningen told HuffPost Entertainment about how he spent Oscar nominations morning. "I didn't want to follow the live stream. I was too nervous, so I went running. I came back and opened my computer and it had been announced about 15 minutes beforehand. I saw all these emails coming in, so I knew that we were nominated."
Co-written by Van Groeningen and Carl Joos and based on the play by Johan Heldenbergh and Mieke Dobbels, "The Broken Circle Breakdown" focuses on Elise (Veerle Baetens) and Didier (Heldenbergh), musicians who fall in love after revealing a shared interest for American bluegrass music. Soon married, their idyllic union is spoiled when tragedy strikes the young family they create.
"I saw the play twice before I was involved in the movie project," Baetens, who sings in the film and spent hours getting tattoos affixed to her body for the role, said. "I was amazed and astonished and overwhelmed. I thought it was the best play I had ever seen. I really mean that. At that time, I was teaching students in theater school, and I told them to see this play because this was how you should do it. This is acting. This is theater. The producer asked me to audition and I said of course. I cried when reading it even when I knew what was going to happen in it."
Because of the intense musical preparation required for the film, Baetens and Heldenbergh spent a lot of time together before production began. According to Baetens, it was vital to the onscreen relationship between their two characters. "For this movie, we had to find each other as a couple. As a cool chick and a cool dude, but also as a grieving mother and grieving father," she said. "It was very necessary, but it worked out very well. The energy between us, which was necessary to be this particular couple."
From Belgium, "The Broken Circle Breakdown" has won fans stateside since its debut at the 2013 Tribeca Film Festival (Tribeca Film also distributed "The Broken Circle Breakdown"), but Van Groeningen acknowledged that he was surprised by the intense reactions people have had to the film.
"We only did screenings for a very small number of people. I would show friends or people I know. I never did these huge test screenings," he said. "It was great because they were very intimate screenings for five or six people. Afterwards, we would talk about it. There wasn't that much crying going on during the screenings. I only realized it when the film came out that people were crying all the time. Just talking with those people, I really felt that it was working. It contained everything that it needed to contain."
That led to an Oscar nomination, but Van Groeningen isn't too stressed about what will happen on March 2, when the Academy Awards will be handed out.
"I'm not really nervous about this right now. I hope to have fun," he said. "I don't know how we're going to do that, but I want to do that."
"Broken Circle Breakdown" is available now on iTunes, Amazon and other services.
ALSO ON HUFFPOST:
PHOTO GALLERY
BEFORE YOU GO
Celebrity News & Photos
PHOTO GALLERY
Celebrity News & Photos