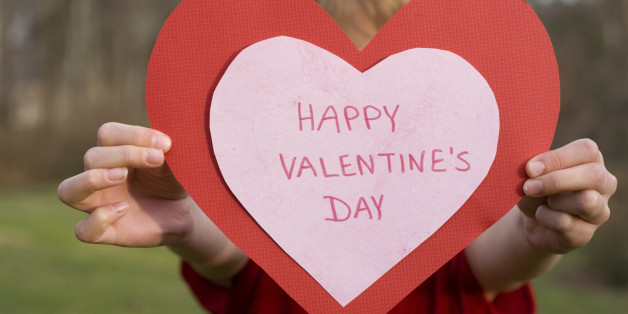 Valentine's day tends to evoke a range of emotions, from love to anxiety, and no one is spared from the waves of red flowers, pink cards, and Russell Stover chocolates. That includes your favorite celebrities.
Meet the four types of people you find on Valentine's Day:
The Lovers
For some, Feb. 14 is a celebration of love and commitment. Whether you're spending the day with family, friends, or a significant other, you spend the day sounding like the inside of a sappy Hallmark card. Turns out you aren't alone…
Spending Valentines with the people I love. Remember who's important. Remember who was there to pick up the pieces. And appreciate! #friends

— Adelaide Kane (@AdelaideKane) February 14, 2014
Happy Valentines Day. You are the sexiest.

— Zach Braff (@zachbraff) February 14, 2014
Happy Valentine's Day to my wife and lover of fifty seven years @Tesssanch
#ItGetsBetterEverySingleDay❤️

— max greenfield (@iamgreenfield) February 14, 2014
The Jokers
Others have developed a sense of humor about this holiday that has bigger payoff for that candy shop down the block than for your relationship. These are those people.
Posting this again. Because its, ya know, that day. Cookie day. http://t.co/Qd0md0mOng

— josh groban (@joshgroban) February 14, 2014
My boyfriend isn't into my usual valentines plan of crying into a pillow

— Chelsea Peretti (@ChelseaVPeretti) February 14, 2014
Happy Valentine's Day! If you are single, celebrate anyways. Think of all the money and hassle you're saving today.

— Nolan Gould (@Nolan_Gould) February 14, 2014
The Jaded
One of the larger populations of Valentine's Day victims are those that have grown jaded about the celebration of love. Often due to the lack of a valentine, these angst–y folks are all about being depricating. You'll know them when you see them…
Happy Valentines Day everyone! Now Fuck Off!
pic.twitter.com/m6TJPnNZTb

— Pablo Schreiber (@schreiber_pablo) February 14, 2014
Today will be a day spent with love......of my anime body pillow harem.

— Dylan Sprouse (@dylansprouse) February 14, 2014
Happy Valentine's Day-or as I call it "Getting Left Out In Jr High While Cool Girls Got Hershey Kisses From Secret Admirers Remembrance Day"

— Melissa Rauch (@MelissaRauch) February 14, 2014
I have no sex appeal. Cupid saw me naked and shot an arrow into his head. Happy Valentine's Day!

— Joan Rivers (@Joan_Rivers) February 14, 2014
The Realistic
It's hard to be honest about Valentine's Day. No matter how terrible you feel about yourself on Feb. 14, you'll realize tomorrow that you have plenty of time to find the love of your life and that it wasn't work falling for some gimmick in the name of holiday spirit.
Girls, if a guy sends you rose emoticons today please dont have sex with him. Its literally the least he can do. 🌹🌹🌹✖️✖️✖️. #lazy

— David Spade (@DavidSpade) February 14, 2014
Saint Valentine. Man, he must've had relationship problems.

— bob saget (@bobsaget) February 14, 2014
ALSO ON HUFFPOST:
Celebrities' Perfect Dates
SUBSCRIBE TO & FOLLOW ENTERTAINMENT
Spilling the tea 24/7. Never miss a beat. Learn more