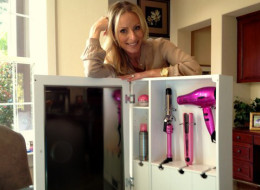 One of the reasons I started my website is that I wanted a place for women to come together and dream. We women need to know that we don't have to hang on to an old dream that has stopped nurturing us -- that there is always time to start a new dream. This week's story is about a mother who had to find a new way to support her family during a strike. When an idea for a household solution came to her, she asked her 7-year-old son to build the first prototype out of Legos -- and now her product is making her millions in revenue! -- Marlo, MarloThomas.com
By Lori Weiss
When Hollywood writers went on strike in 2007, many of us wondered how long it would be before we could watch new episodes of our favorite shows. Marcy McKenna wondered when her family would see another paycheck.
"My husband is a successful screenplay writer," she explained, "but in Hollywood, it's a roller coaster ride. I just kept thinking, what if this goes on for five years? We have a special needs child who is going to require our support for the rest of his life. I knew I had to find a way to provide some back up security for our family."
The good news was, that for Marcy, there was never a shortage of ideas. Some might say the inventing gene even runs in her family. Her great grandfather was an inventor who created industrial solutions for the military, and innovations that changed the way cable and telephone companies still work today. Generations that followed continued on that same course. And the mother of three had a big white binder of her own that was filled with possibilities.
"Most people get frustrated when they encounter a problem. But in our family, we get excited, because for every problem, we know there's a solution. And where there's a solution, there's a product to sell."
But in this case, there was a problem that did seem unsolvable. While Marcy had big dreams, she didn't have the time or the financing to bring her ideas to market. And without an end in sight to the strike, she didn't dare touch any savings the couple had stashed away. So the binder sat on a shelf -- gathering dust -- as the hopeful inventor searched for a solution that could help her family.
What she didn't realize was, the answer had been right in front of her all along. Not in a binder, but right out in the open. It was something that she and her husband had quibbled about pretty much every day. And it would put Marcy on the way to making millions.
"Almost every morning," Marcy recalled, "my husband would make some sort of comment about the hairdryer I had tucked into a towel bar or a styling iron I'd left out to cool on a counter top. There were electrical cords everywhere."
"And it wasn't just our bathroom. My mother lives with us and because we have a pedestal sink in the bathroom she uses, she was storing her styling tools in a big white bucket. There was just nowhere to hide the mess. I knew we couldn't be the only ones with this problem, and I just had a feeling that if I could come up with a solution, I could get it on a home shopping network."
So Marcy did what any great granddaughter of an inventor would do -- she turned to the next generation of her inventive family -- her 7-year-old son, Jack.
"My mother and I were sitting outside discussing where everything would go. I sketched out a cabinet with metal compartments and a power source that was built in -- so that even hot styling tools could be put away safely and turned off with the flip of just one switch."
"Jack was sitting there playing with his Legos and listening to us, so I said, 'Jack, how about if you build us our first prototype.' I remember thinking, If this turns into something, I'm always going to remember this moment."
So the 7-year-old boy built a box out of Legos and worked with his mother and grandmother, to figure out where each styling tool would go and how the cords would be stored. And there, on her patio, the product Marcy would name the Style & Go Hair Care Valet came to life.
Article Continues Below Slideshow
For Marcy McKenna, a busy mother of three, no problem seemed unsolvable. When she finally got fed up with the household clutter created by her various styling tools in the bathroom, she sought out a clever solution that would make her nearly a million dollars.

Marcy created the Style & Go Hair Care Valet, a simple, practical shelving unit which allows styling tools and cords to be neatly tucked away for easy use. After making its debut on shopping networks like QVC and HSN, the Style & Go has made Marcy into a successful entrepreneur.

Marcy and her family were fed up with the bathroom clutter created by multiple styling appliances with tangled cords.

Marcy's mother Carolyn lived with her and struggled with similar organizational issues in her guest bathroom. Here's a shot of one of Carolyn's makeshift solutions: storing all of her electric styling devices and cords in a bucket!

Marcy comes from a family of inventors, so she was wired to find a solution for her bathroom clutter problem. Here, Marcy's great grandfather (far left) shows off his latest invention -- an electric scooter -- in 1939.

Marcy's mother Carolyn also loves to invent and helped her family members conceptualize and test various ideas along the way. Here, Carolyn tinkers with one of her grandfather's inventions at age 12.

Marcy and her husband Dave have made their family a number one priority. When Dave, a screenwriter in Hollywood, faced the possibility of losing employment during the Writers Strike in 2007, Marcy began to think seriously about other options to ensure long term security for their children.

One day, while Marcy and her mother were discussing their bathroom clutter problem, Marcy's seven year-old son Jack began building a solution. Jack built a box out of Legos and worked with his mother and grandmother to figure out where each styling tool and cord would be stored. The prototype for the Style & Go Hair Care Valet came to life.

Marcy quickly got to work sketching out the prototype for the Style & Go, taking measurements and experimenting with different tools in her garage.

With her extensive notes, blueprints and the help of college students in a local wood-working class, the first rough prototype of the Style & Go came to fruition.

Armed with a working prototype and the support of her family, Marcy entered the TLC contest, "Homemade Millionaire." The show was looking for female inventors, and the winner would get a chance to have their product featured on HSN. "I felt like it was meant to be," Marcy recalled.

After competing as one of only three finalists in the beauty product category, Marcy's Style & Go was declared the winner of the Homemade Millionaire content. Here, she receives a congratulatory hug from producer Kelly Ripa after the taping of the finale.

In August of 2012, the Style & Go made its HSN debut and sold out in just three appearances. Here, Marcy poses during her first day at HSN for On Air Guest Training.

In the midst of the Style & Go manufacturing process, Marcy also created the Cambia Clutch Collection, a clutch with interchangeable covers. Here, she tapes a "Quick Buy" segment at HSN to promote her product.

Shortly after its HSN debut, the Style & Go hit big box retail. Lowe's wanted to test Marcy's product in 200 of their stores nationwide.

Marcy has been a guest on various shows to promote her Style & Go product. Here, she poses with Kris Jenner and guest host Morris Chestnut just after her segment on the Kris Jenner Show.

Even in the midst of the success of the Style & Go, the McKenna family still finds time to have fun. Here, they smile on the slopes in Brian Head, Utah in December 2013.

Marcy has encouraged her own family to pursue their entrepreneurial dreams. Here, she smiles with her family at her son Jack's first entrepreneurial venture: a neighborhood restaurant called "Flap Jack's Cafe." At age 6, Jack opened his doors and hired two employees. "My husband and I were paid 10 cents an hour to be his chef and waitress," Marcy laughed.

What started as one of her son Jack's fun Lego projects has now turned into a successful business. Here Marcy smiles, surrounded by her children, on Mother's Day.

This year, Marcy will introduce a line of products that offer simple solutions to everyday household problems on QVC, and she's projecting revenue of nearly a million dollars.
Yet there was still the problem of money. While the Lego prototype was adorable, Marcy knew she couldn't bring it to buyers. So she approached a local college where students in a woodworking program happily helped her refine her concept. And then she started thinking about ways she could market it. Once again, the answer was right in front of her.
"Everyone had gone to sleep" Marcy said, "and I was up late working on my computer. Out of nowhere I came across a post about a television show that was being produced by Kelly Ripa's production company. They were looking for female inventors and the winner would have a chance to have their product featured on HSN! I felt like it was meant to be."
"But then I realized the contest was closing at midnight and it was 10 pm. There had been casting calls all around the country, even just an hour away in Los Angeles, and I had missed all of them. I knew I had to convince them to give me just one day."
So Marcy tracked down the producers and begged for a 24 hour reprieve. Her brother brought over his camera and her husband started making cue cards. And the inventive mom stepped out on to her son's basketball court and taped a video that she hoped would demonstrate to the production team that her product was a slam dunk.
She also made a commitment. Her 40th birthday was approaching, and she promised herself that for the next year, she was going to do at least three things a day that would bring her closer to her goal of putting the Style & Go into homes across the country.
Five months later, Marcy got the call that would change her life. It wasn't a home builder that she had called or a fancy hotel she had hoped might want to install her cabinets. It was a producer behind the contest she'd entered -- calling to say she'd been selected as a contestant on TLC's Homemade Millionaire and she needed to be in New York the next week.
"Everyone was so excited, but my uncle took one look at the prototype and insisted on remaking it. So he took it to his home in Santa Barbara and brought back a new one the day I was flying out. But there was one problem. He brought it back in pieces, thinking he could put it together when he got to my house, but he forgot the cabinet door. I could feel the opportunity of a lifetime slipping out of my fingers."

"My husband, David, got on the phone with my uncle's son and they both got in their cars. It was a two to three hour drive, so they agreed to meet half way. Then David drove the entire way back in the emergency lane with his hazard lights on -- figuring if he got pulled over, the ticket would be worth whatever it cost."
Marcy made it to the airport within minutes of her flight and when she finally got to New York, she found out even bigger news. She was one of only three finalists for an episode focused on beauty products. Within a week, she'd won enough challenges to be in the top two. And it wouldn't be long before the intrepid inventor would find out that she was on her way to HSN.
There was just one more little glitch. No one told her that she'd still have to find her own manufacturer. The Style & Go was scheduled to make its debut on HSN right after the finale of Homemade Millionaire. By the time she found out, Marcy had only three months to find a solution.
"And once again, I thought this enormous opportunity was about to slip through my fingers. I couldn't let that happen, so I pulled out my white binder and called HSN. I said, 'I need some time to find the right manufacturer, but I have three other products I can have ready in time for your air date."
One of those products was a purse Marcy had created for her trip to New York. She was traveling with eight outfits and there was no room for matching purses. So she created a clutch with interchangeable covers. HSN liked it so much, they put her in touch with handbag designer Carlos Falchi, who agreed to manufacture the purse and have it ready in time for the show. And the network agreed to stick with her, until the Style & Go was ready.
It took two years to get it right, but in August of 2012, the invention that began as a Lego project, made its HSN debut and sold out in just three brief appearances. It wasn't long before InStyle Magazine discovered the home organizing system and included it in a story about bathroom innovation. And then she got a call that she hadn't even considered -- Lowe's wanted to test her product in 200 of their stores.
"That's when I knew I had to find a partner," Marcy said. "I was a woman who won a contest. I didn't know anything about supply chain management or warehousing. I gave up a lot of profit when I made that decision, but it allowed me to keep doing what I do best-- inventing and selling -- and most importantly, being a mom."
And now that she's taken that white binder off the shelf, the possibilities are endless. This year Marcy will be debuting a line of products that offer simple solutions to everyday problems on QVC, and she's projecting revenue of nearly a million dollars.
"It took something to jar me," Marcy said softly, "before I looked at what I had right in front of me. I needed a 'why' and for me, that was my family's future. Once you find your 'why,' you feel the fear and do it anyway. You become braver about taking big steps."
Add Marlo On Facebook:
Follow Marlo on Twitter:

Weekly Newsletter

Sign up to receive my email newsletter each week - It will keep you up-to-date on upcoming articles, Mondays with Marlo guests, videos, and more!

Sign up here