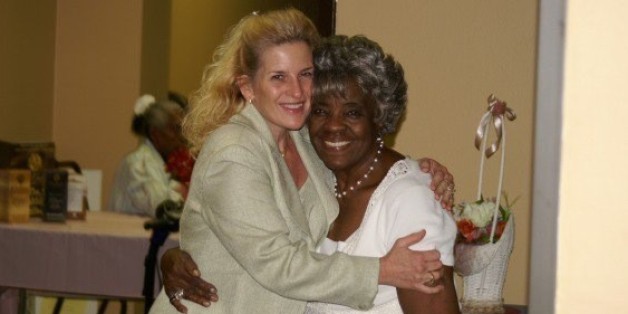 Consignment shop owner Michelle Puckett is in the business of giving back.
Most customers at Puckett's Houston, Tex., store, Designer Exchange, are there to buy discounted designer clothes, but a few visit for a very different reason. They're there to get their lives back on track.
"We sell all these beautiful designer clothing and accessory items from quality designers, like Chanel, Gucci and Ferragamo, on consignment for 80 percent below cost," Puckett explained in a 2013 press release. "But even those huge discounts aren't necessarily affordable for people who have been out of work and are struggling."
And so, Puckett hit upon the idea of combining her consignment shop with her nonprofit.
She started Blooming Butterflies, Inc. in 2003 during a particularly rough patch: She was in the middle of a divorce and her son, Charles, 33, had been seriously injured in a motorcycle accident that required nerve transplant surgery. "My son and I reached out and formed our own nonprofit so we could help others start over in life ... because of the few individuals who reached out and helped us," she said in a recent interview with the Houston Chronicle.
The nonprofit helps victims of domestic violence and senior citizens by lending clothing for job interviews and offering resume services. The clothes come from both donations and the consignment store, and they're returned after use.
"Since 2010, we have provided assistance to 148 disadvantaged and battered women, 22 struggling men and around 87 senior citizens, not to mention the nursing homes," she told the Houston Chronicle.
Over the past few years, Puckett has also run several successful fundraisers from her store. Additionally, Blooming Butterflies provides disadvantaged women from local shelters with 'Baskets of New Life' which contain hair products, makeup jewelry and other accessories to help these women find a fresh start.
Running businesses is nothing new for Puckett, who has managed four businesses in the past. She told Resale Houston magazine that her goal, "is to make designer clothing affordable for the working woman."
After weathering the storm of her own tough times, Puckett is happy to give back, "The goal is to build a nonprofit, and we want people to come in and shop, consign and donate. That's our big thing."
PHOTO GALLERY
BEFORE YOU GO
Designer Exchange / Blooming Butterflies Inc.
PHOTO GALLERY
Designer Exchange / Blooming Butterflies Inc.