Atheist And Muslim Presidential Candidates Face The Most Bias
While ninety percent of Americans would vote for a black, a woman, Catholic, Hispanic, or Jewish presidential candidate, only 54 percent would vote for an atheist and only 58 percent would vote for a Muslim according to a Gallup poll below.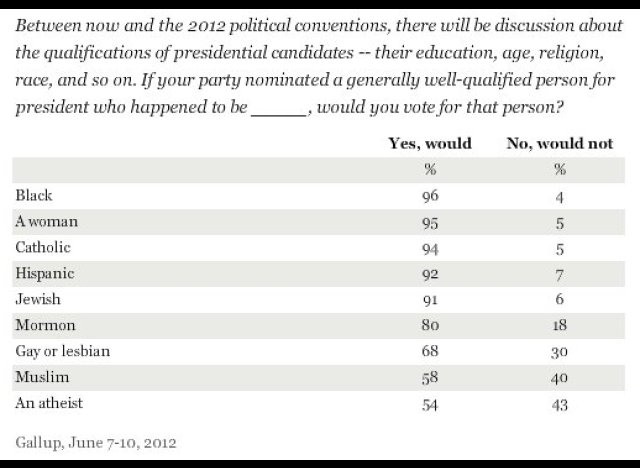 Gallup first asked this question in 1937 referring to women, Jews, and Catholic candidates. Since, Gallup has taken this poll every few years and consistently added new categories as presidential candidates have become more diverse.
Americans willing to vote for a Mormon president rests at 80 percent, a number which hasn't changed much over the last 45 years.
However, other categories have grown in acceptance, according to Gallup. While in 1937, less than half of Americans would vote for a woman or Jewish president, now over 90 percent say the would. In 1958, less than half of Americans would vote for a black candidate, and today that trend too has over 90 percent acceptance.
"Over time, Americans' acceptance of blacks and women as candidates has increased the most," the poll reports.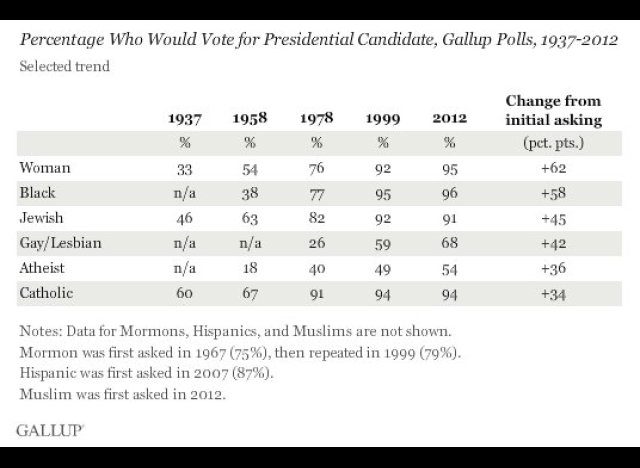 The poll also breaks down the numbers based on party affiliations and age. This year more Republicans leaned towards voting Mormon for obvious reasons.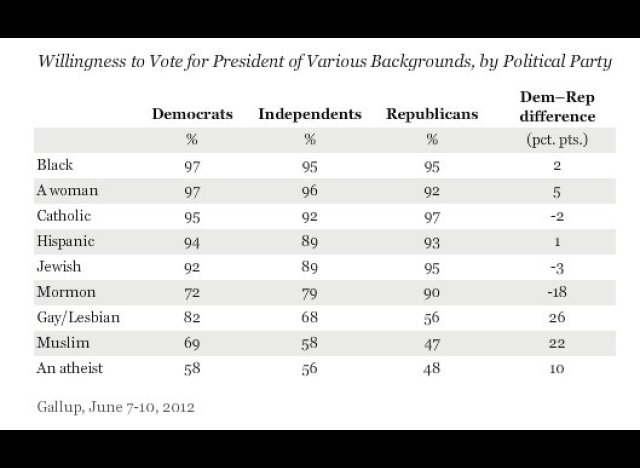 Younger populations seem to be more accepting of diversity in presidential nominations and 7 out of 10 adults under the age of 30 would vote for candidates regardless of background.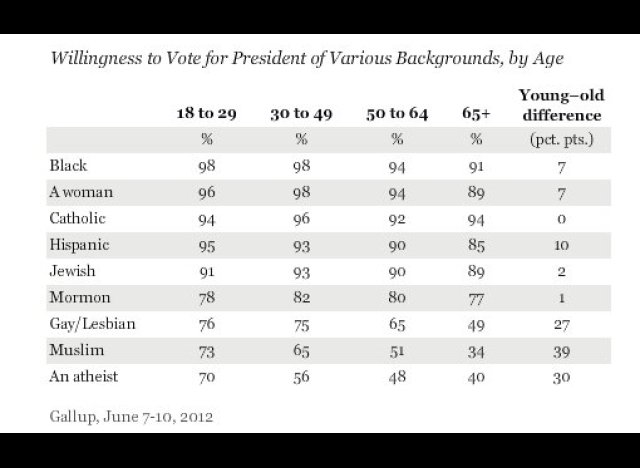 Surprising Religious Facts About American Presidents
Surprising Religious Facts About U.S. Presidents
John Adams had a dog named 'Satan,' which just beats George Washington's dog, 'Drunkard', for weirdest name.

George Washington did not take communion, and on his death bed he requested neither prayers nor the presence of a minister.

Mary Lincoln, Abraham's wife apparently held a seance in the White House

During Dwight Eisenhower's term, Congress added the words "under God" to the Pledge of Allegiance. Two years later, Eisenhower signed a law making "In God We Trust" the nation's official motto.

Richard Nixon was the second Quaker president, after Herbert Hoover, though he broke the Quaker commitment to pacifism to serve in the U.S. Navy.

In 2009, Jimmy Carter severed ties with the Southern Baptist Convention over its stance on women, say in a piece for The Guardian: "My decision to sever my ties with the Southern Baptist Convention, after six decades, was painful and difficult. It was, however, an unavoidable decision when th e convention's leaders, quoting a few carefully selected Bible verses and claiming that Eve was created second to Adam and was responsible for original sin, ordained that women must be "subservient" to their husbands and prohibited from serving as deacons, pastors or chaplains in the military service. This was in conflict with my belief - confirmed in the holy scriptures - that we are all equal in the eyes of God."

Thomas Jefferson is often said to have hosted the first Ramadan celebration in the White House. Jefferson did, in fact, host Sidi Soliman Mellimelli, a Muslim envoy from the chieftain of Tunis, for dinner on December 9, 1805. The two were to discuss piracy on American merchant vessels, and, it being Ramadan, Jefferson held the meal at sunset in deference to Mellimelli's faith.

Calvin Coolidge initiated the practice of lighting an official White House Christmas tree in 1923, and he oversaw the first public celebration of the Christmas holidays.

Bill Clinton was the first president to light a Hanukkah menorah in the White House, though George W. Bush was the first to host a White House Hanukkah party and light a menorah in the White House residence.

James Polk was born into a Presbyterian household but was never baptized. Thus having promised a pastor at one point that he would, Polk was baptized a Methodist on his death bed.

Lyndon Johnson was sworn into office aboard Air Force One with his hand on Kennedy's copy of the Catholic Missal rather than a Bible.

Abraham Lincoln, who had no formal religious affiliation, was shot on Good Friday, and he died the day before Easter Sunday.

Ulysses S. Grant was never baptized and reportedly got in trouble for not attending religious services while he was a student at West Point.

George W. Bush created the Office of Faith-Based and Community Initiatives as his first executive order.

Though not an ordained minister, James Garfield preached until becoming a member of Congress in 1863. He was the only U.S. president to have been part of the clergy.

According to a soldier who served with him during the Civil War, Benjamin Harrison held nightly prayers in his tent. He later taught Sunday School and served as a church elder for 40 years.

Woodrow Wilson was named the first non-minister president of Princeton University, and in a move to modernize the university he hired Roman Catholic and Jewish professors and expanded. the science curricula.

John F. Kennedy may have been the first Catholic president, but he was the second Catholic person to run for U.S. presidency, after Al Smith who ran in 1928.

When Andrew Johnson was impeached for impeding the Radical Republican movement's agenda for protecting newly freed slaves and punishing former slave owners, the Methodist Church reportedly participated in his impeachment hearings.