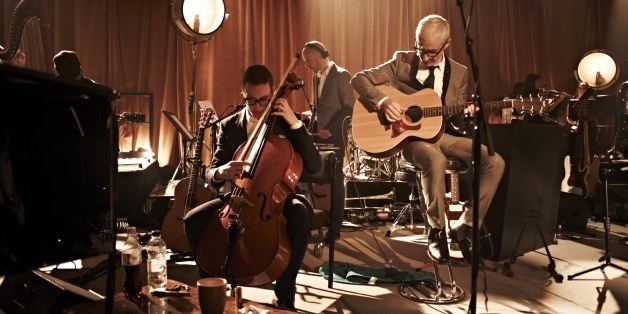 Between headlining festivals and hosting their massively popular "Group Therapy" radio show, the three gents in Above & Beyond are undoubtedly among dance music's biggest stars. Over the past decade or so, they've released three studio albums, countless singles and compilations, but never a full acoustic project. That changed this year.
"It was Tony [McGuinness]' idea to do the acoustic album," A&B member Jono Grant told The Huffington Post. "Me, personally, I would have been too scared to do it." Grant, McGuiness and Paavo Siljamäki worked with composer Bob Bradley to transform their dance hits into sometimes haunting, sometimes romantic reworks that they then performed live at London's Porchester Hall and Los Angeles' Greek Theatre.
The result is an affecting 12-track LP that amplifies the intensity of some of their most seminal hits ("Sun & Moon," "Thing Called Love") by reducing them to spare arrangements and softer vocals. HuffPost Entertainment spoke to Grant about the process of making the album, what they learned by taking a break from dance music and what's currently cooking in the Anjunabeats universe.
How did this massive effort, between the album and the concert film, begin?
We knew the material could work in that style, and we had a few reference points and ideas of how we'd like it to be. We were thinking of the French band Air, for example. We had a rough idea, but we let Bob go off and do some interpretations. We went and recorded our parts in his studio in Leeds. We played our parts on the acoustic album, and then they became slightly adapted for the live version.
It was also Tony's idea to do the show -- he wanted to do it small and intimate, in a venue in London. And then of course the Greek Theatre [in Los Angeles] happened after that.
Was there any difference in the reception?
It was quite different, actually. We were filming it in London, so we actually told people to be quiet. [Laughs] They were on their best behavior, but maybe it wasn't such a good idea to tell them to keep quiet. In America, concerts are pretty loud and the venue was a lot bigger, so it's different in that regard. But in both gigs, the audience didn't really know what was going to happen -- especially in the U.K., because no one knew what we'd have on stage.
In L.A., people weren't sure if they were at a rave or a gig or what, but they knew they'd have a big time.
How did people end up dressing, more for a rave or for a classical performance?
That was really sweet and amazing. Because they saw pictures of us in suits and things, once tickets went on-sale for the American gig, they thought, "We've got to dress up for this!"
Do you think this is more of an experiment in form, or content? You're keeping the lyrics the same, mostly, but you're rebuilding the architecture around them.
Even though it was an acoustic thing, the production behind it was very important. I'm trying to think if the meaning of the songs changed much for me, but I'm so close to it that it's difficult. I know the songs so well, but I'm sure that for some people listening, that happened. For me, I'm more focused on music than lyrics anyway, so I'm probably not the best person in the band to ask.
What was the most interesting part, to you?
Playing again. When you're in the studio, you're just doing a bit and then correcting it and redoing it, but you're just trying to get through it. When you're playing live, you actually have to practice and I hadn't done that for years. That was very rewarding for me, and also going into Bob's studio and being produced as an artist. Normally, I'm the one in the chair telling a singer how to perform a vocal, so it was nice to play something and have Bob say, "Oh, I like this but can you do a little bit more of that?"
Was that hard, at all?
You know, it wasn't. Bob had a lot of ideas, so he would sort of play us a track, and we'd jam out over the top. I'm always playing piano at home anyway, so even though I'm not practicing that much, I'm always noodling or tinkling around. I didn't find that aspect challenging, but settling down on certain things was tough.
Did you re-record every vocal?
Yeah, we re-recorded everything. Even Zoe [Johnston]'s stuff. You need to sing out a bit more in dance music, so these are a little more delicate and need to be sung softer. It was essential to rerecord them.
There's a nice little analog movement in dance music now, with Daft Punk returning to old-school techniques for "Random Access Memories" and classically trained artists like Zedd releasing piano versions of their dance singles. Did those artists influence you at all, or had you been planning A&B acoustic for awhile?
No, this was just Tony's idea. We were just a little more scared than he was. In terms of timing, we've been working on this in January of last year, so it's been just over a year since we started. The idea to do it came two or three years before that. We just hadn't gotten around it, because we were doing our own album. I could see us doing it again in the future -- we only did 12 tracks on the album. We didn't do an acoustic version of "Alchemy," there are plenty of other songs that we didn't do and could do in the future, between albums. It provides you a nice break between the dance stuff, and I've been doing dance music about 13 years professionally, and you just need a break sometimes.
Do you think there were any learnings that you'll take back to dance music?
There are certain songs that work because of their simplicity in dance form, and I don't think those work in an acoustic way, because you need a full song. For example, in "Alone Tonight," Tony wrote a new verse. In the dance version, we didn't have enough lyrics to play live. So come 2013, he wrote a new verse for it. So the nature of what we did this time was very much all about songs, so maybe we'll be thinking about that in the future. But I still think that there's very much a place for simplistic dance songs, like, say, Reflekt's "Need to Feel Loved" doesn't have a lot of lyrics in it, but what is there is quite powerful.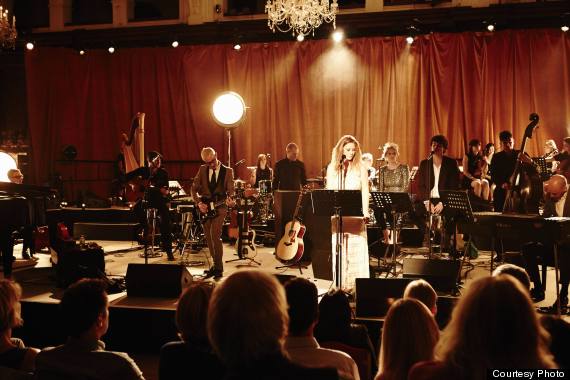 Your music is special because it walks the line between being beautifully simple and campy. There's a fine line between getting at basic, universal feelings and sounding like a Hallmark card. You avoided crossing that line on the acoustic album, but I'm curious if there was anything that felt cheesier to you without the big dance production
For me, the acoustic thing is not about saying, "Look at us, our songs are better because they're acoustic." I don't view any kind of music in that way -- I think minimal techno can be extremely complicated, for example. It's not that something complex is better, and I'm not saying that our stuff is particularly complex.
What are you up to now, as A&B and at the label?
With our artist album, we're now at the stage where we have most of the tracks or songs, give or take maybe one or two. We now are starting to shape the production of those songs a bit more. That's actually one of the more challenging bits, because when we did the "Sun & Moon" mix, we caught something that was very "now" (but, then). We're trying to find some fresh sounds now and make sure we're not sounding like what's out there or like our old material. So we have written our songs
On the label side, we're getting tracks in for Anjunabeats vol. 11, the next compilation. We had an A&R meeting yesterday where we discussed those tracks, and we have some stuff from Audien and Jaytech. We're hoping to have a bit more of the Anjunabeats on there -- with one CD more progressive and the other CD more traditional Anjunabeats.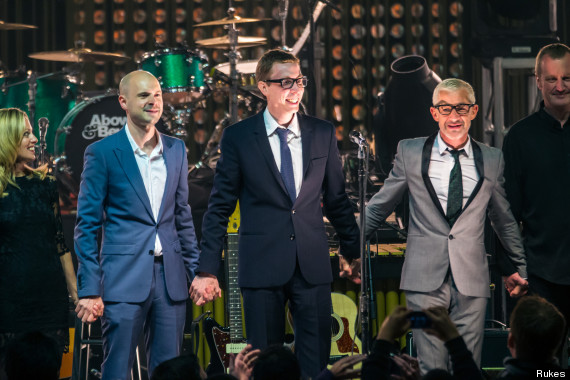 PHOTO GALLERY
BEFORE YOU GO
Celebrity News & Photos
PHOTO GALLERY
Celebrity News & Photos