After nearly getting killed by the Taliban for fighting for girls' education rights, Malala Yousafzai is doing whatever she can to protect Syrian refugee children -- and grant them access to learning.
On Sunday, Malala, along with her father, Ziauddin, and a team from the Malala Fund -- an organization that is working to empower girls across the globe -- helped hundreds of Syrian refugees cross from their war-torn country into Jordan, according to her organization's blog.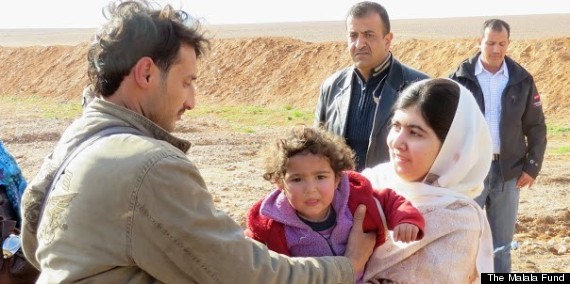 Malala arrived in Jordan on Saturday to continue her efforts to advocate for the more than 1 million displaced Syrian refugee children. According to UNICEF, nearly two million Syrian children have dropped out of school since 2012, which is nearly 40 percent of all students between the first and ninth grades.
Back in September, Malala pledged to raise more than $500 million over the next three years to provide education to 300,000 Syrian school-age children living in Lebanon, Time magazine reported. In Jordan, the Malala Fund is partnering with grassroots Jordanian and Syrian organizations and NGOs that are committed to getting every school-aged Syrian refugee back in the classroom, according to the nonprofit's blog.

Malala greeted the Syrians who had trekked through the scorching desert on foot, carrying few possessions -- a scene the Malala Fund described as "heartbreaking."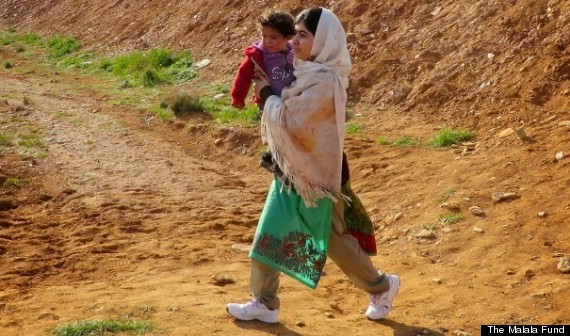 Since getting shot in the head by the Taliban in October 2012 for being outspoken about the right to education, Malala has served as the face of the fight for children to have the opportunity to learn.
The Nobel Peace Prize nominee has met with President Barack Obama, shared her vehement views at the U.N. and has repeatedly voiced her unwillingness to exact revenge on the group that nearly took her life.
"If you hit a Talib, then there would be no difference between you and the Talib," Malala told Jon Stewart in October when she was interviewed on "The Daily Show." "You must not treat others with cruelty … You must fight others through peace and through dialogue and through education."

ALSO ON HUFFPOST:
PHOTO GALLERY
BEFORE YOU GO
Malala Helps Syrian Refugees Cross Border
PHOTO GALLERY
Malala Helps Syrian Refugees Cross Border