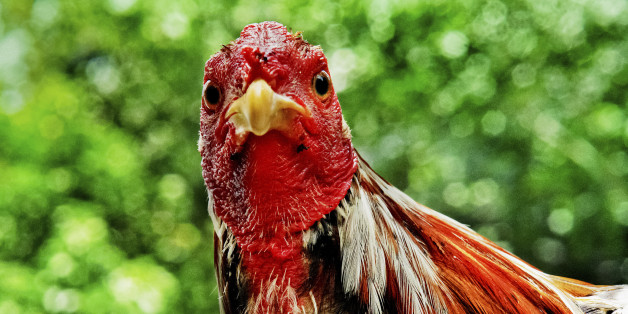 The farm bill that President Barack Obama signed this month contains a provision -- called "Cock-A-Doodle-Don't" by the magazine Modern Farmer and the "Animal Fighting Spectator Prohibition Act" by the rather stodgier Congress -- making it a federal crime to attend an animal fight.
A new HuffPost/YouGov poll found that 74 percent of Americans support the law making it a crime to attend an animal fight, including a dog fight or a cockfight. Of those, 53 percent strongly approve of the law. Just 16 percent said they disapproved of the law, while 11 percent said they weren't sure.
Those against the new law include 90 cockfighting enthusiasts who signed a Change.org petition asking the federal government to keep its hands off their fighting roosters.
"I am a gamecock farmer/rancher and I either have the God-given, constitutionally protected unalienable right to own, possess and harvest my gamecocks (livestock) by the same method of harvest that gamecocks have been harvested for more than 3,000 years, as I attempt to earn a living and provide for my family or there is no Constitution," is how it was put in one part of the petition.
One of those who supports the law is Michael Vick, the NFL quarterback who got out of jail in 2009 after serving 19 months for activities related to a brutal dogfighting ring.
Vick, a free agent who has played for the Philadelphia Eagles and the Atlanta Falcons, teamed up with the Humane Society of the United States to push for the Animal Fighting Spectator Prohibition Act. (The HSUS explains the relationship in a slightly defensive-sounding FAQ section on its website.) That, and other anti-animal fighting efforts, have won Vick praise in some circles.
Others remain unconvinced, including almost 75,000 people who signed a petition protesting Vick's inclusion in the Greater Raleigh Chamber of Commerce's 2014 "Evening of Champions" in North Carolina. The chamber describes the event as a yearly "salute [to] the stars of local sports." Vick grew up in Virginia.
"I feel the exact same way about Michael Vick as I do about [serial killer] John Wayne Gacy," said actress and comedian Rebecca Corry, who is organizing the upcoming One Million Pibble March on Washington ("pibble" is an affectionate term for pit bull-type dogs). "One got a Nike contract, the other got lethally injected after 14 years on death row. Two-legged, four-legged victim, is irrelevant."
"I do not believe that Michael Vick has ever addressed the unnecessary murder and abuse he performed on the dogs, above and beyond what they went through for dog fighting," said Sarah Williams, a Raleigh resident who asked the Chamber of Commerce to remove Vick from the program. "Until then, I don't want the man anywhere near my home, state, in the minds of my kids, or celebrated in any way."
Rick French, a Vick spokesman, told HuffPost that "at this point it's logical to conclude that those who believe in second chances have probably already forgiven him. And those that don't likely never will."
"We are either a country or society that believes in second chances, or we don't," French said. "Mike has done everything anyone could reasonably expect of him to make amends for his mistakes."
Indeed, 54 percent of those who responded to the HuffPost/YouGov poll said they could forgive someone who'd been convicted of animal abuse, then served their time and expressed remorse.
A mere 9 percent, however, said they'd be "happy" if their favorite NFL team signed Vick for next season. (Forty-eight percent said they'd be "indifferent," and 26 percent would actually be upset. Eighteen percent of Americans said they were "not sure" how they'd feel.)
The controversial Raleigh "Evening of Champions," which was supposed to take place on Feb. 12, has been rescheduled for later in the month. The Greater Raleigh Chamber of Commerce put out a statement saying the postponement was due to weather. Vick would not attend, the group said, "due to a previously scheduled engagement."
While those who demanded Vick be cut from the program are cheering, Vick's spokesman said the change has nothing to do with public opinion.
"He will be in Florida and has another obligation there that day," said French. "Nothing more to it than that."
And finally, just because it's interesting: Ninety-four percent of those who responded to the poll said they had never personally attended an animal fight, like a dog fight or a cockfight, while 3 percent, confusingly, said they were "not sure" if they'd attended this sort of event.
The HuffPost/YouGov poll was conducted Feb. 12 and Feb. 13 among 1,000 U.S. adults using a sample selected from YouGov's opt-in online panel to match the demographics and other characteristics of the adult U.S. population. Factors considered include age, race, gender, education, employment, income, marital status, number of children, voter registration, time and location of Internet access, interest in politics, religion and church attendance.
The Huffington Post has teamed up with YouGov to conduct daily opinion polls. You can learn more about this project and take part in YouGov's nationally representative opinion polling.