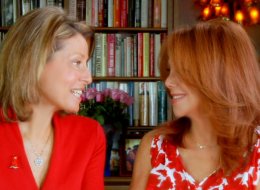 Mayo Clinic cardiologist Sharon Mulvagh, MD, had some important information to share with us regarding the signs of a heart attack in women.
The most important symptom is chest pain, pressure or tightness, similar to the sensation of a constricting band around the chest. About 60% of women experience this symptom when they are having a heart attack.
40% of women experience sustained pain in other isolated areas of their body, like their neck, jaw, arm or shoulder blades.
Other symptoms include shortness of breath, excessive sweating, nausea, vomiting or light-headedness. The most important thing to do, according to Dr. Mulvagh, is to go see a doctor if you feel an "impending sense of doom," or that something might be wrong. If you think you might be experiencing a heart attack, call 911 and do not insist on having anyone drive you to the hospital except for a medical professional. If you have aspirin on-hand, then chew one adult strength aspirin or four baby aspirin on the way to the hospital.

For more tips for a healthy heart, view the slideshow below:
Ten minutes of exercise a day can drastically reduce your risk of heart disease. Some basic, quick exercises include taking the stairs at work, jogging around the block or taking the dog for a brisk walk.

What you eat makes a big difference for your heart. Try incorporating leafy greens, like spinach and chard, into your diet, substituting sugary snacks with fresh fruit and doubling up on veggies in recipes.

Exercise doesn't always have to be a drag! Some fun exercise options include jumping rope, biking, swimming or dancing.

To lower your risk of high blood pressure, eat fruits and vegetables at the beginning of your meal, try to maintain a weight in the "healthy" or "ideal" range and limit your alcohol intake.

Surprisingly, both smoking and sitting in a chair all day increase your risk of heart attack about the same amount. Get on your feet by walking around during television commercial breaks, standing up while you're on the phone or getting off the bus one stop early.

Doctors recommend these tips if you're trying to quit smoking: 1. Focus on the reason you want to quit. 2. Ask a doctor for help quitting. 3. Get support from friends and family. 4. Relax! Stress makes quitting harder.

To work toward a better night's sleep, try keeping a sleep diary to learn your patterns, and follow a strict sleep schedule, even during the weekend.

Doctors recommend turning off any digital screens at least one hour before bed. Then, do something relaxing like reading a book or listening to soothing music.

Whole grains can help reduce your risk of heart disease. Substitute whole grains into your diet with foods like whole-wheat bagels, wild rice and whole-wheat tortillas.

Sneak more fruits and veggies into your diet by having a fruit salad before dinner. Try fresh salsa with a few chips for a healthy snack or challenge yourself to try new fruits like jicama or papaya.
How healthy is your heart? Find out by taking the Heart Health Quiz here.
For informational purposes only. Please talk to your doctor about your individual situation. If you're having symptoms of a heart attack, call 911.
Add Marlo On Facebook:
Follow Marlo on Twitter:

Weekly Newsletter

Sign up to receive my email newsletter each week - It will keep you up-to-date on upcoming articles, Mondays with Marlo guests, videos, and more!

Sign up here