Jennifer Lawrence has a love-hate relationship with her 2013 Oscars dress.
Although the voluminous Christian Dior creation was a red carpet hit, it did cause Lawrence a lot of trouble as she took to the stage to accept an Academy Award for Best Actress for her role in "Silver Linings Playbook." The now 23-year-old tripped on the staircase in a moment that she deemed "embarrassing." But luckily for her, the crowd full of A-listers stood up and cheered to help wash all her nerves away.
"You guys are just standing up because you feel bad that I fell and that's really embarrassing, but thank you," she told the audience in her speech.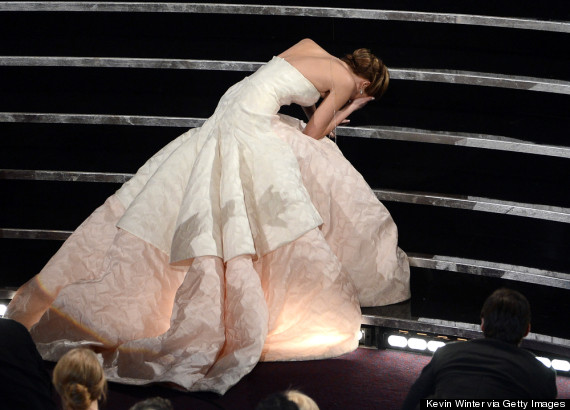 In a video shot for the new Miss Dior campaign ads, Miss Dior herself requested that the fashion house provide a dress that is stair-friendly, as to prevent another fall. Lawrence says, "I obviously have very special memories of the dress I wore to the Oscars Some fun, some not. They need to make it more accessible for stairs, in my opinion."
Obviously, JLaw will make sure to choose a dress that won't trip her up at this year's Oscars, just in case she takes home the Best Supporting Actress honor for her role in "American Hustle."
"It feels nice when you're dressed in something beautiful and you feel beautiful," she explains in the Dior clip. "When you're wearing an outfit that you're really proud of or a dress that you feel really good in, it can be fun, and therefore make you happier."
ALSO ON HUFFPOST:
PHOTO GALLERIES
Jennifer Lawrence