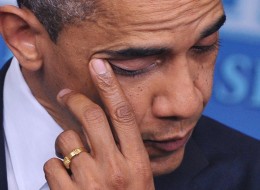 Both hockey teams representing the United States in the Olympics lost in major match-ups with Canada this week, and now President Barack Obama has to pay up.
Obama made a bet with Canadian Prime Minister Stephen Harper before the games this week, with the loser promising cases of beer to the winner.
On Thursday, the U.S. lost in the Olympic women's hockey final in overtime by a score of 3-2. The men suffered a loss on Friday, falling to Canada by a score of 1-0.
Harper celebrated the victory by asking Obama to pay up:
Like I said, #teamusa is good but #wearewinter. @BarackObama, I look forward to my two cases of beer. #CANvsUSA #Sochi2014

— Stephen Harper (@pmharper) February 21, 2014
For more on the 2014 Winter Olympics, go here.