Split In Democratic Party Establishment As Xavier Becerra Endorses Eloise Gomez Reyes
02/21/2014 03:58 pm ET
|
Updated Feb 21, 2014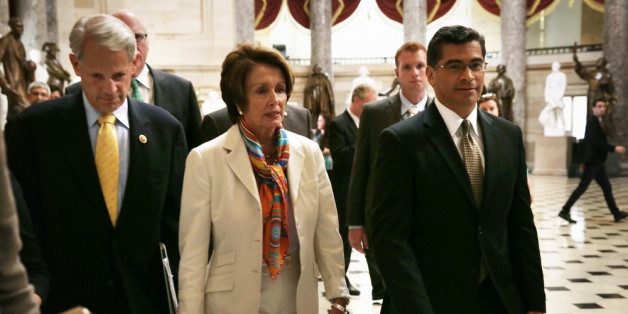 Alex Wong via Getty Images
Rep. Xavier Becerra (D-Calif.) broke with his party's political establishment Friday, and announced his endorsement of attorney Eloise Gomez Reyes, who is running in a competitive primary to represent California's 31st District.
The endorsement by Becerra, who is chairman of the House Democratic Caucus, could serve as a powerful boost to Reyes as she takes on former Rep. Joe Baca (D-Calif.) and Pete Aguilar, the Democratic mayor of Redlands, Calif.
"Eloise is a proven leader who will get the job done in Washington for families in the Inland Empire," Becerra said in a press release sent Friday after an event outside the San Bernardino, Calif. City Hall. "I am here today to endorse Eloise for Congress, because, quite frankly, I know she'll work tirelessly on behalf of those who work hard, play by the rules and deserve a fair shot at the American Dream."
Becerra's endorsement highlights a rift in the House's Democratic leadership team over which candidate would best serve the district, as Aguilar has the support of the Democratic Congressional Campaign Committee.
Rep. Gary Miller (R-Calif.) announced last week that he would not seek reelection in the district, which is heavily Latino and Democratic-leaning.
"Xavier's endorsement is so important because when one of our giants in the delegation, and Xavier is a giant, when he stands up and says that I am the candidate who gives Democrats the best chance, then people listen," Reyes said in the release. "This election is going to take place here in the Inland Empire, not in Washington, D.C., and I am going to win it. Then the Inland Empire will have it's own progressive representative and Xavier will have a partner in Congress to move forward all the issues we care about like paycheck fairness, comprehensive immigration reform, protecting Social Security and Medicare, veterans benefits and raising the minimum wage."
Reyes -- who is attempting to change the narrative of her underdog status in the open primary -- has also been endorsed by EMILY's List, a group that works to elect Democratic women who support abortion rights to office.
A local editor for the San Bernardino Sun tweeted Friday about the announcement.
Xavier Becerra, chair of dem caucus...at # sanbernardino city hall, endorsing Eloise Gomez Reyes for 31st pic.twitter.com/zzEbJSUQ8L

— Ryan Carter (@ryinie) February 21, 2014
Also on HuffPost:
New House Members Of The 113th Congress