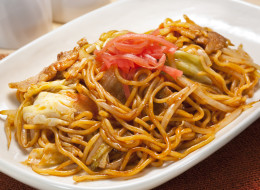 Friends: we've just been alerted that America should once again brace itself for a frigid blast of arctic air. This winter feels like it might just never end, but at least we're getting really good at hunkering down with hot toddies.
In light of this most depressing forecast, we'd like to do two things: 1) remind you that if you order delivery during a snowstorm, a hurricane, or on a day when the wind chill dips below what is humane, you need to tip your delivery person with the generosity of 1,000 Mother Teresas, and 2) memorialize some of our most regrettable delivery orders of all time. These orders were either ill-timed, ill-conceived, not suited for delivery in the first place or made us feel worse than when we started. If we save just one of you from re-creating our nightmares, we'll have done our good deed for the day.
Without further ado, your HuffPost editors' worst delivery orders of all time (all answers are anonymous to protect the dumb-dumbs among us):
jeffreyw/Flickr

Pizza AND meatball sub AND calzone, because I just couldn't decide.

– Anonymous HuffPost Editor

Jupiterimages via Getty Images

A six pack of Coors light, four bags of Funyuns and two Philly Cheesesteaks -- from the deli across the street.

– Anonymous HuffPost Editor

Image Source via Getty Images

"I got amped up for ordering takeout Chinese and when I got it, I found that the chicken was too chewy and dark, AND the mystery contents of my egg roll tasted like trash, leaving me with the complementary box of white rice, which was mediocre at best."

– Anonymous HuffPost Editor

Debbi Smirnoff via Getty Images

I (while sober) once ordered a sandwich that had chicken fingers, jalapeño poppers, mozzarella sticks and, puzzlingly, a wedge of iceberg lettuce on it. It seemed like a good idea, but while the sandwich shop had ingenuity on its side, it did not have the skill to pull off such a technical feat. Despite the disgusting factor, a past life from the Great Depression kicked in and I somehow ate this thing over the course of a couple days. At some point, it was no longer a sandwich but a terrible character-building challenge. It won. We will always remember the Alamo.

– Anonymous HuffPost Editor

Juanmonino via Getty Images

One night, while I was living in the East Village, I went out drinking with a friend from out of town, after after-work happy hour, and got very wasted. I was obviously hungry as we stumbled home. So when I got home, I laid down in my bed and called a cherished pizza place about 200 feet from my apartment. I wanted pepperoni, but I knew that my friend and roommate were both vegetarian, so I decided to order an "extra extra large" pizza that was half pepperoni and all BASIL, because that was the only non-meat item I could think of. I paid by credit card over the phone, begging the deliveryman to "hurry!" Then I promptly passed out, still clutching the credit card, wearing all my clothes and shoes. When the pizza arrived, my friends tried to wake me up, to no avail. So they ate the vegetarian half of the pizza while I slept.

– Anonymous HuffPost Editor

Once I ordered a blue cheese burger -- it came with nothing on it (not even lettuce) and a side of blue cheese SALAD DRESSING. And I ate it.

– Anonymous HuffPost Editor
Want to read more from HuffPost Taste? Follow us on Twitter, Facebook, Pinterest and Tumblr.