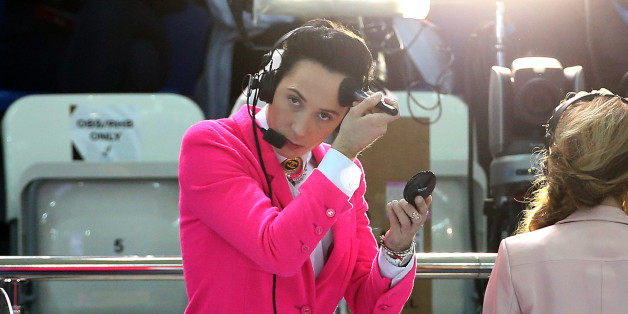 All who glittered at the Sochi Olympics were not gold medalists. There was also Johnny Weir.
The former U.S. figure skater emerged as an unlikely breakout star of the 2014 Winter Games thanks to his insightful commentary and his inspired fashion choices. The 29-year-old two-time Olympian provided analysis alongside Tara Lipinksi and Terry Gannon during live broadcasts of the figure skating events on NBC Sports Network. While his ability to make plain the intricacies of the skaters' performances and his easy rapport with his colleagues would have earned him high marks from the audience had his work only been heard on the radio, Weir's eye-catching outfits became a highlight of each television broadcast from the Bolshoy Ice Dome.
Against the backdrop of Vladimir Putin's intolerant Russia, the kaleidoscopic wardrobe choices and dazzling accessories of the openly gay Weir felt even bolder in the broadcast booth then they ever did when he was an active competitor. To help his fans keep up with all the pieces in his collection, Weir shared daily photographs of his looks on Instagram. Here are the photographs of every outfit shared by Weir from the opening ceremony through the end of competition.
Feb. 8
Today's look: Thank you @joomilim @sandro_us, RIA LA, @BPCM and @louboutinworld! Also rocking my Russian braid!

Feb. 9
Today's look. Thank you @ericksonbeamon, RAI LA, @RICKOWENSONLINE, and @BPCM.

Feb. 10
Today's look and two flames: Billy Reid NYC jacket, @joomilim necklace, RAI LA leather leggings and @RICKOWENSONLINE wedges.

Feb. 11
Today's Look: Blazer Vintage @Chanel, Jewels @joomilim, Leathers @GPugh_Studio, Wedges @RICKOWENSONLINE

Feb. 12
Today's Look: RIA LA leathers, @billy_reid blazer, @joie_clothing lace shirt, @RICKOWENSONLINE wedges, @chanel watch & brooch. Thanks @bpcm!

Feb. 13
Today's Look: Leathers & jacket by RIA LA, Wedges by @RICKOWENSONLINE, Necklaces by @joomilim, bracelet by @nialayajewelry. ❤️ @bpcm

Feb. 14
Today's Look: Sequins by @_UNCONDITIONAL, Ruffles by Libertine, Jewels by @ericksonbeamon, Skinnies by @JBrandJeans, Shoes @louboutinworld

Feb. 16
Today's Look: Blazer Vintage Valentino, Shirt @sandro_us, @ericksonbeamon necklace and headband, @jbrandjeans Skinnies and @RICKOWENSONLINE wedges. #green

Feb. 17
Today's Look: Blouse by Moi-Mème-Mottle, Necklace @31philliplim, Ring @ericksonbeamon, wedges @RICKOWENSONLINE, Trousers Son Bung Kaun.

Feb. 18
Today's Look: Blazer @CHANEL, Collar @ericksonbeamonofficial, Leggings Gareth Pugh. Missing my blue truck...🚘

Feb. 19
Today's Look: @zadigetvoltaire Blazer @ericksonbeamonofficial brooch @RICKOWENSONLINE wedges

Feb. 20
Today's Look: Blazer vintage Ferré, Cardigan @COMMEGARCONS, Wreath @ericksonbeamonofficial, Necklace @joomilim, Leathers @Versace, Wedges @RICKOWENSONLINE, Watch @CHANEL

Feb. 21
Today's Look: Top Half @sandro_us & @ericksonbeamonofficial, Bottom half Romeo and Juliet Couture and @louboutinworld Miss my 🚘, trash bin will do.

Feb. 22
Today's Look: Blazer vintage Button down @sandro_us Necklaces @ericksonbeamonofficial Leathers RIA Wedges @RICKOWENSONLINE


Today's Hair: Chanel Brooch, Flora Fresh from Sochi, Weave by @mrericalt, Styling by Mariola!

In a tweet that may have been a more fitting close to the 2014 Sochi Games than even the closing ceremony, Weir let his followers know that he was back in New Jersey and dressed decidedly without glamour.
Went to the grocery store. Wore a trash bag sized sweatshirt. Found out many of my Bergen County brethren enjoyed the Olympics. #Proud

— Johnny Weir-Voronov (@JohnnyGWeir) February 24, 2014