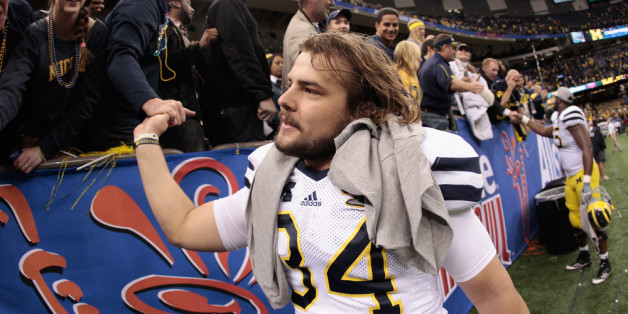 The University of Michigan and Michigan State University are under federal investigation for their handling of campus sexual assault and harassment, officials confirmed Wednesday.
The U.S. Department of Education's Office for Civil Rights informed the universities of the inquiries this week. The University of Michigan probe resulted from two complaints alleging that the school, in Ann Arbor, failed to promptly respond to reports of sexual assault, federal authorities said. The investigation of Michigan State, in East Lansing, is based on two complaints involving "Title IX sexual violence allegations" Education Department spokesman Jim Bradshaw said, referring to the federal gender equity law.
"We will fully cooperate with the Department of Education and we believe that a review of our policy, programs and investigations will conclude that the University of Michigan is doing what it should in this important area," school spokesman Rick Fitzgerald in a statement.
Michigan State also pledged to cooperate, and said it has "responded fully and appropriately to the incidents under investigation."
"While federal law and privacy concerns prevent MSU from fully discussing specifics, we have a comprehensive record of the actions we took that supports the university's position that we acted appropriately," spokesman Kent Cassella said in a statement.
One of the complaints against University of Michigan alleged the school was slow to investigate a reported 2009 sexual assault involving Brendan Gibbons, the football team's starting kicker. The complaint was filed by former Michigan professor Douglas Smith. A letter the Office of Civil Rights sent to Smith, shared with The Huffington Post, said federal authorities would investigate whether the university responded "promptly and equitably" in the case.
According to police reports obtained by The Huffington Post, the victim reported receiving threatening and harassing comments by associates of Gibbons in December 2009.
Smith said his research found the number of sexual assaults reported to the school's the Sexual Assault Prevention and Awareness Center greatly outnumbered cases adjudicated in the Office of Student Conflict Resolution. Smith raised concerns at two Michigan Board of Regents meetings about the Gibbons case and about the low number of adjudicated sexual assault cases, but said he was ignored.
Smith said the woman said she was the victim in the Gibbons case told him she was informed by university officials that if she didn't follow through with criminal prosecution, there was nothing the school could do. She said she abandoned the criminal case because of threats, Smith said.
Gibbons was found responsible for sexual misconduct in November 2013 -- four years after the assault reportedly occurred -- and was dismissed from UM the following month, according to the Michigan Daily.
Since the Michigan Daily's report on the case, students have protested the university's handling of sexual assault cases, including marching on campus this week, and hanging a banner on campus reading, "This Administration Defends Rapists."
Federal officials will be on Michigan State's campus this week, meeting with students to gather information about how harassment and sexual violence is handled on campus. They have not indicated when they will visit University of Michigan.
SUBSCRIBE AND FOLLOW
Get top stories and blog posts emailed to me each day. Newsletters may offer personalized content or advertisements.
Learn more