21 Food Things Only A New Yorker Would Understand (PHOTOS)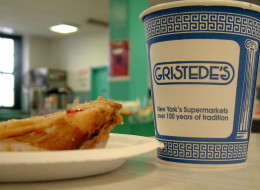 Despite what out of towners might think, New York City food is about a lot more than just pizza and bagels --though those are definitely pretty great. It's also about biscuits, Reuben sandwiches and cheesecake. Oh and, of course, the centuries of people who have imprinted their cultures into the way this city feeds and nurtures its residents (who in turn love it more than life itself).
Everyone knows that New York is a city full of great food -- it's the main reason many of us stick it out as long as we do. But New York food does more than just feed us, it etches itself into our very psyche. Between the way we eat breakfast on the go, how we fight our way through the grocery store and our complete willingness to spend an entire Sunday afternoon over brunch, eating in New York is a very unique kind of experience. Behold, the 21 food things you could only understand if you've toughed it out in New York City for longer than the college try.
You eat a street cart hot dog AT YOUR OWN RISK.

Flickr: Kathleen Tyler Conklin

Don't even think about Trader Joe's on the weekend.

Flickr: Barbara L. Hanson

Super shady-looking corner bodegas can make the BEST breakfast sandwiches.

Flickr: Paul Lowry

Not all New York pizza is created equal.

Flickr: Matt @ PEK

Don't EVER get bagels more than 75 miles from Manhattan.

Flickr: mroach

Feel like a biscuit? There's a restaurant for that.

Flickr: mastermaq

The Bohemian Beer Garden in Astoria is the best place to spend a fall Sunday.

Flickr: marc.flores

You know the Cronut is NOT worth the wait.

Flickr: star5112

But you don't even think twice about waiting in line for brunch, because booze.

Flickr: Robb1e

Ice cream is the only reason to walk across the Brooklyn Bridge.

Flickr: 3n

There ain't no cheesecake like a Junior's Cheesecake.

Flickr: kawanet

The real Little Italy is in the Bronx.

Flickr: japp1967

It's worth traveling an hour and a half by train to eat in a food court in Flushing, Queens.

Flickr: Chun's Pictures

Two bags of groceries can cost you 60 bucks.

Flickr: Jude Doyland

Do NOT shop the perimeter at Gristedes.

Flickr: Seth W.

You don't wait for waiter service at Katz's on a weekend.

Flickr: B*2

There's never a reason NOT to order delivery.

Flickr: Seth W.

There are some places so great, but so tiny, you don't tell anyone about them.

Yelp: Alexandra M.

Choosing between a bagel and a bialy in the morning can be the hardest part of your day.

Flickr: BrownGuacamole

It is perfectly acceptable to eat dinner at 11pm.

Flickr: eastvillagedenizen

You've got no reason to travel because all the best international foods are right outside your door.

Flickr: J . K A R I L
Want to read more from HuffPost Taste? Follow us on Twitter, Facebook, Pinterest and Tumblr.