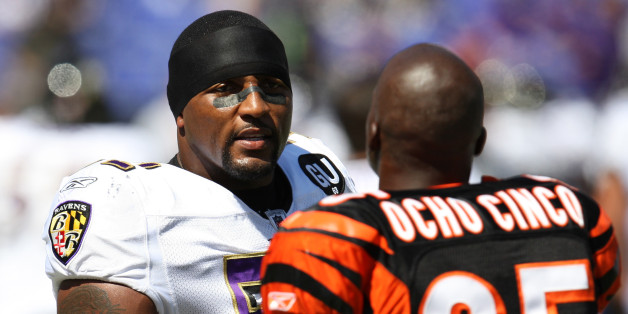 Chad Johnson felt like telling some stories on Thursday night, recalling on Twitter how he almost fought Ray Lewis... twice.
The six-time Pro Bowler claimed he once waited outside the locker room for Lewis after a game and Ed Reed had to talk him out of "putting these paws on." Johnson also tweeted that he tried to fight Lewis before another game, but Marvin Lewis intervened and broke it up.
I remember waiting for Ray Lewis outside the locker room after a game for knocking my helmet off unnecessarily‼️
He went out the side door, Ed Reed had to talk me out of putting these paws on Ray. RT @J_Surace: @ochocinco what end up happening?
2nd time we played the Ravens I caught Ray slipping in pre-game, I stepped to him, he started preaching, I was like the Lord can't help you!
So I square up ready to go from the shoulders and Ray is steadily reciting a scripture and I'm ready to rumble, I'm like let's run it WTF!!!
Long story short Marvin Lewis broke it up and saved Ray from getting beat up in pre-game.
SUBSCRIBE AND FOLLOW
Get top stories and blog posts emailed to me each day. Newsletters may offer personalized content or advertisements.
Learn more