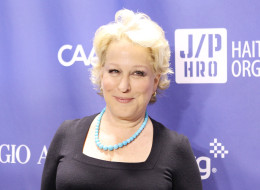 Bette Midler's Oscars performance debut came as part of the Academy Awards' In Memoriam segment. Midler sang "Wind Beneath My Wings" at the ceremony, which Midler covered in the 1988 film "Beaches."
Midler was announced as a surprise Oscars performer in late February. "We are thrilled to have Bette perform on the Oscars for the very first time," Oscar producers Craig Zadan and Neil Meron said in a statement. "We believe she will make our Oscar telecast an especially moving evening."
Midler has earned two Best Actress Oscar nominations in her acclaimed career: for 1979's "The Rose" and 1991's "For The Boys."
Ellen DeGeneres hosted the 86th Annual Academy Awards.
Share +
An historic night for Steve McQueen and "12 Years a Slave," wins for Matthew McConaughey, Cate Blanchett, Jared Leto and Lupita Nyong'o, seven Oscars for "Gravity" and no love for "American Hustle." These were your 2014 Oscars. Hope you enjoyed it!