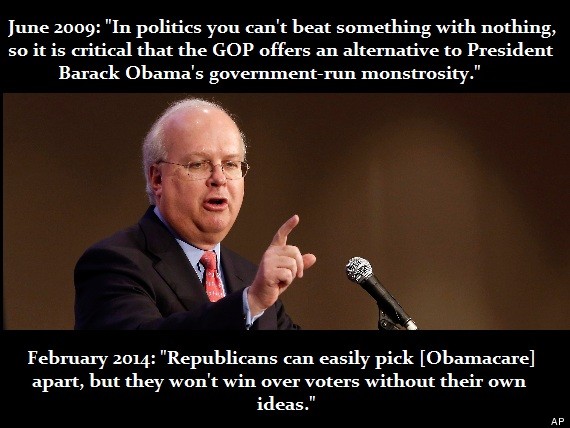 "I guarantee you we will provide you with a bill." -- Rep. Roy Blunt (R-Mo.)
"I started reading a couple, three of the Republican plans, but frankly, there's only so much time in the day." -- Sen. Max Baucus (D-Mont.)
"The Republican health care plan for America: don't get sick ... if you do get sick, America, the Republican health care plan is this: die quickly." -- Rep. Alan Grayson (D-Fla.)
Some House Republicans are growing frustrated that their leaders have not yet introduced a health care reform alternative.

For months, the message from House GOP leaders on a health care bill has been similar to ads for yet-to-be-released movies: Coming soon.

According to several GOP lawmakers, the leadership is split over how to proceed in terms of unveiling an alternative to the final Democratic bill that Speaker Nancy Pelosi (D-Calif.) intends to unveil as soon as this week.
A GAME-CHANGING IDEA EMERGES: Philip Klein in the American Spectator: "Taken together, these criticisms have helped to weaken support for and build opposition to Democratic initiatives, but they have done nothing to advance an alternative vision for the health care system."
"And, once we defeat Barack Obama, we need to proceed to repeal this disastrous plan before it can ruin our health care system. Then we must replace it with a Republican alternative that relies on the marketplace, tax incentives and individual responsibility to provide health care to all Americans." -- Dick Morris
A GAME-CHANGING IDEA EMERGES: Fred Barnes in the American Spectator: "Republicans have two great issues: health care and reform. They ought to go beyond advocating repeal of ObamaCare, tell voters what they'd replace it with, and explain the benefits."
"We could come up with a health care system that the American people would not only be proud of, but would actually love. ... We've never had a real conservative majority." -- Sen. Orrin Hatch (R-Utah)
Some conservatives acknowledge that the healthcare program offered by party leaders is largely unchanged from the proposals the GOP pushed when it held majorities from 2000 to 2006. During that period, insurance premiums skyrocketed, businesses reduced benefits and the number of Americans without health insurance rose.
North Carolina's Renee Ellmers, a Palin protege, opposes requiring insurers to accept patients with pre-existing conditions -- including pregnancy. Austin Scott of Georgia, another House freshman, was asked if there was any part of the law he supported. He replied, "No, ma'am, there are not."
A GAME-CHANGING IDEA EMERGES: Jeffrey Anderson in the Weekly Standard: "But while Americans want repeal, they don't just want repeal. And thus the House Republicans are now confronted with their greatest challenge -- and opportunity -- in the whole span of the health care debate. They need to show the American people that the choice is not between Obamacare and nothing. They need to provide a meaningful, sensible alternative to Obamacare's comprehensive failings."
It's put-up-or-shut-up time for Republicans. They managed to make it through the health-care debate without offering serious solutions of their own, and -- perhaps more impressive -- through the election by promising to tell us their solutions after they'd won. But the jig is up. They need a health-care plan -- and quickly.
A GAME-CHANGING IDEA EMERGES: Ramesh Ponnuru and Yuval Levin in The New York Times: "Republicans have an effective slogan for their health care agenda: 'repeal and replace.' The problem is, they can agree only on the first half; agreeing on what to put in place of last year's health care law is the hard part."
"When they took control of the House, Republicans could barely stop talking about their plans to 'repeal and replace' the health care reform law. Six months later, they hardly talk publicly about those plans at all. And they're nowhere close to 'replacing' the law." --Politico
A GAME-CHANGING IDEA EMERGES: Deroy Murdock in the National Review: "Washington Republicans nevertheless have been unwilling or unable to lock themselves in a hotel ballroom for a long weekend and devise a single plan as the official GOP alternative to Obamacare. Lacking a proposal around which Republicans and their limited-government allies could coalesce, the Right rightfully hammered Obamacare but never offered its own coherent package. Lesson: Never try to defeat something with nothing."
Republicans might not offer a comprehensive plan to replace President Obama's healthcare law if the Supreme Court strikes it down this summer.

House Republicans had said they would have a healthcare bill ready to go by the time of the ruling to present a clear alternative to the Democrats' Affordable Care Act.

But now, with the high court's ruling just weeks away, some conservatives are urging the party to abandon that strategy, fearing voters will recoil from another sweeping revamp of the healthcare system.
"The political dynamics are such that you can loudly promise to craft an alternative a million times, and then quietly take back that promise in a small article published in The Hill." -- Jonathan Chait
A GAME-CHANGING IDEA EMERGES: Gail Wilensky, who headed the Medicare and Medicaid programs under President George H.W. Bush and advised Sen. John McCain (R-Ariz.) during his 2008 presidential campaign, says: "One of the big questions that the public needs to ask Republicans who are so focused on repeal is what will come in its place."
A GAME-CHANGING IDEA EMERGES: Ex-Romney adviser Avik Roy in Forbes: "Republicans have, rightly, spent the last three years campaigning against Obamacare. ... But conservatives are sorely mistaken if they believe that they can continue to campaign against Obamacare, without offering their own strategy for making health care more affordable for American families and the federal treasury."
The problem in the 2012 election was not that Mitt Romney didn't seek to repeal Obamacare or that he had a state plan with one element (an individual mandate with an exchange); it was that he refused to spell out in particular detail an alternative. James Capretta and Jeffrey Anderson make a compelling case in the Weekly Standard that Republicans must do this ... without an alternative, the duo correctly point out, there will be no groundswell of support to dump Obamacare and no effective scene setting for the 2014 and 2016 elections."
A GAME-CHANGING IDEA EMERGES: Mona Charen in Washington Examiner: "As Obamacare's rising costs and constricted choices alienate the American people, Republicans should be ready with an alternative that is market-oriented, assembled and on the launchpad."
Republicans haven't done so for pretty clear reasons. These alternative proposals are much less technocratically simple than they pretend. (You can't just throw terms like "well-designed" at the Congressional Budget Office.) They cost money Republicans don't want to spend. They upset voters and interest groups Republicans don't want to upset.
"Together, we could provide more cost-effective care and do something more about spiraling healthcare costs. But really, the only true Republican alternative to Obamacare is Nothingcare." -- Rep. Lloyd Doggett (D-Texas)
A GAME-CHANGING IDEA EMERGES: Ross Douthat writes in The New York Times: "The fact that the G.O.P. isn't really offering such an alternative at the moment clearly makes the case for repeal weaker than it otherwise might be, and it makes the case for resistance weaker as well."
"First of all, we start by repealing Obamacare," RSC Chairman Steve Scalise, Louisiana Republican, said of the new bill.

Among other reforms, the GOP-sponsored bill would allow consumers to shop for insurance across state lines, let individuals and families deduct health care costs for tax purposes the way employers do and inject billions of dollars into state high-risk pools so people with preexisting medical conditions can gain coverage.
A GAME-CHANGING IDEA EMERGES: Ramesh Ponnuru and Yuval Levin offer a breakout idea in The Wall Street Journal: "What Republicans can and should do is offer the public something better. Now is the time to advance a conservative reform that can solve the serious, discrete problems of the health-care system in place before ObamaCare, but without needlessly upending people's arrangements or threatening what works in American medicine."
The first blow to its coherence came when the authors faced questions about their proposal to cap the tax deduction for employer-sponsored health insurance, a politically risky but economist-approved change that provided most of its money for covering the uninsured. Asked about this piece of their plan, the authors changed the language within hours to ratchet back its scope, insulating them from political attacks, but also neutering its value.
"Republicans can easily pick [Obamacare] apart, but they won't win over voters without their own ideas." -- Karl Rove, once again
Carping from the sidelines is a great strategy for Republicans because status quo bias is extremely powerful. It lets them highlight the downside of every trade-off without owning any downside of their own. They can vaguely promise to solve any problem with the status quo ante without exposing themselves to the risk any real reform entails. Republicans can exploit the disruption of the transition to Obamacare unencumbered by the reality that their own plans are even more disruptive.
ALSO ON HUFFPOST:
Lies And Distortions Of The Health Care Debate
SUBSCRIBE TO & FOLLOW TRUMP'S FIRST 100 DAYS
How will Donald Trump's first 100 days impact YOU? Subscribe, choose the community that you most identify with or want to learn more about and we'll send you the news that matters most once a week throughout Trump's first 100 days in office. Learn more